Have You Considered Looking for a Food Truck for Sale?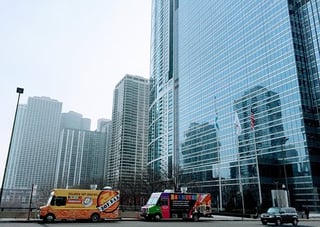 Many people with no chef experience dream of owning a restaurant someday, and many people with culinary skills cringe at the idea of everything that comes with owning a restaurant. Someone who wants to sell their delicious tacos to the lunchbreak crowd doesn't want the overhead of a brick and mortar location, large staff, maintaining a restroom, paying expensive utility bills, and the biggest headache of them all: dealing with a landlord. Considering a food truck for sale from the Restaurant Brokers will eliminate most, but not all of these qualms, and will enable you to choose where you want your business to be located each and every day!
Take for example listing 5064, a food truck for sale from the Restaurant Brokers located in Broward County. For $40,000 you can be the owner of your very own mobile eatery. Bring your own concept as this food truck for sale has all the equipment needed to prep, store and cook a variety of menu items. Think you've got the best ground sausage breakfast sandwich around? Sell them to the masses from this food truck for sale that has been well maintained and recently fitted with six new tires and a new battery. The only thing this food truck for sale needs is your concept and a new vehicle wrap promoting your business.
Another food truck for sale in Broward County, Florida, is listing 5502. Listed at just under $90,000, this is a large vehicle totaling 27 feet in length. Think about all the space inside to whip up your delicious recipes for hungry festival-goers! The current concept is chicken and burgers, and the food truck for sale is equipped with deep fryers, a grill, cooler, freezer, sink, and so much more. With equipment like this, you can offer an expansive menu to include not only grilled but also fried food. Don't fret about having enough business – this food truck for sale comes with all of its social media accounts totaling almost 10,000 followers.
Interested in quirky concepts? Check out this unique food truck for sale, listing 5687, located in Centennial, Colorado for less than $55,000. This is a brand-new food truck for sale that has been constructed to resemble a stage coach from the wild west! The builder spared no expense on this food truck for sale and constructed it with fire retardant lumber, Italian leather, and stainless steel. This food truck for sale is not currently equipped with any appliances as the builder wanted the new owner to be 100% able to outfit the vehicle exactly as they want it. Don't worry about how you will transport this food truck for sale – it also comes with an option to purchase an enclosed trailer! Imagine the crowds that this food truck for sale will draw to it from curious passerby!
If you've always loved preparing food for a crowd and want the freedom of owning your own business but not the responsibility of a sticks and bricks restaurant, you absolutely need to consider one of these food truck for sale listings. But don't stop at just these – We Sell Restaurants has multiple food truck for sale listings across the country. What else is great about these food truck for sale listings? If you aren't located where they are, hop on a plane and drive it to where YOU want it to be! Check out these and our other listings here.