Are you interested in restaurant ownership but unsure of whether you should purchase an independent restaurant, a brand new franchise, or an existing franchise Restaurant for sale? For starters, you will want to read our book, Appetite for Acquisition – your guide to all things restaurant buying. After you've finished reading this book that focuses on buying a restaurant, you'll know the good, the bad and the ugly about becoming a franchise restaurant owner. When you know that you're ready to take the plunge into restaurant ownership, consider the most important reasons why buying an existing franchise restaurant for sale may be the best option for you!
What is a franchising? Simply put, it's when a business allows you to use everything that comes with their brand as well as their business model. Franchising is immensely popular throughout the world, and especially here in the United States. One out of every twelves businesses in the U.S. is a franchise – that's an incredible amount of franchisee opportunities, considering that there are over 30 million businesses in operation. Let's take a look at some of the best reasons to buy a franchise resale restaurant.
For starters, the United States is one of the hotshots in the today's franchise world, as it has been for nearly 90 years. There are nearly 750,000 franchises established here in the states, and it comes as no surprise that the top four are fast-food restaurants. If you're considering buying a franchise resale restaurant, these are some encouraging figures.
Reason One for Buying an Existin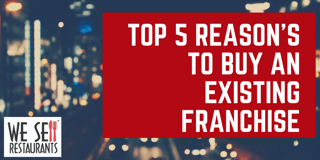 g Franchise Restaurant for Sale – Staffing
One of the hardest aspects of starting a new restaurant is hiring, training, and keeping a talented staff. When you purchase a franchise resale restaurant, you are getting a seasoned staff that know the ins and outs of the store they are working in. If you are new to restaurant ownership, this experienced staff can be a very valuable tool for you in regards to bringing you up to speed on how things flow on a daily basis, as well as getting you acquainted with the people who will now be your very own regular patrons.
Reason Two for Buying an Existing Franchise Restaurant for Sale – Training
When you sign on to purchase a franchise restaurant resale, you're going to receive a tremendous amount of training and knowledge from the franchisor's corporate training program. After your corporate training, commonly known as Discovery Day, you'll be placed in your store to train one-on-one with not only your new staff, but the previous owner and/or manager. When you build a brand new restaurant, or become a franchisee at a new store, you won't get this kind knowledge, because it just doesn't exist!
Reason Three for Buying an Existing Franchise Restaurant for Sale – Immediate Earnings
The primary reason anyone goes into restaurant ownership is obvious – to make money. The faster money is made, the happier the restaurant owner is. With that being said, new franchisees can wait up to a year, and in some cases even longer, until their store starts to do business. When you purchase a franchise resale restaurant you have immediate cash flow, not to mention past years profit and loss statements so that you can project what your income and expenses will be.
Reason Four for Buying an Existing Franchise Restaurant for Sale – Proven Location
When you decide to purchase a franchise resale restaurant, you take all of the guesswork out of choosing a location for the store, building out, and reviewing things like demographics and the amount of traffic you will receive. This work was already done by the franchisor before construction began on the location. However, you will still need to review the current owner's financials as well as information on what changes are projected for the area the franchise is located in. You don't want to save all of this legwork only to come into a franchise that is losing money in an area that people are leaving from in droves!
Reason Five for Buying an Existing Franchise Restaurant for Sale – Reduced Costs
Most franchisors won't require you to pay a new franchise fee, but will charge a transfer fee that you or the seller will need to pay. The transfer fee is typically less than the franchise fee, but still a substantial amount of money. The transfer fee will be presented to you pretty early on in the qualification process, so it won't pop up later in the chain of events and disqualify you from the purchase. If the seller has agreed to pay the transfer fee, you can expect it to be tacked onto the purchase price of the franchise. Keep in mind, however, that when purchasing a franchise resale restaurant, the purchase price and terms can often be negotiated.
Some franchisors will transfer the franchise agreement terms over to you when you become the new franchisee. This means that if the original franchisee had agreement terms of 10 years and fulfilled seven of them before selling, you will take over the three remaining years of the terms as they stand, and after three years you will sign a new agreement with the franchisor. At this time you can also expect to pay the renewal fee. It is very uncommon for a franchisor to not honor the original franchise terms and make the new owner sign an up-to-date agreement.
Purchasing an existing franchise restaurant for sale is a great way to get into the business of restaurant ownership. These are the five most important reasons why an existing franchise restaurant for sale is a great option.As with all investments, you will need to do your due diligence and research your options, and we also strongly suggest speaking with a business attorney or a Certified Restaurant Broker knowledgeable in selling existing franchise restaurant units.For a look at our current inventory of Existing Franchise Restaurants for sale, click the link below or contact a We Sell Restaurants Certified Restaurant Broker by dialing (404) 800-6700.