The Restaurant Brokers at We Sell Restaurants announce the sale of the Roly Poly Fast Casual franchise in Cumming Georgia.
Roly Poly franchises offer an extensive menu with great taste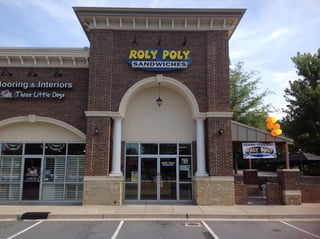 and superior nutrition! Restaurant broker Robin Gagnon described the store as "Small enough that you will matter and big enough that you get volume buying power, strong systems and superior support." The Award winning concept was designated a Hot Concept by Nation's Restaurant News.
Entreprenuer and Restaurant Buyer Janet Jacks snapped up the location in under 60 days leading to a record fast closing. Buyer Janet Jacks has owned several different businesses but like the opportunity to have a business that would be close to home. Located in the busy Atlanta metro area a short drive to work is always a benefit!
The very short time on the market was perfect for the company's founders and the operators of this corporate store that said, "Robin and We Sell Restaurants sold our location in Cumming in less than 60 days from start to finish. We previously had the business listed with another broker for more than six months with no activity or communication from the agent. We definitely recommend their services."
The Roly Poly brand is a favorite of customers that are seeking a restaurant franchise for sale but don't want the late hours, lots of employees, frying and complications. This one is a lifestyle brand. Certified Restaurant Broker Robin Gagnon represented the buyer and seller in this transaction.
Gagnon said of the location, "This was a great store in a vibrant neighborhood and growing community." The demographics for the area show a total daytime population within a five mile radius of 132,196. Average household income is six figures plus at $127,815.

This particular location was a a stable and established store that's had a great customer base since 2014! The reviews from the customers are incredible. Restuarant buyers often seek established franchise restaurants for sale because they give the purchasers the benefit of joining a brand that is already established. The franchise brand expertise and support can guide new owners through the daily operation. Top that with your personal knowledge, your drive and your ideas and you get the perfect mix to run a successful restaurant.
Check out our current listings at wesellrestaurants.com. More information on buying a restaurant can be found at this link where buyers can download our free book on buying a franchise restaurant. The free report includes:
How to find the best Franchise Resale deals

How Much to Pay for Franchises

Why an SBA loan is your Franchise Friend


Key Steps in the Franchise Resale Process

When to Apply with the Franchise & Why

Valuation Math for Franchises for Sale