The Restaurant Brokers love to announce the new franchise restaurant deals in the pipeline. The counts continue to grow with established and new concepts on the horizon demonstrating strong unit count increases in both openings and future deals. Here's an overview of new deals announced recently.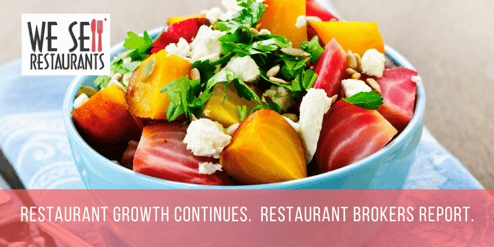 It looks like Tom+Chee has a new competitor with Meltshop which is expanding in both the U.S. and abroad. Their recent press release says they are seeking seeking experienced entrepreneurs to help the brand grow to 100 locations over the next five years across the U.S. and internationally. Melt Shop recently expanded into the Middle East and will open seven locations in the region, with four opening in Kuwait by March 2018. Melt Shop's focus is simple: melted sandwiches made with high-quality ingredients. Its bread is freshly-baked daily and its high-quality cheese is sourced from meticulously selected dairies. But Melt Shop does more than create melted sandwich masterpieces — it creates a culinary experience unmatched in the fast-casual space.
Pie Five Pizza Co , the fast-casual restaurant known for its customizable pizzas prepared and ready to enjoy in five minutes – will soon be expanding its piece of the pie beyond the USA. They are reporting a new master development partnership with Ali Shahid Butt and his partners at AR Pizza, LLC, Pie Five will open its first international location in Pakistan in 2018, with up to 40 more locations over the next seven years. AR Pizza also owns 47 Popeye's Chicken locations and eight Arby's restaurants. The group is developing Pie Five locations on the East Coast of the United States as well.
A brand in the "better breakfast segment," Famous Toastery has opened six stores, with another eight expected to open their doors before 2017 comes to a close. The restaurant brokers have seen growth in this segment for some time but we suspect the field is getting crowded. Breakfast is a high profit meal and we're seeing too many brands jumping in while established fast food chains all add the meal to the mix. Expect to see some fall out in the future. For now, Famous Toastery has also signed on to open five more corporately owned locations as the breakfast and brunch segments of the restaurant industry continue to grow. This year, Famous Toastery has officially crossed the 20-unit mark, and is on pace to meet its goal of signing 15 deals for a total of 75 restaurants.
Fast Casual concepts show no signs of slowing down and here are just a few examples the restaurant brokers have seen announced very recently.
Chicken Salad Chick, the nation's only southern inspired fast casual chicken salad restaurant concept, announced today it will be expanding in North Carolina with its first location in Concord. The new restaurant will open on Tuesday, September 12 and is located at 8915 Christenbury Parkway, Suite 40. This location is owned and operated by franchisee team Mike Hernandez and Don Carson of Cardez Hospitality Group, and marks the fifth Chicken Salad Chick restaurant in North Carolina.
Zoup!, which labels itself as the nation's leading fast-casual fresh soup concept, is preparing to open its doors in Washington, Pa., on Thursday, Sept. 14, at 181 Old Mill Blvd. in the Old Mill Shopping Center. Washington's first Zoup! also marks the 10th in Pennsylvania. As an established brand throughout the United States and Canada – with more than 100 restaurants in 20 states/provinces – Zoup! is targeting Pennsylvania as part of an overall expansion strategy.
Other concepts showing growth include Buono, a 19-store chain founded by Buonavolanto patriarch Joe Buonavolanto, Sr.. The chain announced a partnership to serve Chicago's original Italian beef and other classics during Chicago Bears games at Soldier Field. As part of a three-year agreement with the Bears organization, Buona is the exclusive purveyor of Italian Beef, Italian Sausage, Beef & Sausage "Combos" and Meatball sandwiches during all of the Bears regular season games at Soldier Field.
The restaurant brokers are also seeing growth from large franchise chains. Dunkin Donuts for example, is not slowing down. They have signed another multi-store development agreement for seven stores in Raleigh/Durham North Carolina with Coastal Franchising Inc. The company, led by CEO George Ross, Coastal Franchising already has 39 locations throughout the Carolinas, including four Dunkin' Donuts restaurants and one Dunkin' Donuts and Baskin Robbins combo unit.
Dunkin also signed with two franchisee groups in Georgia for a total of six locations. Franchisees Nishith and Navnit Patel and their QSR Group LLC will open five restaurants in the Macon area, including two multi-brand units. And in the Buckhead area of Atlanta, franchisee Smita Patel of Guzaratii LLC will have one unit in a gas station/convenience store.
Additional multi-unit deals announced include Chuch's Chicken. Their franchisee, Volunteer Chicken LLC opened its first Church's Chicken location last month in Smyrna, Tennessee, as part of a 10-unit development deal to expand the concept in the middle Tennessee region. Larry Lavigne, president of Volunteer Chicken, has more than 25 years of restaurant industry experience, and is also a franchisee of Jet's Pizza and Tropical Smoothie Café.
Overall, strong unit count increases and reinvestment by existing franchisees into growth signal a continuing strong market. The restaurant brokers expect this trend to continue.