Huddle House brought their best to their annual conference and the restaurant brokers were there! Attendance was at an all-time high of 450 people from 66 ownership groups, 182 restaurants across 23 states, and 71 vendor partners. This represents an increase over last year's convention results. The Restaurant Brokers from We Sell Restaurants including Robin Gagnon, Eric Gagnon, and Steve Weinbaum were center stage for the event with a busy booth.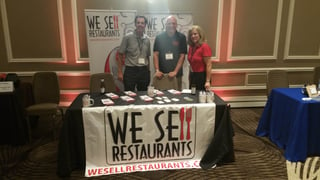 Huddle House recapped their 2015 results and 2016 goals. The company is now at 370 units with 21 new stores opened in the last year, a dramatic increase from just 13 restaurants opened the prior year. Same store sales growth was also on the rise. The Huddle House restaurant franchise group outperformed the national averages with sales increase of 3.6% over the prior year and a daily sales increase of 5%. This is the second consecutive year of same store sales growth and a great trend for this franchise restaurant brand.
The company is working to remodel and upgrade the Huddle House locations and 42% are now fully remodeled to the newest look. The customer is responding well to the new look of Huddle House since the new EVO locations are showing an average volume of $774,000 versus the stores that are not remodeled which are at at $614,000. The top 80% of EVO stores are at $850,000 per year in sales. With 42% remodeled now, the group is encouraging everyone to make the change with a goal to hit 50% by the end of 2017 and 71% remodel by the end of 2019. The Huddle House franchise is even rolling out incentives to make this happen. The Huddle House franchise is offering an incentive to remodel allowing early adopters of the program to receive a $20,000 cash offset along with$5000 in local store marketing to announce the new store experience.
While sales were on the rise, profit also experienced an increase in 2015 with store sales profits rising an average of $9000 per store. Goals for the New Year operationally include:
A New back office system
Back to Basics Training
Loyalty program
To Go program
Mobile ordering
In addition to all this good news and focus, Huddle House has also announced a franchise incentive program for its franchisees that are willing to expand. They are offering an incentive package to existing franchisees valued at approximately $80,000. Any franchisee that signs a new franchise agreement and opens a store before the end of 2017 receives the waiver of a franchise fee and a $20,000 cash incentive for the build out.
That's great news for franchisees of the Huddle House brand. The franchisees that the restaurant brokers spoke with were enthusiastic and excited about the direction of Huddle House. It was a fun convention and great family time for a brand that connects deeply with families as a community restaurant.