Eric Gagnon of We Sell Restaurants has been named to the Georgia Association of Business Brokers Million Dollar Club as a multi-million dollar producer again for 2016.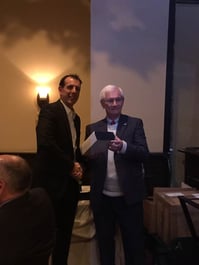 Gagnon is the Past President of the Georgia Association of Business Brokers (GABB) and Lifetime Member of the Million Dollar Club. He is also the recipient of the prestigious Phoenix Award which is presented only to those GABB members who have been named to the Million Dollar Club for more than ten years. Gagnon served on the board for the group from 2002 to 2012 and was President for the 2011 term.
Eric is the founder and President of We Sell Restaurants, the restaurant brokerage franchise selling more restaurants than anyone else nationwide. His company, found online at wesellrestaurants.com was formed in 2001 and began franchising nationwide in 2012.
The Georgia Association of Business Brokers or GABB is the only statewide organization dedicated to those serving the industry in buying and selling businesses. According to the GABB website, "GABB members have signed a comprehensive Code of Ethics and actively participate in co-brokerage transactions for superior service to business buyers and sellers. GABB is the only professional association and MLS in Georgia dedicated to the business brokerage and M & A markets. Through monthly educational/informational meetings, the annual Conference, and periodic courses, all members strive to achieve and maintain the highest levels of professional qualification."
Gagnon received the award at the annual awards banquet and holiday party held in Atlanta Tuesday evening. Fifteen members of the Georgia Association of Business Brokers (GABB) were named to the 2016 Million Dollar Clubs for helping to broker the sale of small-, medium-sized and large businesses in 2016. Gagnon said of the honor, "It is very exciting to see many members of the GABB join me in receiving not only a million dollar but a multi-million dollar award for 2016. It speaks to the overall health of the business brokerage industry and the strength of the brokerage community in Georgia."
Greg DeFoor, GABB's President in 2015 and 2016 is quoted online saying, "We are the go-to organization for business sales and acquisitions as a result of our dedication to the profession and our members being among the best in the state at what we do,"
In addition to his participation in GABB, Eric Gagnon is a speaker and member of the International Business Brokers Association (IBBA), The Business Brokers of Florida (BBF), the International Franchise Association (IFA) and the Southeast Franchise Forum (SEFF) where he serves on the membership committee. Eric is licensed as a broker in Georgia, South Carolina and Florida. He graduated from Frances Marion University and the University of Montreal. He has been designated a Business Industry Expert by Business Brokerage Press.
Eric is the co-author of Appetite for Acquisition, penned in 2012 and immediately named "Best of" by Small Business Book Awards.