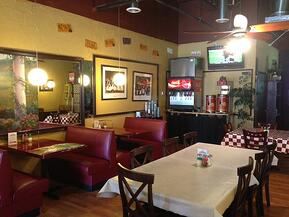 Buy this Pasta and Pizza Business for Sale in Roswell that was voted Best Pizza! Fully equipped, open and operating restaurant is priced to move at assets only!

Great opportunity to purchase this pasta and pizza business for sale that's priced at assets only! Great deal at less than $100,000! You can't start from scratch at this pricing. Owner states he is doing around $40,000 per month in this 2400 square foot location.There are no books or records available. Rent is $4166 per month with all CAMS, in a prime Roswell shopping center with tons of parking. Located in a major grocery store-anchored shopping center in Roswell, Georgia,the traffic count is around 40,000 + cars pass this shopping center two times a day!

This pasta and pizza shop for sale offered by the restaurant brokers has plenty of equipment to turn out a great pie. Fully equipped commercial kitchen with kitchen with grease trap, 20-foot hood and lots of equipment is all in great condition including pizza ovens to crank out the product they are best known for.

Beautiful interior reminds you of your favorite New York pizzeria! Close your eyes and you're there! This pasta and pizza business for sale is proud of it's truly authentic, hand-tossed New York Style pizza, with the dough and sauce made daily, on the premises, strictly according to their own carefully-gaurded recipes. Recipes and training by the owner are part of this asset sale.

With a welcoming atmosphere, and great servers, this pasta and pizza business for sale is perfect for special events and private parties, and already has a well-established catering customer base and separate catering menu.

Located in the heart of Fulton County, this pasta and pizza business for sale offers a variety of delicious, personalized entrees, that go well beyond the range of just a pizza and pasta restaurant. Full beer and wine license in place and customers can choose from a wide selection of beers and wines to pair with their entrees.

The restaurant is in great shape, offers a wide variety of foods, from pizza and pasta to subs and sandwiches and comes at a great price. Contact Certified Restaurant Broker, John Sparks today for more information on this one!