The restaurant brokers have compiled the results of buyers who are opening new franchise restaurant locations from multiple sources. It appears that franchises continue on an upwards trend across the U.S. Check out the latest deals that are making headlines in the franchise restaurant world!

The pizza industry seems as though it cannot ever reach a saturation point. We're seeing hundreds of new restaurant franchise deals announced including: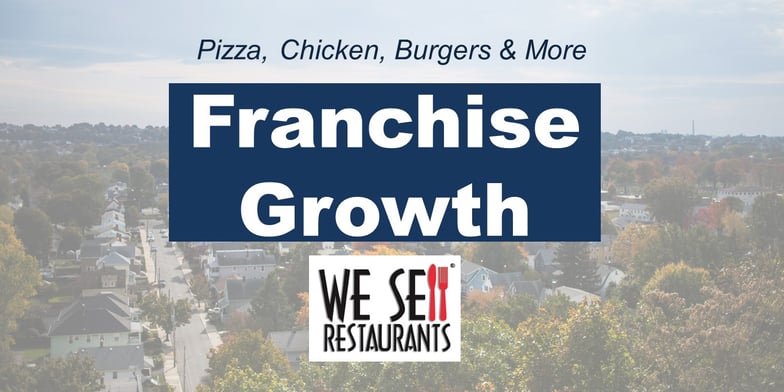 Rapid Fired Pizza is bringing 44 locations to Texas, and up to 175 new locations to Kentucky, Indiana, North Carolina and South Carolina. The build-your-own pizza concept launched in Kettering, Ohio in 2015 and has 15 locations with another 13 currently under construction.
AR Pizza LLC is expanding Dallas-based Pie Five Pizza Co. in New York and New Jersey. AR Pizza also owns 47 Popeye's locations and eight Arby's restaurants. Pie Five is a subsidiary of RAVE Restaurant Group, Inc., which owns, franchises and supplies more than 300 Pie Five and Pizza Inn restaurants domestically and internationally.
Pieology franchisee group Kingdom Pies LLC is adding to their Florida locations with a new store in Jacksonville Beach, Florida. Pieology also has locations in Arkansas.
Franchisees are biting into the burger and sandwich market with recent acquisitions including:

Potbelly Sandwich Shop added another agreement with the Chicago, Illinois-based company to bring five more shops to the Richmond and Charlottesville areas. Potbelly operates more than 400 locations in the United States, while franchisees operate 35-plus shops across the country and abroad.
The largest restaurant franchisee in the U.S., Flynn Restaurant Group, acquired another 34 Panera Bakery-Cafe locations. This is the latest acquisition to add to their roster that includes 477 Applebee's and 274 Taco Bells. Flynn expects to build another four Paneras within the next year, and to continue building about 10 Taco Bell restaurants per year.
Seth Goldstein, Alvin Goldstein, Mitch Cohen and Marvin Goldfarb opened a Jersey Mike's in Long Island, the first of five to be developed by the franchise owners. The team has industry experience as former multi-unit Dunkin' Donuts and Baskin-Robbins franchisees, and Cohen and Seth Goldstein were recognized by the International Franchise Association as Franchisee of the Year in 2009, and served in multiple leadership roles for both the IFA and Dunkin' Brands.
There are 50 new locations signed for the development of Hwy 55 Burgers, Shakes and Fries in Illinois over the next 10 years. . Hwy 55 has 137 locations in 12 states and Denmark and the United Arab Emirates.
BurgerFi, a Florida-based better burger concept, signed development deals with four multi-unit franchisee groups to continue expanding in the Southeast and Northwest. BullaFi LLC will build three new restaurants in the Raleigh, North Carolina area; QSR by RAM LLC will open two restaurants in Alabama and Georgia; H&F Investors LLC will develop four restaurants in Oregon and Washington; and AZ Hospitality LLC will develop two restaurants in Kansas
There are also several significant deals being announced in the fast food chicken franchise marketplace:
With its most recent acquisition, GPS Hospitality is adding 11 Popeyes Louisiana Kitchen restaurants in its home state of Georgia to its growing franchise portfolio, increasing its total number of Popeyes restaurants in Georgia and West Virginia to 19.

Dallas, Texas-based fast-casual chain Cowboy Chicken and Franchise Restaurant Concepts Group announced the signing of three lease agreements to open restaurants in Ankeny, Iowa, Manhattan, Kansas, and Sioux Falls, South Dakota. The units are part of a franchise agreement signed earlier this year with FRC Group to open 14 Cowboy Chicken locations across these three states.

As part of an eight-unit development agreement, franchisee Chris Wilson opened his third Slim Chickens restaurant in Lubbock, Texas, last month. A Southern fast-casual concept with a menu of grilled chicken tenders, wings and dipping sauces, Slim Chickens, based in Fayetteville, Arkansas, has more than 50 locations in 11 states.
Other significant acquisitions include:

Price Chopper and Dunkin' Donuts have struck up a deal to open Dunkin' stores inside three Kansas locations. This deal comes as Dunkin' continues to put forth efforts to expand throughout the grocery sector. Dunkin' currently has 200 restaurants within supermarkets, big-box retail stores, wholesale clubs and home improvement stores throughout the U.S. Dunkin's future goals include having more than 750 alternative points of distribution including locations in hotels, colleges, mass transit stations, entertainment centers, and military bases.
Middle Eastern fast-casual restaurant Mamoun's Falafel is developing six locations in Georgia including the Atlanta and Athens markets. Mamoun's currently has locations in New York City, New Jersey and Connecticut.
Pokeatery, a two-location San Francisco-based build-your-own poke restaurant signed its first franchising deal. Northern California will soon see three new locations.
Big Whiskey's American Restaurant & Bar will debut its first franchise location in Las Vegas early next year, followed by a location in Henderson and continuing throughout Clark County. Currently, Big Whiskey has five company-owned locations in Missouri and two franchised restaurants in Bentonville, Arkansas and Kansas City.
Slapfish, a fast-casual seafood chain will open two franchise locations in Albuquerque, New Mexico, with the first location currently under construction at the Holly Center with a target opening date of September. Slapfish has eight unites open and more than 100 in development both domestically and internationally.
Yogurtland has signed a deal with Charlie Yang and Allan Yang to develop eight locations in Dallas beginning in late 2017 throughout 2018. The Yangs currently have seven Yogurtland stores in Texas, California and Arizona.
Arooga's Grille House and Sports Bar made its New Jersey debut with the first of at least four locations opening in Union and Somerset counties. The first location for franchisee Toson Food and Beverage is in North Plain. Arooga's, a full-service casual restaurant and sports bar, has 10 corporate locations in Central Pennsylvania and four open franchise restaurants, with other in development in New York, Florida and Massachusetts.
Husband-and-wife duo Jonathan and Grace Darko signed on with Dickey's Barbecue Pit to open two locations in the fast-casual chain's hometown area of Dallas, Texas. The first restaurant is scheduled to open in Grapevine in January 2018, with a Frisco location to follow.
We continue to hear of tight margins and softening sales in the soft casual sector however the announcement of all these locations shows the appetite to develop new franchise restaurant stores and expand among existing concepts is still thriving. Want to see our franchise restaurants for sale? Visit the link below.