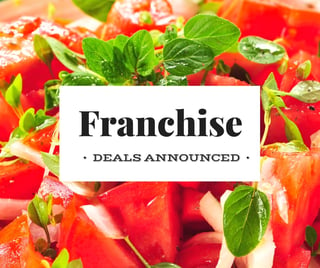 The restaurant brokers have scoured the headlines for the newest franchise restaurant deals signed coast to coast. Here's what we found in the industry press.
BBQ continues to be a hit. Tulsa-based Billy Sims BBQ has added another unit in Roseville, Michigan. Longtime franchisee Jim Turner is developing the store. Jim owns two other Billy Sims BBQ restaurants in the Detroit area. In addition, franchisee Steve Allen opened his sixth restaurant, this time in Chickasha, Oklahoma. His other BBQ units are in Duncan, Egin, Altus and two in Lawton, Oklahoma.
Pizza is also on the map for the month. Kono Pizza and Kono To-Go has signed several deals. Here's the rundown courtesy of Franchise Times. Sadashiva Pai, who signed on for 10 Kono Pizza units in the Dallas area, has one unit opened, with three-to-five slated to open in the next two years; Ryan Kelly is in play for 10 Kono Pizza units in the Dallas area, with first unit opened in a Wal-Mart. Robert Resendez, has five Kono Pizza units committed for Houston while Ben Hardie has committed to similar count in the LA and San Diego, California, area. The east coast is not left out of the mix. Jalal Roy is developing 10 units in the Atlanta metro while Tony Murphy agreed to open three units in Washington, D.C., his first in August and second scheduled to open on Black Friday (and looking for a third site); James Saliba is on the hook for three units in Florida; Gino and Eric Ciancaglini have two units in Philadelphia already open with three to go.
Pizza Inn, the international pizza restaurant with a local hometown feel, opened its newest location Wednesday, August 3 in Pearl, Mississippi. The new Pizza Inn buffet is located at 190 Riverwind Drive and owned by Kevin Khambhati.
PizzaRev®, a fast-casual pizza concept backed by Buffalo Wild Wings, announced today that a franchise agreement was signed to bring Craft Your Own™ pizza to Northern Louisiana. The development of PizzaRev throughout Northern Louisiana is led by longtime restaurateurs and business partners, Cassidy King and Mark Florsheim. There are more than 200 PizzaRev locations in various stages of development across the country. The brand currently operates 42 corporate and franchise locations throughout California, Colorado, Minnesota, Nevada, New York, Ohio, South Dakota, Tennessee, Texas, Utah and Mexico.
Toppers Pizza has signed former Domino's Pizza franchisee and Papa John's exec Mike McLaughlin and his wife Helen, to develop 22 franchise units between 2017 and 2022. The will be building throughout Northern Virginia and Maryland, with future plans for expansion in Baltimore and Washington, D.C. The first units to open will be located in the Arlington, Fairfax, Falls Church, Alexandria and Annandale areas of Virginia.
In the Northeast, lobster rolls are a staple; even McDonald's has a lobster roll on the menu ($8.99 last week in Maine, and not half bad). Mason's Famous Lobster Rolls, which was started in 2014 in Annapolis, Maryland, is hoping the nation's love of lobster will grow outside the Northeast. As they look for franchisees, they reported to a business publication that they already have sourced lobsters to travel wherever needed.
Twelve-year-old Ziggi's Coffee, with eight locations open in northern Colorado, plans to start offering franchises of both its coffeehouse and double-sided drive-thru units.
Looking around the globe, the United Arab Emirates is in full on development mode for Italian. Deals are signed for both Bella Italia and Russo's Coal-Fired Italian Kitchen. Russo's Restaurants' UAE franchisee group, Prime Hospitality, which already owns and operates six locations in the UAE, will open Russo's Coal-Fired Italian Kitchen later this year at The Point in Dubai Marina. Prime has also finalized plans to add eight more locations in the UAE during the next three years. In addition, Russo's has finalized an agreement to franchise its brands in Kuwait. The Kuwaiti franchise partners will be opening four units, three New York Pizzerias and one Coal-Fired Italian Kitchen
UK restaurant operator Casual Dining Group, has signed a franchise agreement with Fawaz Alhokair Group to operate an initial 18 Bella Italia restaurants in Saudi Arabia. Fawaz Alhokair, which licenses and operates both restaurants and retail brands, is opening new stores at a rate of an outlet-a-day in the region, according to a release.
Captain D's LLC, the leading fast casual seafood restaurant, has announed plans to expand its presence in Louisiana. Their goal is to open 17 restaurants by the end of 2016. Currently Captain D's has 512 restaurants in 21 states ans is the fast-casual seafood leader and number one seafood franchise in America ranked by average unit volume.
Bojangles' has signed a new multi-unit development agreement with Angle, Inc. of Gautier, Mississippi. Over the next several years, the new development agreement is anticipated to result in multiple new Bojangles' restaurant locations in southern Alabama and southeast Mississippi. Expanding its footprint through greater scale in states outside of its core North Carolina and South Carolina markets is a key strategic initiative for Bojangles'. There are currently 32 Bojangles' restaurants serving many thousands of loyal fans in Alabama.
Chicken Salad Chick, the nation's only southern inspired, fast casual chicken salad restaurant concept is expanding in Florida with its first location in Port Orange. The Port Orange restaurant marks the 13th Chicken Salad Chick location in Florida.The Chicken Salad Chick concept, born in Auburn, Alabama has 58 restaurants across the Southeast.
Fazoli's, America's largest fast casual Italian chain, announced a record-breaking month in July with the signing of nine multi-unit and single-unit franchise agreements to develop 22 new restaurants nationwide. As part of the agreements, Fazoli's will develop new restaurants in cities, including Dothan, Alabama; Snellville, Georgia; Southern California; and Hazard, Kentucky; Sioux Falls, South Dakota; Memphis, Tennessee; McAllen, Texas; Chicago and Central Indiana.
Burger 21®, an award-winning, "beyond the better burger" fast casual franchise has announced the signing of a multi-unit franchise agreement to develop two restaurants in the Atlanta area to further develop the brand's presence. Father-and-son franchisee team Dwight Pearson and Jamion Ridon plan to open two restaurants in Midtown and Sandy Springs over the next two years. Burger 21 currently has 24 open restaurants, including four restaurants across Atlanta, and approximately 20 franchised locations in development nationwide.
That is a lot of development on the horizon for new franchise restaurants. There is strong development from southern chains and pizza appears to have a lot of momentum for new franchise deals. Stay tuned for more updates on the latest franchise restaurant development deals.
Looking for a franchise to buy? Check out our franchises for sale at this link.