Franchising continues to grow and much of this is fueled by restaurants. The IFA (International Franchise Association) recently reported that they expect Arizona, Utah, Nevada, Colorado and Florida to be the largest growth states this year. Does that play out in actual openings? We looked high and low for the latest franchise restaurants opening around the country from published reports and here's what we found by region. Looks like the IFA may be onto something! They did leave Georgia off the list where we're are seeing business pop. Restaurant Broker Robin Gagnon noted that "Franchise deals are moving quickly along with the entire market right now." Here's the latest franchise restaurant sales and deals we found by region.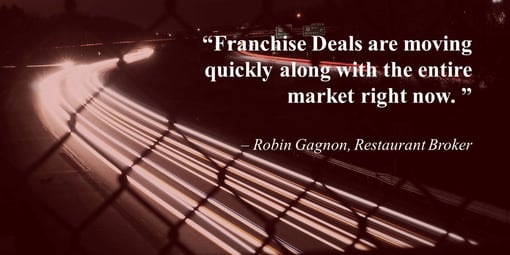 Southern Bound Brands!
Halal Guys opened January 28 in red-and-yellow building on the corner of Chamblee Tucker Road and Buford Highway in Chamblee in Atlanta, GA.
Two Huddle House restaurants are opening. The first in Jackson is planned this year while the second one in Forsyth, Georgia, is scheduled to open in 2018.The Jackson location will be Huddle House's 100th restaurant open and under development in Georgia
Atlanta-based GPS Hospitality, a rapidly growing franchisee group, said it will expand into five new states with the acquisition of 194 Burger King restaurants. The stores are located in Louisiana, Mississippi, Alabama, Arkansas and Florida. Approimatley 30-40 stores each year going forward are going to be getting a remodel.
MOD Pizza announces its ninth franchise partner – Southern Pie, LLC – who will develop MOD stores in Georgia and Alabama. MOD has over 195 locations in 20 states including Arizona, California, Colorado, Idaho, Illinois, Kansas, Kentucky, Maryland, Michigan, Missouri, New Jersey, North Carolina, Ohio, Oregon, Pennsylvania, South Carolina, Texas, Virginia, Washington and Wisconsin, as well as five locations in the UK.
An existing franchisee of Tropical Smoothie Cafe - Glen Johnson has inked a deal for 20 more stores in Texas. He has already opened the first one -- Lubbock. Johnson is the president of Rockland Ventures. He currently has 22 open locations in Arkansas, Oklahoma and Texas.
Uncle Maddio's Pizza signed Linda Zamboni, the former director of operations, franchise consultant and franchisee for McDonald's to open five units of the fast-casual pizza chain in the St. Petersburg/Clearwater area of Florida over the next five years.
Sonny's BBQ sold nine of its 10 company-owned locations. Six of the stores are in the Orlando area and three in Gainesville.
Cheddar's Scratch Kitchen has acquired 44 restaurants. Franchised units involved are in Kentucky, Tennessee, West Virginia, Ohio, Indiana, North Carolina and Virginia. Cheddar's, which now owns 139 of its 164 locations
Little Rock, Arkansas is in the news again. This time, Potbelly Sandwich Shop is opening a store there this spring.
Jacqueline Mansfield of Miami, Florida has signed an 18 unit development deal with CoreLife Eatery. Mansfield plans to open at least three CoreLife restaurants this year, the first to open in May in Florence, Kentucky. The next unit will be in The Summit at Fritz Farm, a premier retail facility located in Lexington. The third to open will be in Centerville, Ohio, a suburb of Dayton, in front of the new Costco.
Western Bound
Despite the high costs of development often cited by these restaurant brokers, California continues to attract those opening new franchise restaurants. Broken Yolk Café, a breakfast and lunch concept with large portions, is slated to open the second quarter of 2017 in the city of Corona. Del Tacos just opened in Clovis and Fresno, California and fast-casual seafood concept Slapfish finalized a franchise agreement to build five locations in the San Diego area.
In other western states, franchise restaurants are opening. Phoenix's Pizza LLC are opening the first full-service Godfather's Pizza, in South Jordan, Utah, 17-miles south of downtown Salt Lake City. This is the first restaurant in the couple's multi-unit franchise agreement with the pizza chain.
Arizona-based, Grabbagreen® is opened a second location in the Denver Metro area on Friday, January 20. .
Forget the U.S. -- these are International deals recently announced.
Yogurtland, announced its continuing international expansion with the opening of its first location in Singapore. Hooters just announced the opening of a new international location in Managua, Nicaragua. The Pie Hole is launching its first international franchise location in Tokyo. The Tokyo store is located just steps from the busiest train station in the world, Shinkjuku station in LUMINE Shinjuku. This is the first Pie Hole unit of 10 slated for Japan.
Boston's Restaurant & Sports Bar is heading south of the border with an eight-unit deal in Mexico. The new locations will join the 13 existing Boston's in Mexico, and will be owned by seasoned hospitality group Desarrollos Juventud. The group is targeting areas of Torreón, Saltillo, Tijuana, Mexicali, Hermosillo, León, San Luis Potosi and Aguascalientes for restaurant development.