Ken Eisenband, We Sell Restaurants Franchise Partner for Broward and Palm Beach county, recently presented a seminar titled, "Selling Restaurants 101" to the Business Brokers of Florida (BBF).
Ken's educational seminar was focused on helping other brokers understand the key metrics and items on the restaurant financial statement as they perform valuations or assist others in selling or buying a restaurant. He focused on key points such as, "what is the broker Selling?" along with a primer on the variables found on restaurant financial statements. He reviewed common ratios for cost of goods sold, labor costs and rent along with other expenses. The most important number, in his words, "Rent – you cannot fix a bad rent deal."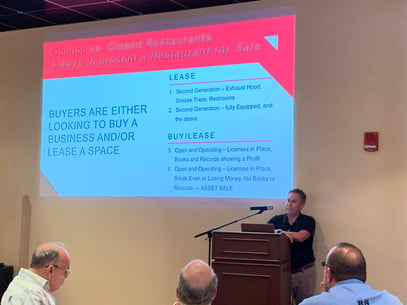 Eisenband reminded the group that other items on the profit and loss are controllable. Food is in his words, "easily fixed by a new owner" and other expenses are "easily re-budgeted." Even labor, in Ken's opinion is "easy to fix over time with new staffing, new pay structure or new scheduling parameters." Rent, however is a fixed cost that cannot be changed.
Ken also cautioned brokers on the practice of selling a restaurant that is doing a "cash business" stating that the owners have "lied to the IRS, lied to the Florida Department of Revenue, lied to their accountant, BUT, expect the buyer to trust everything they are told." Ken's enlightening and entertaining presentation was attended by business brokers from across the state who are members of Business Brokers of Florida.
The Business Brokers of Florida is a nonprofit association for business brokerage companies and their agents in the state. The BBF association is the largest state business broker association in the country, and the second largest association of business brokers in the world.
The Business Brokers of Florida membership is restricted to those with experience in the industry or who attend specific training and have demonstrated knowledge in the industry. They must establish this expertise when applying for membership. Any member of the BBF is also held to a strict code of ethics, ensuring that buyers and sellers receive principled treatment in any transaction.
Other members of the BBF include those supporting transactions such as attorneys, accountants, financial planners, appraisers and various financial institutions specializing in business loans. The association has more than 1,400 members and over 4,000 listings in their database. The Business Brokers of Florida currently has five districts within the state of Florida.
Ken Eisenband is the multi-unit Franchise Partner for Broward County and Palm Beach County Florida, the southern part of the Sunshine state. Ken leads two offices for We Sell Restaurants with distinction and directs a team of Restaurant Brokers as a multi-unit owner. Ken is a member of the Business Brokers of Florida Association where for numerous years, he received the prestigious Dealmaker Award as one of the top 5 transaction agents in the state of Florida as well as receiving the Million Dollar Club award.
Additionally, Ken is licensed by the Florida Real Estate Commission as a Broker and has also completed training leading to his designation as a Certified Restaurant Broker. Ken graduated with Honors from The School of Hospitality at Michigan State University in 1983 and has thirty years of experience in the restaurant industry.
For a look online at Ken's restaurant for sale listings, visit this link.