If you're in the market for buying or selling a restaurant, a simple metric may tell you what you need to know about the services of our company, We Sell Restaurants. Established for more than 17 years, we focus on selling more restaurants than anyone else nationwide. How do we accomplish that goal? We strive to create a customer service experience that turns clients into raving fans.
For two years, we have tracked our Net Promoter Score. A net promoter score is a measure of the response to the simple question, "how likely are you to recommend We sell Restaurants to a friend or colleague?" The responses are used to calculate our Net Promoter Score or NPS.
According to Harvard Business School, the NPS is a customer loyalty metric that measures customers' willingness to not only return for another purchase or service but also make a recommendation to their friends, family or colleagues.
The Actual NPS Calculation
The calculation is simple and standard whether it's used in the business brokerage industry, retail or technical support. Respondents simply answer the question on a scale of 0 - 10. The same question is asked each time with simply a substitution of the brand name. For our brand, we ask everyone who participates in a closing as either a buyer or seller, "How likely is it that you would recommend We Sell Restaurants to a friend or colleague?"

The responses are grouped based on the methodology as shown below.
Answer 9 - 10 and you're what's known as a Promoter. That makes you a loyal enthusiast who will keep buying and refer others, fueling growth for our brand.
Answer 7 - 8 and the methodology categorizes you as a Passive. These are satisfied but unenthusiastic customers who are vulnerable to competitive offerings.
If you answer anywhere lower than this, in the range of 0 - 6, you're known as a Detractor. Detractors are unhappy customers who can damage any brand and impede growth through negative word-of-mouth.
The math is simple.
Subtract the percentage of Detractors from the percentage of Promoters to yield the Net Promoter Score, which can range from a low of -100 (if every customer is a Detractor) to a high of 100 (if every customer is a Promoter).
How does We Sell Restaurants Stack Up? We're at 56.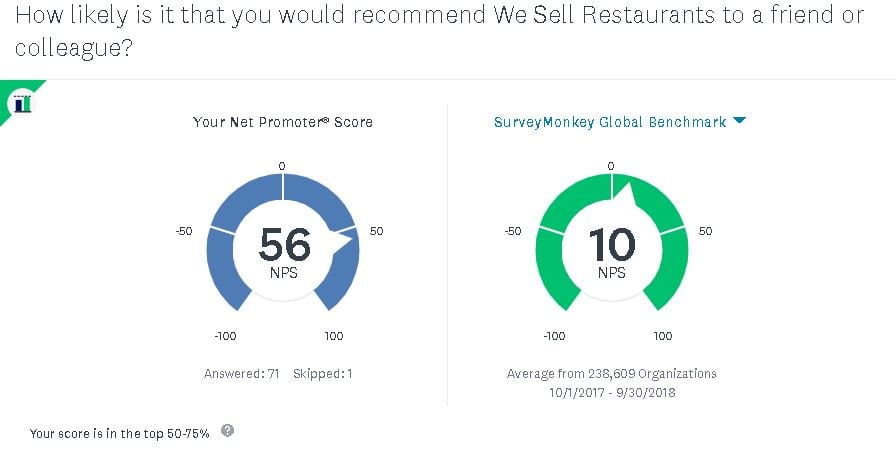 That puts our score in the top 50-75% of all companies using the metric. Scores higher than 0 are typically considered to be good and scores above 50 are considered to be excellent.
We also ask our customers to write to tell us why they gave the scores. Here are some of the latest remarks:
"Scott Ruby helped us with the sale of our Little Caesars -- could not have asked for a better broker -- above and beyond expectations -- rare to find and very appreciated -- thank you!!"
"I had interviewed several brokers. When I spoke to David Duce and instantly felt he was an advocate for me not just a mediator of a transaction. He treated me the way I would treat a seller."
"Robin and her staff were very professional to work with."
"The agent was AWESOME!!!! Super knowledgeable, aggressive, helpful, and friendly. I wish I had other things to use him for."