Chick-Fil-A just launched their new website and the restaurant brokers have taken a look at what we believe will become the standard for the fast food industy.
What makes this website so special? It's not only the features and bells that really focus in on the customer experience. It's also how they do this while staying true to their core principles. For example, anyone who has ever craved a chicken sandwich on Sunday along with some waffle fries knows that founder Truett Cathy started his restaurant with a committment to closing on Sundays. He worked in the business for a number of years seven days a week for stores open 24 hours a day. When he launched his own concept, he decided his company would always have one day a week set aside for employees to rest and pursue a personal committment to their faith. The Chick-Fil-A founder believed that committment was more important than business. Now, some 70 years later, and with more than 2,000 restaurants, they have stayed true to that resolve no matter what mall or location they went into.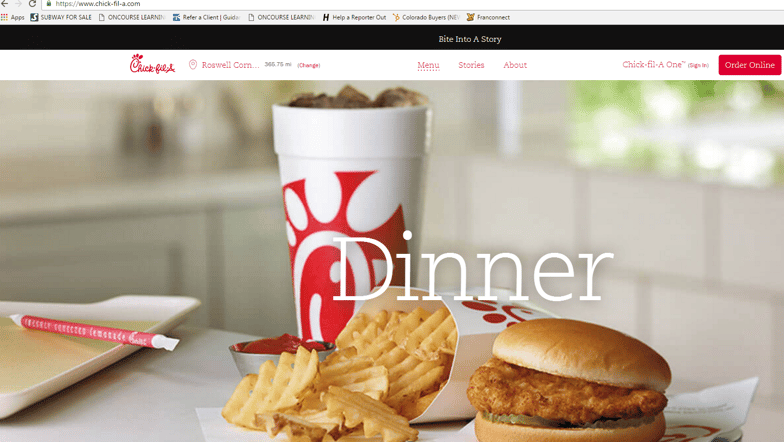 Is the new website closed on Sundays? Well, sort of. The company's ingenious site will focus on "Sunday stories" or according to their spokesperson, content, "developed through the lens of 'providing a service,' meaning the pieces serve the reader's time well by making them laugh at new Sunday comic, Chicken Strips, inspire them to create a meal at home with friends and family or dive into a long-format feature." That's right. There's no push to buy and instead, they make it all about the customer.
That's not the only feature of the new website that we like. The focus is on making this an information hub and sharing stories about the business. Everything is customized and localized to each user. The home page allows the user to select an individual path through the site. Youc an choose your favorite Chick-fil-A restaurants and see any local specials os or menu pricing. Unlike some sites that seem embarrassed to share their calorie count or nutrition information, Chick-fil-A
In another ground breaking move, the website has the embedded publication of a digital magazine called "The Chicken Wire." This good-news publication is dedicated to multi-media stories about food, hospitality and community. Their spokesperson was quoted in Restaurant News saying, ""Our restaurants are often the setting for serendipitous moments where acts of human kindness inspire conversation. So, while we use the site to give guests the information they need about our menu, ingredients and restaurants, we also want to offer them something a little unexpected, like access to acclaimed chefs, seasonal recipes they can make at home, and stories that inspire, like the documentary-style film of a high school student who bonds with a dementia patient through their love of art," says their digital communications and content strategy manager, Ashley Callahan.
Our favorite part of this website is the way it weaves the culture of the company which is comittment to family, faith, fun and across a digital footprint. A 70 year old brand is as relevant and beautiful online today as it was when it was born many years ago in rural Georgia. Visit Chick-Fil-A online and take a test drive of this new website yourself and let the restaurant brokers know what you think. Whle you're at it - order #1 for us and send it this way too!