Restaurant Broker Dominique Maddox closed the deal on frozen yogurt business for sale, La' Berry Frozen Yogurt Café in Savannah, Georgia.
La'Berry Frozen Yogurt Café in Savannah, Georgia is no longer listed as a frozen yogurt business for sale. This location was not on the market for long before it was sold by Restaurant Broker Dominique Maddox.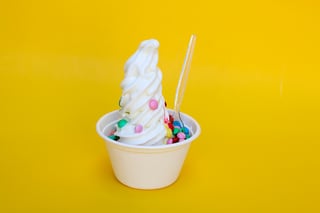 The new owners, Rani Marapally & Vijay Basireddy, knew they couldn't pass up this great opportunity when they found this frozen yogurt business for sale. Marapally & Basireddy have extensive business experience, and the acquisition of this frozen yogurt business for sale will be their first venture into restaurant ownership. The seller, William Klein, purchased the store in 2016 and has decided to relocate, hence the reason he listed this business with the Restaurant Brokers.

The location of the now off the market frozen yogurt business for sale couldn't be more ideal – right next to a corner store on busy West Broughton Street. This heavy-traffic street is also home to the nearly 100-year-old Lucas Theatre, Gutstein Gallery (which has displayed original artwork from the likes of Yoko Ono), and the popular Paris Market and Brocante. La'Berry is also close to major retailers as well, including J. Crew, Kate Spade, Urban Outfitters, and H&M. What better way for tourists and locals to cool off after a busy day of shopping than with a cold, sweet treat?

When Marapally & Basireddy researched this frozen yogurt business for sale they did not want to miss out on what Restaurant Broker Dominique Maddox called "a store located in a prime tourist area in Savannah." Maddox also stated that the new owners purchased this frozen yogurt business for sale "during tourism season, so they won't lose out on the summer sales!" For the remainder of this season the location will operate as La'Berry, however the new owners will re-brand into an independent store with multiple different sweet treats on the menu!

La'Berry was not your typical frozen yogurt business for sale. The new owners enter into a great opportunity with a loyal customer base that keeps coming in week after week. Couple that with the tourist traffic that this location sees, and they will be kept busy with their new business venture! If the new owners decide to add more hours and increase the current marketing efforts after the revamping, this location is sure to be an even bigger hit with its customers.

Certified Restaurant Broker Dominique Maddox holds a real estate license in the state of Georgia. He holds a BBA in Business Management from Morehouse College. Maddox was the proud recipient of Business Brokers 2011 "Rookie of the Year" award and was elected to the Board of Directions of the GA Association of Business Brokers in 2012.

Are you in the market for a frozen yogurt business for sale such as this one? Click on the link to be taken to our bagel shops for sale across the country, and check out all of the listings We Sell Restaurants® has to offer here.

If you're in the market to sell your restaurant, give the restaurant brokers a call at (888) 814-8226, or click here for a free valuation of your restaurant.