A lot of deals were made in September and the Restaurant Brokers are excited to pass along the latest franchise restaurant sales deals inked in the industry. Here's the scoop ranging from pizza, to famous celebrity restaurants, and even those encouraging veterans to become business owners.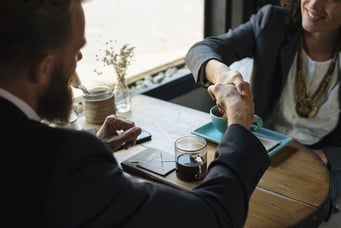 Round Table Pizza recently announced its acquisition by Global Franchise Group (GFG). Round Table has over 500 locations in the United States, Dubai, Bahrain, and Mongolia to name just a few. The pizza franchise is well-known for their active involvement within the communities their franchises are located in, as well as for partnering with the Make-A-Wish Foundation. Round Table Pizza is famous for their made-from-scratch sauce and daily hand-rolled dough.

GFG is based out of Georgia and specializes in quick service restaurant franchises in addition to franchise retailers and other products. The firm operates over a thousand franchise locations spanning more than 40 countries. In addition to the newly acquired Round Table Pizza, GFG also owns MaggieMoo's and Marble Slab Creamery.

Hy-Vee, an employee-owned grocery chain that operates over 240 locations throughout the Midwest, is now in a partnership with burger chain Wahlburgers, which is owned by famous actor/musician brothers Donnie and Mark Wahlburger along with their chef brother, Paul. The brothers and their burger chain are also the subject of the A&E show of the same name. The famous family are also owners/operators of Alma Nove, a restaurant that they have had since before opening Wahlburgers.

The deal between Hy-Vee and Wahlburgers makes Hy-Vee the largest franchisee of Wahlburgers, with plans to build 26 new standalone restaurants. Hy-Vee's restaurants, Hy-Vee's Market Grille, will also serve select Wahlburgers items at their 84 locations. Those watching franchise restaurant sales closely will notice that Wahlburgers has been announcing growth frequently over the past year.

The Green Turtle Sports Bar & Grille has penned a deal with Jai Somnath, LLC to develop 10 units in a franchise restaurant sales deal announced for Pennsylvania and New Jersey. The Green Turtle opened in 1976 on the Boardwalk in Ocean City, Maryland, and has since expanded to 44 location along the East Coast. The Green Turtle is the go-to place to view professional sports on the televisions and to enjoy killer drink specials.

Jimboy's Tacos is expanding their presence in Southern California thanks to a deal with All American Taco Company, promising 20 new franchise restaurant sales locations.
Jimboy's was founded in 1954 in Grass Valley, California in a trailer converted into a mobile cookery. The taco producer has since expanded to include 38 locations in northern and southern California as well as Nevada. For those of us on the East Coast wondering what the buzz about Jimboy's is all about – wait patiently, big plans in the future include extending franchise locations across the nation!

The trend toward healthy food alternatives continues to develop. Two newest franchise restaurant sales announced in this health food sector are for Grabbagreen and Juice it Up!
Grabbagreen and Green & Go, LLC recently entered into an agreement that promises to develop 10 stores in Southeast Michigan over the next five years. Grabbagreen is a healthy fast casual franchise with many organic menu options, and currently has 24 locations across the United States. They will be grabbing lots of green in the near future, as they have 98 store agreements and over 174 development agreements in the works!

Juice It Up!, a franchise that specializes in smoothie and raw juice bars with 89 locations throughout California just announced that two more franchise locations are in the future for SoCal. This comes after Ken Hardy, a veteran Marine, along with his wife, Kristina, became new franchisees through Juice It Up!'s VetFran Platinum Program. The VetFran Platinum Program offers a $15,000 discount on initial fees. They also waive 50% of the initial fee for the second unit.
Are you interested in purchasing an existing franchise restaurant sales available in the market? Visit our website. We also help existing franchisee looking to sell their buisness. Contact us today!