ERIC GAGNON, the President of We Sell Restaurants has been named to the Board of Directors of the Southeast Franchise Forum (SEFF). The Southeast Franchise Forum is a regional organization established to foster professional relationships throughout the franchise community and to enhance the reputation of franchising through the exchange of information, ideas and solutions.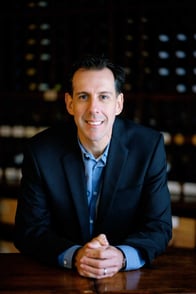 Clarissa Bradstock, CEO of Any Test Franchising (AnyLabTestNow.com) said of Gagnon joining the board, "I'm pleased to announce that Eric Gagnon will be joining us on the SEFF board. With Eric's experience as a franchisor, as well as his experience working with other franchise systems, I think he will bring a unique perspective to SEFF."
Eric is the founder of We Sell Restaurants and wesellrestaurants.com and began franchising the restaurant brokerage brand in 2012. He is the nation's leading restaurant broker who has been designated an Industry Expert in restaurant sales and valuation by Business Brokerage Press. He is a frequent speaker, writer and co-host of the nation's long running radio show devoted to the restaurant industry.

Eric is co-author of the award winning book, Appetite for Acquisition. His book on buying a restaurant sets the standard for the industry, has consistent five star rankings on Amazon and was named "Best of 2012" by Small Business Book Awards in the year it was published. Eric's background includes the financial services sector and he held positions with Bank of America, Bank of New York and big five accounting firm, KPMG before launching his brand in 2001.
Gagnon is also the Past President of the Georgia Association of Business Brokers (GABB) and Lifetime Member of the Million Dollar Club. He received the organization's highest honor, the Phoenix Award, for achivement of the Million Dollar Award for more than a decade. He is a member of the International Business Brokers Association (IBBA) , Business Brokers of Florida (BBF), and the International Franchise Association (IFA). Eric is licensed as a Broker in Georgia, Florida and South Carolina. He holds degrees from major universities in both the United States and Canada.
Gagnon said of his appointment to the SEFF board, "I am
excited and honored to participate on the executive board of this team focused on franchising in the south. This is one of the most active chapters of the FBN (Franchise Business Network) of the IFA and I look forward to assisting with its continued success."
Eric joins other board members in the franchise community including the Chairman, Clarissa Bradstock of AnyLabTestNow, Tray Doster of Zaxby's, Chairman Emeritus, Jim Squire of Firestorm, Rupert Barkoff of Kilpatrick Townsend & Stockton, Bill Bishop of Grant Thornton Atlanta Office, RIck Batcheor of Qiigo, Dave Bridges from Leavitt Group Atlanta Office, Stan Friedman of FRM Solutions, Robert May from Rollins Inc and Kathryn Rookes Franchise Attorney.