ERIC GAGNON, President of We Sell Restaurants has been honored with the Georgia Association of Business Brokers prestigious Phoenix Award and multi-million dollar award again for 2015. The Phoenix award, presented to brokers that have been in the GABB Million Dollar Club for ten years has been awarded less than a handful of times in the history of the organization.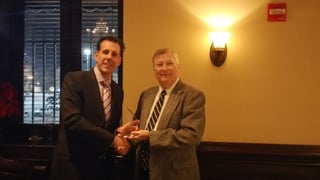 Gagnon said of the honor, " "GABB serves those in the market to buy or sell a business by helping to provide educational services and ethical standards for those in the industry. As a member for over a decade, it is a honor to achieve this milestone. GABB is a very important part of the business brokerage community and the strength of the organization lies in the many members who share their knowledge with peers and seek continuing education in their field."
Gagnon is a past President of the Georgia Association of Business Brokers and has served every position on the executive leadership team including: Director, Treasurer, Secretary and Vice-President.

ERIC GAGNON is the President and founder of We Sell Restaurants and wesellrestaurants.com. Eric has been designated an industry expert by Business Brokerage Press and is a radio personality, frequent speaker and writer. Eric co-hosts a syndicated radio show for the restaurant industry and in 2012, launched his restaurant brokerage brand, We Sell Restaurants, into a national franchise. He co-authored Appetite for Acquisition, his book on buying restaurants that was named "Best of 2012" by Small Business Book Awards. In addition to GABB, Eric is a member of the International Business Brokers Association (IBBA) and has served as a speaker at its national meeting. He is also a member of the Business Brokers of Florida (BBF), the Southeast Franchise Forum (SEFF) and the International Franchise Association (IFA). Eric is licensed as a broker in Georgia, South Carolina and Florida. He holds degrees from major universities in the United States and Canada.
The Georgia Association of Business Brokers or GABB is a professional membership organization committed to professionalism in the business brokerage industry. GABB members relentlessly pursue professional development so they can render superior, ethical services for all customers and clients.
GABB members have signed a comprehensive Code of Ethics and actively participate in co-brokerage transactions for superior service to business buyers and sellers. GABB is the only professional association and MLS in Georgia dedicated to the business brokerage and M & A markets. Through monthly educational/informational meetings, the annual Conference, and periodic courses, all members strive to achieve and maintain the highest levels of professional qualification.
More information about the organization can be found online at www.gabb.org