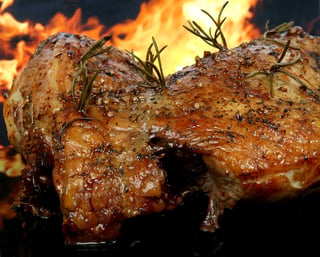 Hat tip to our good friends at Restaurant News who compiled an amazing list of restaurants that are open for Thanksgiving Day. The restaurant brokers have to admit, that like many Americans, we have been shirking the responsibility of standing in front of the hot stove and putting dinner on the table for a number of years. Why bother when there are so many great restaurants open to either dine in or best of all-- pick it up to go!
Seems like we're not alone as the National Restaurant Association research from 2015 found that 14 million Americans dine out for this holiday. That's a lot of people who are not heading to grandma's house in a few short days. They also found that 16 million Americans supplement home cooking for Thanksgiving with someone from a restaurant kitchen.
What are the benefits of letting someone else do the work? Well start with -- someone else does the work! For those of us that prefer to spend the time in the company of the ones we love, there's no wondering if the Turkey will finish on time or if we remembered to pull those pesky giblets out. We can sit back, relax, enjoy a glass of wine and count our blessings while someone else serves up the food.
We've seen the list of restaurants open for Thanksgiving grow in number for 2016 so we decided to group them by category below:
Traditional American Restaurants where one would expect a Thanksgiving Day feast include the follwoing offerings:
Country Buffet will be open from 11am-6pm.
Country Cookin is serving up their Thanksgiving Day Feast with turkey or ham with all-you-can-eat holiday salads and sides for $10.99 (kids 10 and under $4.49). Most locations open and serving breakfast from 7-11 am and a traditional Thanksgiving Feast from 11am-4 pm.
Cracker Barrel Old Country Store will serve a special in-store Thanksgiving meal from 11 a.m. to 10 p.m. This traditional Homestyle Turkey n' Dressing Meal comes complete with gravy, a sampling of sugar cured ham, sweet potato casserole with pecans, cranberry relish, choice of a country side, a refillable beverage, made from scratch biscuits or corn muffins, and a slice of pumpkin pie for dessert. The Homestyle Turkey n' Dressing Meal is available for $12.99 per adult and $7.99 per child.
Denny's guests can enjoy the popular Turkey & Dressing Dinner, featuring a tasty new recipe with perfectly carved slices of premium turkey breast. This holiday favorite is served with savory stuffing, turkey gravy and cranberry sauce along with a choice of two sides and dinner bread.
Waffle House restaurants will be open, still serving 'em up scattered, smothered & covered.Boston Market will be open serving a traditional Thanksgiving Dinner.
Golden Corral is offering a Thanksgiving Day Buffet at participating locations. The buffet includes carved turkey, carved ham, fried chicken, rotisserie chicken, pot roast, meatloaf, sirloin steak, fried shrimp and much more. Call your local Golden Corral for special holiday hours
K&W Cafeterias will be offering a Thanksgiving Day Special for $7.49. Roast turkey with dressing and cranberry sauce, two vegetables, fresh baked bread, scratch made dessert and refillable beverage. Continuous service Thanksgiving Day.
Marie Callender's – Adults $19.99. Starters include fresh baked golden cornbread, a coup of potato cheese or hearty vegetable soup or a crisp house salad. Entrees include choice of Freshly Roasted Turkey Dinner or Oven-Baked Ham. Includes seasonal vegetables, fire-roasted yams with cranberry streusel topping and fresh mashed potatoes. Kids $8.99.
Mimi's Cafe is serving up its traditional Thanksgiving Dine-In Meal beginning at 11 am on Thanksgiving Day. The quintessential three-course dinner ($18.99 for adults and $8.99 for kids) includes choice of soup or Mimi's house or Caesar salad, roasted turkey (choice of white and/or dark meat), traditional gravy, buttered cornbread stuffing, whipped mashed potatoes, candied pecan sweet potatoes (without pecans for kids), green bean casserole with French fried onions, apple cranberry orange relish, signature bread basket with carrot nut bread, petite French Baguettes and choice of brown sugar pumpkin pie or bourbon pecan pie (upgrade to any Slab Pie for $1).
Seasons 52 is taking reservations and will be serving Thanksgiving Dinner. Enjoy Plainville Farms roasted turkey with gravy, traditional herb stuffing, Yukon mashed potatoes, maple-glazed butternut squash, French green beans, house-made cranberry relish, and pumpkin pie mini indulgence. Adults $26.90. Child's portion $12.90.
Shoney's will feature its home-style, Thanksgiving Day All-You-Care-to-Eat Food Bar, starting at $11.99 and $5.99 for kids 5 -10. Kids 4 and under will enjoy a free buffet with an adult meal purchase and each guest who enjoys Shoney's Food Bar will received a free slice of delicious pumpkin pie.
These seem like traditional stops on the Thanksgiving Day feast parade but in one twist the restaurant brokers didn't see coming, there are a number of Mexican restaurants offering full fledged American meals including:
Acapulco Restaurant and Cantina is serving a special Thanksgiving Day buffet with a turkey carving station, traditional Thanksgiving dishes, Mexican specialties, soups, salads, desserts, and more. For Ports O' Call – $ 26.99/$9.99; For Marina Pacifica, Downey, Costa Mesa and Glendale – $24.99/$9.99; For all other Acapulco locations – $21.99/$8.99. For Los Angeles – regular menu only. Ports O' Call, Marina Pacifica, Costa Mesa, Glendale (11am-7pm), Downey (11am-8:30pm), Los Angeles (12pm-8pm). All other Acapulco locations (11am-7pm).
El Torito will offer an all-day buffet with traditional Thanksgiving items, including a turkey carving station, Mexican specialties, taco station, salads, soups and desserts from 11am – 7pm. For El Torito in Burlingame, Dana Point, Monterrey, San Leandro and Marina del Rey – All-Day Buffet $25.99/$7.99. All Other El Torito Locations – All-Day Buffet $23.99/$7.99.
Chevys Fresh Mex will offer a seasonal dish created by Chef Carlos Franco – Achiote-Marinated Roasted Turkey breast with rojo mole served with garlic mashed potatoes, green bean casserole, jalapeno corn bread and cranberry sauce. Guests can also enjoy all of the Chevys craveable favorites such as mesquite-grilled fajitas, tableside guacamole, freshly squeezed margaritas, farmers market enchiladas and more. 11am-7pm. Thanksgiving dish is $17.99 per person; $7.99 per child. Price may vary. Regular menu is also available
It doesn't stop with Mexican themed restaurants, Italian restaurants are getting in on the mix and they include:
Maggiano's Little Italy is taking reservations. First Course: Assorted Brushetta Plate, compliments of the chef. Second Course includes choice of Maggiano's Salad, Caesar Salad, Chopped Salad or Italian Tossed Salad (choose two). Third Course choices include Traditional Roast Turkey Breast with Giblet Gravy & Focaccia Sausage Stuffing, Country-Style Baked Nueske Ham with Mashed Sweet Potatoes and Parmesan-Crusted Tilapia with Sage, Lemon & Tomatoes (choose two). Choose two pastas: Taylor Street Baked Ziti, Maggiano's Famous Rigatoni "D", Spaghetti & Meatball, Four Cheese Ravioli, Gnocchi & Italian Sausage and Pasta of the Day. Fourth: Pumpkin Cheesecake, Warm Apple Crostada, Chocolate Zuccotto Cake and Tiramisu (choose two).
Buca di Beppo Italian Restaurants are serving up a Traditional Turkey Dinner with sliced white meat turkey, homestyle gravy, roasted garlic mashed potatoes, spicy Italian sausage stuffing, green beans, cranberry sauce and pumpkin pie. Individual $20. Small serves three for $60. Large serves 6 for $120. Dine in only. Prices may vary by location.
Romano's Macaroni Grill will be offering a great Thanksgiving dinner for just $18.99 from 12 noon to close by reservation only. Includes Roasted Turkey with Roasted Garlic Rosemary Gravy, Buttermilk Mashed Potatoes, Glazed Carrots with Candied Bacon, Sausage & Apple Stuffing and Cranberry Sauce.Roy's is offering a three-course holiday menu. Starters include Grilled Caesar Salad or Lobster Bisque. Entree will be Pan Roasted Teriyaki Glazed Turkey. Sides include Potuguese Sausage Stuffing, Haricot Vert and Hazelnuts, Sesame Carrots and more. Desserts include Maple Brown Sugar Pumpkin Tart or Chocolate Torte. Adults $39.95 per guest without wine or $69.95 with two glasses of wine. Children's Turkey Dinner $16.95
Seems like the Steakhouse and Seafood Restaurants want to attract you as well including:
Black Angus Steakhouse encourages you to make your reservations now for its Thanksgiving Day Feast served with all the fixin's. $18.99 for adults and $9.99 for kids.
Bonanza Steakhouse will be offering a Thanksgiving Day Premium Buffet brimming with all of your holiday favorites. Contact your local Bonanza today for details and pricing.
Fleming's Prime Steakhouse opens at 11am serving a four course Thanksgiving meal for $39.95 per adult. Main Course includes Mixed Herb Roasted Turkey Breast with turkey gravy, Housemade Brioche Stuffing, Butter-Mashed Sweet Potatoes, Green Beans with bacon, almonds and onion. Children's Thanksgiving Menu available for $19.95.
Ruth's Chris Steak House is opening at 12pm Thanksgiving Day with a special menu. $39.95 per adult and $12.95 for children (prices may vary at participating locations). Starters include choice of Seafood Gumbo, Caesar Salad or Steak House Salad. For the main course, Ruth's Chris is offering oven-roasted sliced Turkey Breast served with homemade gravy, sausage and herb stuffing and more
Smith & Wollensky will be serving a traditional Thanksgiving Day menu for $49 per adult, $20 per child under 12. Roasted Butternut Squash Soup, Chopped Salad, Herb Roasted Turkey with Sausage and Cornbread Stuffing, Roasted Brussels Sprouts, Potatoes Au Gratin, Duck Fat Roasted Root Vegetables. Choice of Classic Pumpkin Pie, Warm Apple Tart or Pecan Pie. Dinner menu also available.
McCormick & Schmick's Seafood & Steaks is serving a Roasted Turkey Dinner at participating locations. The Roasted Turkey Dinner includes butternut squash bisque or walnut mixed greens, mashed potatoes and gravy, cornbread stuffing, apple squash casserole, seasonal vegetables and cranberry sauce. Reservations recommended.
Legal Sea Foods will serve turkey breast with sausage stuffing, mashed potatoes, butternut squash, gravy and cranberry sauce. $24.95 per person and $8.95 for children 12 and under. Hours may vary by location. Reservations recommended.
Ponderosa Steakhouse will be offering a Thanksgiving Day Premium Buffet brimming with all of your holiday favorites. Contact your local Bonanza today for details and pricing.
The number of restaurant chains open for Thanksgiving seems to grow every single year. Whether you are dining in these locations, enjoying your family's home cooking or serving up your own creation, we wish you a wonderful holiday filled with blessings.