Share your journey to buy a restaurant on the national level. We Sell Restaurants is assisting in a casting call for restaurant buyers for a national TV show.
Are you a husband and wife team with a dream for a diner? How about a partnership seeking a place for your new cuisine that's never been seen before? A national show focused on the process of buying a restaurant has asked the team at We Sell Restaurants to find those who want to share their store.
Why is a casting company consulting with We Sell Restaurants? It's simple. We sell more restaurants than anyone else. PERIOD. That means Hollywood is knocking on our door to meet our many buyers for restaurant opportunities that look at lot like YOU!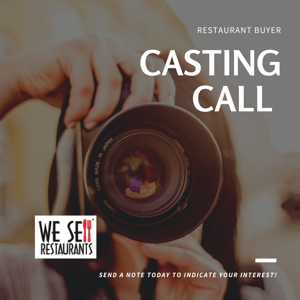 Ready to give it a try? The steps in the process are simple.
First – Decide you want to know more and send an email to robin@wesellrestaurants.com
Second – Describe your journey to buy a restaurant in a quick sentence or two. Describe who you are partnered with on this venture to land in the restaurant business.
Third – The casting company will reach out to see if you are a fit for their needs! They are looking for high energy people who are not the least bit camera shy!
Time is short so don't delay on the opportunity to shed some light on your new venture.
The agency is particularly interested in a team of buyers – more than one person. This can be a husband and wife team, college buddies buying a bar or significant others taking steps to work together outside the corporate mold.
Are you the right fit? Maybe. Do you have an enthusiasm for buying a restaurant that can't be quenched? Do you mind telling your story to others who might have a similar dream?
Robin Gagnon, co-founder of We Sell Restaurants said this of the opportunity, "It is a thrill to help so many buyers achieve the American dream of restaurant ownership. We are excited to see a network fielding a show about the journey these buyers take along the way. We hope to see our buyers featured prominently when this goes to production."
Apply by sending a note to robin@wesellrestaurants.com with the information on why you would be perfect and we will pass it along.
Make sure you are not camera shy and your whole team is ready to tell a story – particularly an engaging story about starting over, leaving corporate America and living a new dream in the hospitality industry. You must be available for production in Atlanta sometime later this year but dates will be discussed by the production company.
Let's get you live on the big screen! Send your notes today and we'll introduce you to the casting team.