Are you buying a restaurant business and looking for ways to improve the business? Here's a simple way to drive sales. Start with delivery. A recent survey from Morgan Stanley has some eye-popping statistics on the delivery portion of business and the opportunity it presents for operators. The restaurant brokers have been hearing this from multiple clients looking for a way to shore up sales in a soft market and it looks like it's just getting started.
According to this recent study from Morgan Stanley, delivery will account for more than 40% of total restaurant sales by 2020. That's an increase of seven times over current levels. It's an incredible opportunity for growth of the current volume in a store. That's why anyone buying a restaurant business must focus on this aspect of their operation.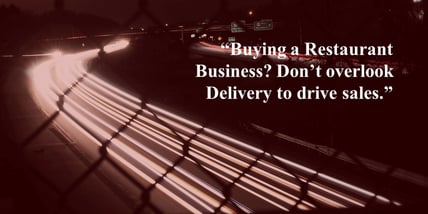 What are they ordering? The survey found that demand for delivery is surging most for coffee and burgers. That's very non-traditional. It's also good news if you're buying a restaurant business and thought no one would be in the market for Pho takeout or hot dogs. In this case, it seems nothing is off limits when someone wants to grab an APP and dial up an order. The Morgan Stanley survey indicates that traditional leaders in delivery aren't suffering either. Pizza chains, the most traditional of all delivery models seem immune from any other competition.
Is this a new customer or someone you're diverting from seats in the business? The Morgan Stanley survey found that around 43% of delivery patrons were opting to order in place of going to a business. That's up from 38% in 2016. At the same time, National Restaurant Association numbers show us that a family's share of their food dollar spent outside the house continues to grow. From these two data points, the restaurant brokers could infer that isn't replacing the customer in your store and could in fact, be a new one.
How do you take advantage of the opportunity if you're buying a restaurant business? First, evaluate what form of delivery (if any) they have. Most businesses (outside of pizza) don't have a delivery person on staff any longer because of the costs associated with insurance. Thankfully, using a third party eliminates that risk.
Secondly, forecast your anticipated sales. We have restaurant operators telling us they are picking up a net (not gross sales) of $1000 a week with the delivery services and that's out of the gate. That's an additional $52,000 in sales by doing nothing other than installing an app and fulfilling orders! It's found money.
Third, investigate the services. The beast among these is Uber Eats but the choices aren't an either/or scenario. You can have accounts with UberEats, GrubHub, Doordash, and Zifty simultaneously. If they each contribute an extra $500 per week, the opportunity is unmatched and should definitely be considered if you're buying a restaurant business and looking for ways to increase sales. By the way, if you're buying a restaurant business and an account with one of these vendors is already set up, here's a quick tip. Transfer that account rather than setting up a new one. That shortens the time frame for you to get going and there's no interruption in service to customers already using the App to order from your business.
What about costs? The delivery services do take a chunk of change from the transaction. However, if that customer is ordering from home, increasing your market share, and not costing you a seat in the dining room, you have to run the math to see if this is 'found' money or a "found" customer. After all, this is a way to get your brand in front of customers that otherwise wouldn't come in the door. According to the Morgan Stanley survey, almost half the respondent base (45%) had ordered delivery in the prior six months, and 85% had visited restaurants. But the key to this is whether they have visited your business. Seeing something interesting on a menu and ordering it to the front door might be a way to expose your brand to new customers who will then book a table for 4 on a Friday night or call in a catering order for the office.
When you are buying a restaurant business, the first goal is to retain the existing business but a focus on growing sales may definitely have a delivery component. Let us know what you chose and how it worked out for you in our comments section.
In the market for buying a restaurant business? Check out our listings online at this link.