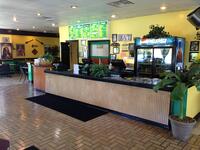 Restaurant brokers offer a Jamaican food restaurant for sale on the south side of Atlanta. Caribbean-themed business is nearby the world's busiest airport.

This Jamaican Food Restaurant For Sale is on one of the busiest main roads in the area, surrounded by numerous retail businesses, medical offices, apartment homes, and single-family dwellings.

Fully equipped commercial kitchen. The kitchen is well-equipped with walk-in coolers, prep stations, fryers, hood, six-burner stove and much more. Cook up any cuisine you like or stick with the flavors and customer base they have developed at this Jamaican food restaurant for sale.

This Jamaican Food restaurant for sale is located in a 3000 square feet free-standing building with ample parking and great visibility. Thousands of cars pass right by the front door every day. The restaurant has a colorful front of house that's in keeping with the Island feel of the business. It seats approximately 50 customers.
Located on the south side of town, thisJamaican food restaurant for sale is nearby Hartsfield Jackson airport, the world's busiest airport.

The rent is unbeatable at $2560 including insurance. In existence for 11 years, this is the second location for this Jamaican food restaurant for sale. The free-standing building enjoys great visibility from the street and has plenty of parking, and also potentially the space for an outdoor patio area to allow outdoor dining as well.

The Jamaican food restaurant for sale menu draws regulars and newcomers alike, and adding wings and even island-themed pizza could really heat up the profits. Owner will stay and train you for up to two weeks after you buy this Jamaican food restaurant for sale.

Currently open Tuesday - Saturday 11:00-8:00, the owner expects to gross $260,000 with a net of $60,000. A new owner-manager who wants to expand hours and days can easily improve the bottom line.

The owner will transfer all authentic recipes and new healthy Caribbean recipes could really "spice" things up, and the restaurant brokers have all the details about this opportunity. No need to bring your own reggae music, it's included! Click on the photos and imagine what you can whip up in this large, well equipped commercial kitchen.