The latest numbers are in, courtesy of Net Financials and their survey of restaurant sales in Atlanta for the second quarter of 2018. What's the word? The numbers are good with a continuing positive trend. Even better news is that Atlanta showed increases beating the national trend. According to Robert Wagner, founder of NetFinancials, Atlanta results from April to June showed gains of 2.0% over last year. This more than doubled the national performance, as measured by Black Box Intelligence, which was up just .8%.
The quarterly survey posted by the group survey 105 independent Atlanta restaurants and indicates that nearly two-thirds (61%) were positive for the quarter. Keep in mind that these results only relate to independent operators while national data includes independent and franchise concepts.
On a year to date basis, 2018 Atlanta restaurant sales were up 1.1% over 2017. What is this saying about the industry? For this major market and around the country, we are seeing restaurants battle for market share. Growth in units from 2014 to 2016 led to many hitting a wall in 2017 where the entire industry was flat. More units, all selling food, same size customer base equates to weaker market share by concept.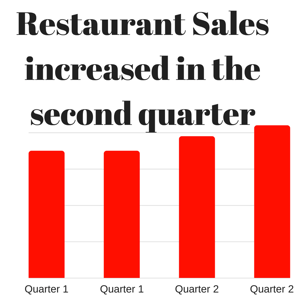 In the opinion of this restaurant broker, many concepts are simply overbuilt, with too many units, particularly among the fast-casual category. With everyone fighting for their share of the family food dollar, what's the fix? Here's one solution. It's well known that a rising tide does in fact raise all boats. The trajectory of the U.S. economy and overall growth in GDP means an overall expansion in the economy. At the same time, more people are working, and wages are climbing. That should all us to see better positive comp store growth in sales nationwide for 2018. We believe unit growth will also level off.
The primary reason for flattening of this dimension is simply the lack of available restaurant space for lease. There can't be that many more units opening because restaurant space for lease is limited. Occupancy rates nationwide are at near all-time highs and space is at a premium. We have landlords offering to buy out long term tenants with below-market lease rates to move new concepts willing to pay more, into the location. We're also looking at the demise of the shopping mall, a former location for many food concepts. There has not been a single new enclosed mall built America since 2006, over a decade ago. Those restaurants operating in mall locations are looking to move those out, increasing demand for alternate lease locations. One outcome of the limited inventory is the amount of "sold but not built" units on the books of many franchisors.
The results vary by market but Atlanta landlords, along with Austin, Dallas, Houston and other major cities seem very proud of their locations and are quoting rent per square foot at numbers that would have shocked us a few years ago.
With occupancy costs growing faster than sales growth, restaurants are struggling to make up earnings, especially with labor costs increasing. Overall, if you ask operators, we view the trend as "cautiously optimistic." The National Restaurant Association tracks the health and outlook of the restaurant industry through their Restaurant Performance Index or RPI. Their latest numbers (released July 31), show June was at 101.9, up 1.4 percent from May and the highest in six months.
The RPI looks at three factors, Current Situation, Current Sales, and Expectations. The current situation was at 101.9 in June for the fifth consecutive month. This index measures 100 as a neutral level. Index values above 100 indicates that key industry indicators are in a period of expansion, while index values below 100 represent a period of contraction.
The Restaurant operators' outlook found thirty-eight percent of operators expect to have higher sales in six months. Six percent expect their sales to be lower. That's in line with national performance of restaurants which has turned in the fourth straight quarter of positive sales.
The table provided by NetFinancials for the comparison sales data is shown below
---

---
Sample Size:
The data provided by NetFinancials was drawn from a sample consisting of 105 non-franchise restaurants were drawn from the metro Atlanta market. Total survey sales volume was $168 million for year-to-date 2018. The survey includes restaurants in Atlanta's fast-casual, casual and fine-dining segments open at least 18 months
---
NetFinancials, Inc. provides a full range of tax and accounting services for restaurant companies. Email: lori.johnson@netfinancials.com. www.netfinancials.com Direct: 404-874-7003. The NetFinancials quarterly Atlanta restaurant sales survey is provided as a public service to the restaurant industry. Copyright NetFinancials, Inc.