With all the buzz about Chat GPT, it's only reasonable to ask if it will affect our industry – selling restaurants. After all, the artificial intelligence (AI) app just set a record for the fastest-growing consumer application in the history of internet, reaching 100 million monthly active users in January 2023, just two months after it launched.
What does it mean for restaurant brokers and those buying or selling restaurants? The bottom line – artificial intelligence does have a use in selling and buying restaurants but will never replace restaurant brokers.
Over our twenty-year history, we have seen business brokers increasingly adopt technology to assist in their practice. We Sell Restaurants has led the innovation and introduction of technology through an online confidentiality agreement and state of the art Broker's Operations and Sales System (or B.O.S.S). This technology has been a powerful and helpful part of our practice. For some business brokers however, we see an over reliance on technology along with an assumption that some form of automated messaging to buyers will sell the listing. That is false.
Connecting with the restaurant buyer or seller, learning their motivations to acquire the business, and providing them with opportunities, is the crux of a restaurant broker's job. Automated email programs and text messaging can't accomplish the same goal.
How do I know this? We Sell Restaurants implemented a mystery shopping program for our system more than seven years ago to test how and when our restaurant brokers were responding to restaurant buyers and sellers. We set a standard to communicate at a minimum of three touches within three days. How is it working? Our Certified Restaurant Brokers are committed to the process and understand they are being gauged quarterly. They compete for the fastest time to reach a buyer or seller after inquiry and know that speed to lead is critical. Our connection times and number of contacts lead the industry.
We also mystery shop other brokers in the market and apply the same quantitative measurement to their outreach. Sadly, most brokers fail the test and do nothing more than send a couple of automated email campaigns without ever picking up the phone. We have seen an increase in this level of activity, rather than a decrease, probably tied to how easy it is to simply send an email versus direct contact with a buyer or seller.
There are trainers and platforms that actually encourage email over a personal touch. A noted industry "expert" recently presented a webinar on buyer contact. His assertion is that 95% of buyers are a waste of time. He teaches brokers to send an email that sets the bar so high and asks for so much information that you essentially drive the buyer out of the process. That is a terrible approach to sales.
This same broker may well use Chat GPT or AI to put together extensive buyer questionnaires asking for more and more information. In my opinion, the best way to learn about buyers is by simply talking with them. Some of the most satisfying parts of my career have been the moments when my client and I spent time on the phone laughing at life's small challenges and getting to know each other.
After all, how can you sell a restaurant or help someone buy a restaurant if you don't understand their motivation? Are they selling so they can finally whisk their bride of 20 years off to the sand and sun she's been craving? Are they selling because the last kid is through school, and they are looking to dial things back? Are they buying because they are tired of the corporate wars and cubicle environment they've been living in for the past 15 years? Are they buying because they have fond memories of working in a restaurant during their college days and recall it with excitement and energy for the future? Are they buying because they want the stability of a franchise operation but not the instability of starting from scratch or risk? Getting to these buyer motivations won't be found in a multi-page application process before ever speaking with a broker and won't be uncovered in responses to emails.
It's also why Chat GPT and other forms of artificial intelligence will never be able to connect on a human level and sell restaurants. That is a job best left to a restaurant broker and that could be why We Sell Restaurants led the nation in 2022 with results that were 25 points better than the overall restaurant for sale marketplace. We are certainly using technology to help us reach buyers, but we use it in a way that works to get us in front of more buyers more efficiently rather than counting on emails to sell the restaurant. We use cutting edge technology to deliver buyer inquiries onto a dashboard, dial them more efficiently, transfer notes in real time to our systems, capture leads and more. We also provide our buyers and sellers every possible means to reach us including chatbots, texting and more.
Chat GPT and artificial intelligence will absolutely help the restaurant for sale marketplace, however. They will help us sift through data and find the right opportunities to present to buyers. They will help us craft ads and messaging in a way that resonates with sellers. Chat GPT and other AI will help us provide information on a scale we never dreamed of without a full-fledged five or six person content marketing department.
Chat GPT and other AI methods can help restaurant brokers of today and the future in other ways. Those who are not blessed with strong writing skills can lean into the technology for assistance in drafting listings that are grammatically correct and well organized. Chat GPT can draft email and text communications around key messages and highlight important selling points.
Restaurant brokers may integrate AI or Chat GPT functionality in how listing leads are assigned within a system or aid in information on buyers before they are ever dialed. There are many ways AI can help in the transaction but will never replace the restaurant broker as a source of advice, leadership and empathy for the buyer or seller situation leading to the acquisition.
Just as takeout and delivery will never replace the experience of breaking bread in person and celebrating an occasion in a restaurant, Chat GPT and AI will never replace restaurant brokers.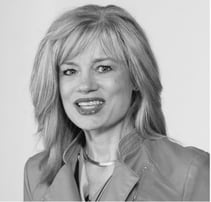 Robin Gagnon, Certified Restaurant Broker®, MBA, CBI, CFE is the co-founder of We Sell Restaurants and industry expert in restaurant sales and valuation. Named by Nation's Restaurant News as one of the "Most Influential Suppliers and Vendors" to the restaurant industry, her articles and expertise appear nationwide in QSR Magazine, Franchising World, Forbes, Yahoo Finance, and BizBuySell. She is the co-author of Appetite for Acquisition, an award-winning book on buying restaurants.