We Sell Restaurants Core Values
The restaurant brokers and employees at We Sell Restaurants endeavor to operate by our Core Values every day, but the holiday season presents an opportunity to reinvigorate our commitment to treat each other, our clients, and internal clients by the Golden Rule. It is always a good time to support charitable organizations, but especially during the holidays.
In the spirit of the season, the restaurant brokers and We Sell Restaurants brand has made charitable donations to several organizations throughout 2021. From food banks to shelters, to veteran organizations and more, We Sell Restaurants is grateful for another year to offer support and resources to these amazing organizations.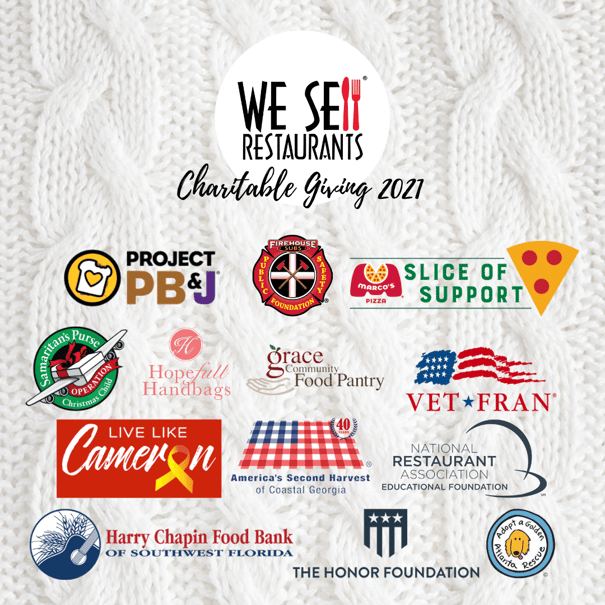 Corporate Charitable Giving
This organization, selected specially by the home office staff and restaurant brokers Robin and Eric Gagnon. The non-profit provides essential supplies and shelters to women and children escaping domestic abuse situations globally.
2021 marks the first year that the restaurant brokers at We Sell Restaurants have supported Hopefull Handbags as part of its annual charitable outreach efforts. The decision to support this global organization came from the corporate office staff, who jumped at the opportunity to support an organization close to home. The Hopefull Handbags headquarters resides in St. Augustine, FL – Just thirty minutes north of the corporate office.
Operations Manager Angela Amell shared, "I really love that we are an office full of women. We saw Hopefull Handbags as an opportunity for Women to help Women."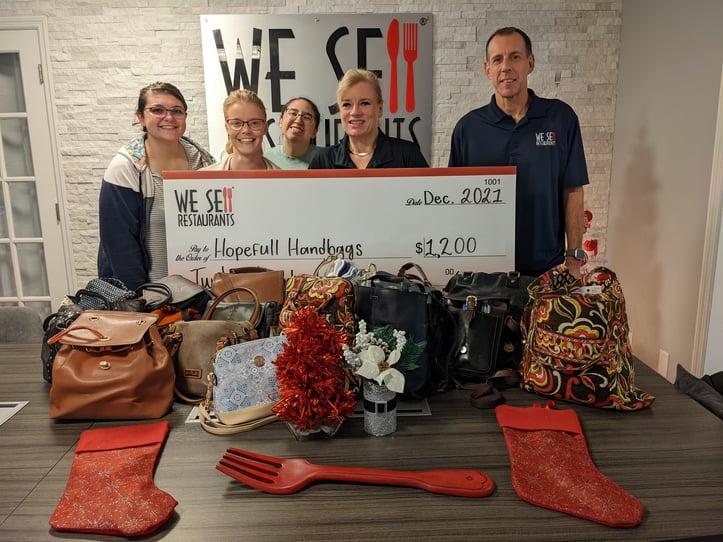 Jennifer Correia, Catherine Kinser, Naomi Muñiz-Velez, Robin Gagnon, Eric Gagnon. Office staff collects final donation items before driving to the Hopefull Handbags local affiliate in St. Augustine, FL.
On Giving Tuesday 2021, the restaurant brokers matched donations to VetFran through the International Franchise Association (IFA). VetFran operates with the mission to educate veterans and facilitate their transition into franchising.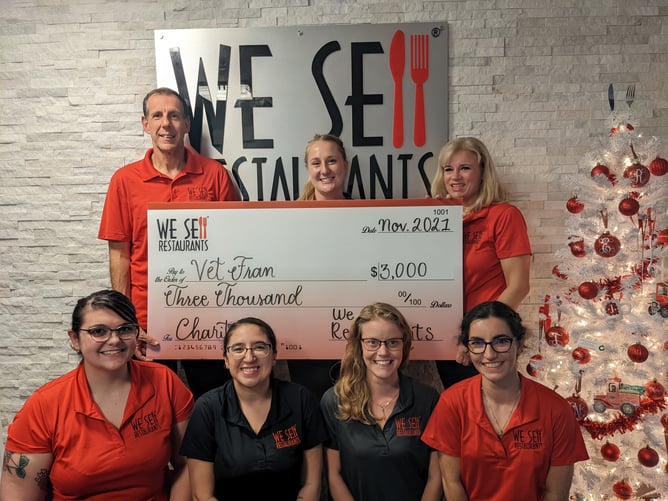 (Top row) Eric Gagnon, Angella Amell, Robin Gagnon. (Bottom row) Jennifer Correia, Naomi Muñiz-Velez, Catherine Kinser, Maria Puccio-Ball. Office staff holds the donation for VetFran.
The restaurant brokers and We Sell Restaurants continued to support several other organizations as well, including:
Marcos Slice of Support – Organization founded in 2015 by Marco's Pizza, which provides support for brand team members who may be facing personal or family hardships.
Which Wich Cares Foundation – Initiated Project PB&J, a charitable outreach that prepares and sends peanut butter and jelly sandwiches to those in need.
Adopt a Golden Atlanta - A non-profit that has rescued over 4,500 golden retrievers. The restaurant brokers' very own golden retriever, Major, is a rescue from this organization. Adopt a Golden Atlanta works to save dogs from shelters and send them home to loving families.
The Honor Foundation – Program assisting U.S. Special Operations Forces transition into careers that best suit their skills.
Firehouse Subs Foundation – Foundation committed to supplying first responders and public safety organizations with equipment and resources.
NRAEF - The National Restaurant Association Educational Foundation offers opportunities and training to pursue a career in the restaurant, food service, and hospitality industries.
Grace Community Food Pantry – Based in Flagler County, FL, this organization collects donations that aid the local community in need.
Franchisee Charitable Giving
The spirit of the holidays didn't stop at the corporate office, however. We were delighted to see restaurant brokers in our markets across the country support organizations of their choice through their own practice as well.
As a holiday film put it so well "a true act of goodwill will always spark another" (Klaus, 2019). The We Sell Restaurants core value to treat each other, our clients, and internal clients by the Golden Rule exists to promote that attitude of care for one another throughout the brand. Read on to see how some of our restaurant brokers chose to put this core value to work during the year.
We heard from Steve Weinbaum in Atlanta Georgia, who donated to America's Second Harvest Food Bank of Coastal Georgia, a Feeding America member which serves Savannah Georgia. Its programs provide meals and hunger relief to the coastal Georgia community.
Further north in the Carolinas, Justin Scotto and his team volunteered at Samaritan's Purse: Operation Christmas Child. This outreach program builds shoebox gifts that ship to children in need around the world. Restaurant brokers Justin Scotto, Sally Doran, and Laura Sotomayor volunteered their time to assist in packing these special gift boxes.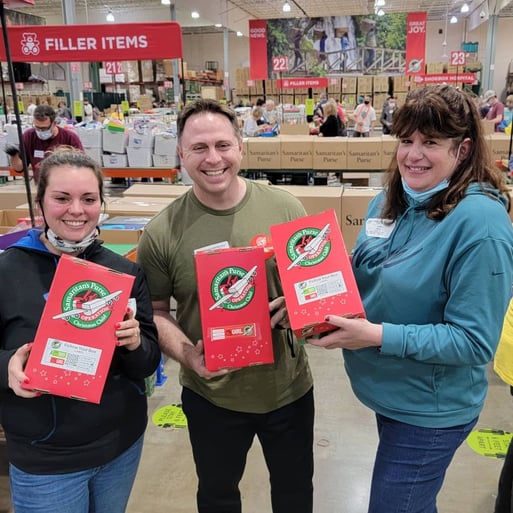 Laura Sotomayor, Justin Scotto, and Sally Doran at Samaritan's Purse, Operation: Christmas Child.
Dave Whitcomb from We Sell Restaurants in Naples, FL gave quarterly this year to Harry Chapin food Bank. This foodbank has served southwest Florida counties since its founding in 1983, providing 25,000 people with aid through various food distribution programs each year.
Brittney Gates of the Volusia County market donated gifts to the Live Like Cameron Foundation to brighten the holidays for children battling cancer. Founded in 2017, this non-profit provides invaluable support to families with children diagnosed with cancer.
The restaurant brokers cannot share these core values in action without also acknowledging that there were surely countless acts of kindness, outreach, and charity that went unannounced during the year. After all, it is always a good time to live and work by the Golden Rule, even when nobody may be watching.
We Sell Restaurants smiles this season of giving to see its core values in action across our markets. We heartfully hope that our charitable outreach will make a positive difference in the lives of many as the new year approaches. We must also express our gratitude to the organizations that created opportunities for the restaurant brokers to serve others in a meaningful way.
Happy Holidays, and a Happy New Year to all!
We Sell Restaurants is currently expanding its concept through franchising. If you are interested in joining this Specialized Business Broker Franchise brand, visit our website to learn more about the opportunity to become your own boss as a restaurant broker.
Read also, Why are Food Sales Professionals Ideal Restaurant Brokers?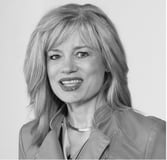 Robin Gagnon, Certified Restaurant Broker®, MBA, CBI, CFE is the co-founder of We Sell Restaurants and industry expert in restaurant sales and valuation. Named by Nation's Restaurant News as one of the "Most Influential Suppliers and Vendors" to the restaurant industry, her articles and expertise appear nationwide in QSR Magazine, Franchising World, Forbes, Yahoo Finance, and BizBuySell. She is the co-author of Appetite for Acquisition, an award-winning book on buying restaurants.