The latest data on restaurant closure rates was recently covered in an article from Ron Ruggless at Nation's Restaurant News. He pulled together information from industry analysts showing that despite the continuing impact of closures due to the pandemic, the number of restaurants closing may not be as bad as some earlier dire projections. The full article is available at this link.
Here are just a few of the key data points from the article which are bucketed the same way that We Sell Restaurants reviews restaurants by type. The article relies on information from Kalinowski Equity Research and its principals, Mark Kalinowski and Peter Saleh.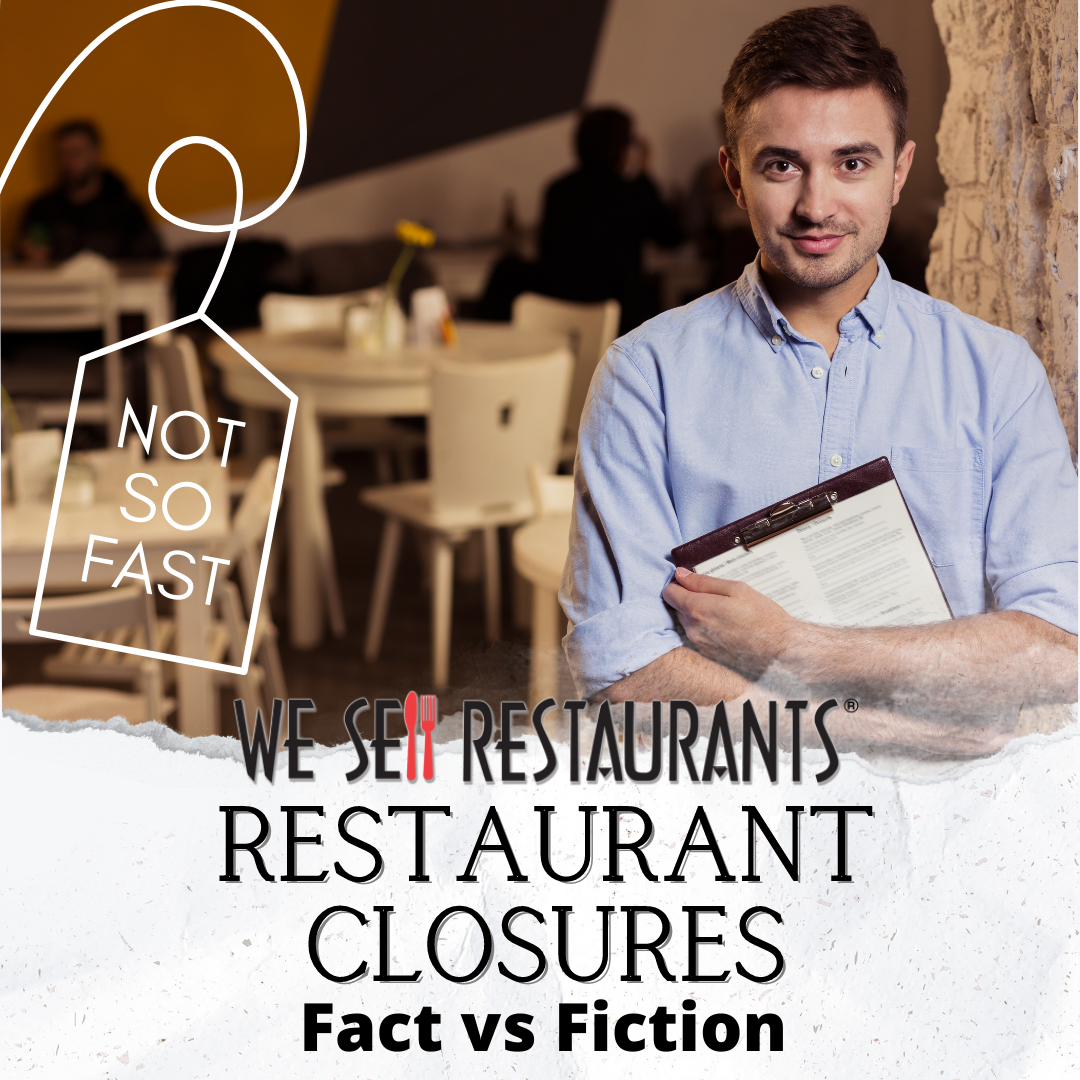 Independent Restaurants. In the opinion of the analysts as well as this Restaurant Broker, independent restaurant chains are certainly the hardest hit in the pandemic. They have fewer resources and a much small support system when compared to franchise brands. As a resource to the industry, we worked to provide information on obtaining PPP loans and EIDLP funds but thousands of restaurant owners did not have the necessary paperwork on hand or were not comfortable seeking out a bank to obtain desperately needed funding.
Franchise Systems. The franchise systems were able to develop in house subject matter experts, and then train and mentor their groups through the process of funding. For many, they had banking relationships in place already and those were leveraged to create channels for PPP submissions when some operators were trying to find someone willing to take their paperwork.
In addition, the franchise restaurant brands capitalized on large marketing departments to quickly change messaging, develop digital marketing campaigns and pivot offerings from dine in to carry out and pick up. The independent operator attempting to handle this on his own was disadvantaged and market share went to franchise locations.
Mom and Pop or independent locations generated roughly 43% of all restaurant sales in the United States in 2019. The analysts at Kalinowski Equity Research estimate roughly 7.5% of the stores producing those sales will close (up to a high of ten percent).
That is nearly three times the rate of the closures the same group anticipates from large restaurant concepts (multi-unit or franchise). These stores which represented about 37% of the U.S. industry sales in 2019 are estimated by the same analysis to lose 2.8% of their units equating to 2% of the system's sales. This data tells us that even among the franchise brands, the lowest performing units are the ones that are failing since they represent 2.8% of the units but only 2.0% of sales.
Overall, the analysis reached the conclusion that an estimate from Yelp in August estimating roughly 19,590 permanent closures was probably too few while an estimate from the National Restaurant Association at 61,000 closures was probably too many.
Restaurant profitability for many stores is running ahead of last year. We have operators selling their restaurants who have achieved lower occupancy costs (by fighting for rent reductions), lower labor costs (since no indoor dining is allowed) and smaller food costs (since their menus have been reduced). This means restaurant for sale pricing is at higher since the valuation is based on earnings, rather than sales.
How do these closures affect restaurant sales? The Restaurant Brokers at We Sell Restaurants are seeing strong interest in the market. In particular, franchise locations which have been high producers during the downturn and units with a drive-thru have been netting very strong interest.
As the winter season bears down and shutdowns continue in many states, we are hopeful to see the closures at the lowest possible end of the spectrum along with continued strong profitability trends.