Earlier this month, the restaurant brokers shared our Wins from 2021 as we set our sights for new goals in 2022. We closed the blog with optimism for 2022, and with hopes that this year will be a year of growth and better news for the restaurant industry as a whole.

Restaurant owners and restauranteurs can breathe a sigh of relief this year because we have more franchisees and restaurant brokers in the field ready and equipped to help you in buying or selling your restaurant. Likewise, those looking for a new career in the restaurant industry can get excited because the We Sell Restaurants business broker franchise is growing to meet demand(more on that further down).
Read on to see the Latest Business Broker Franchise Growth news from We Sell Restaurants.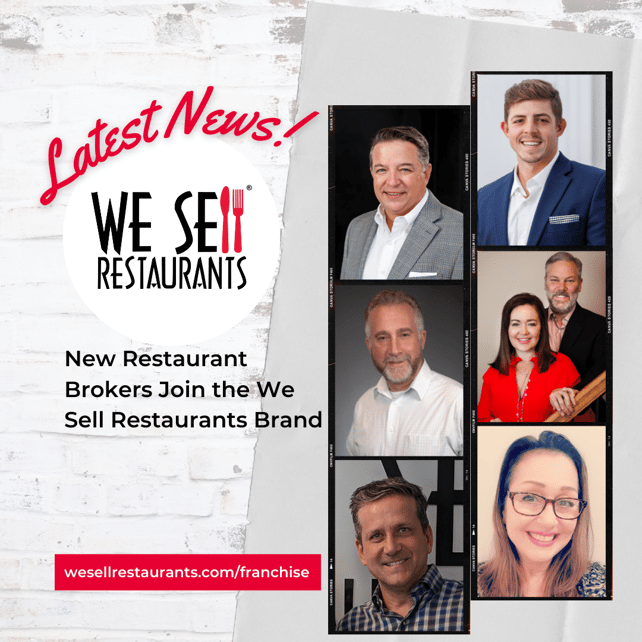 Restaurant Brokers Now Open for Business

Gary & Austin Luke — These two new Certified Restaurant Brokers® made We Sell Restaurants business broker franchise a family affair. Father, Gary, and son, Austin, are in the field helping restaurant owners in the Metro Jacksonville area. They completed their training at the home office in Palm Coast Florida on January 7th, 2022.

The duo has several combined years of experience in law and business that will be helpful to anyone in the process of selling their restaurant.

Stan Blair — This new franchisee and Certified Restaurant Broker® recorded many new accomplishments and life-changing events all within the first two weeks of the new year, including starting his practice through the We Sell Restaurants business broker franchise.

Stan packed his bags, labeled boxes, hit the road, and moved his life to Fort Worth, TX. Between the boxes and the studying for his upcoming Certified Restaurant Broker® exam, Stan even had time to put a "ring on it" and get married on New Year's Eve! If we've learned one thing about this franchisee, it's that he is ambitious and ready for any challenge—a great trait for anyone looking to apply to this business broker franchise.

Restaurant Brokers in Training
The Lukes and Stan Blair are just a few of the franchisees joining the We Sell Restaurants business broker franchise this year. Those looking to buy or sell a restaurant in Orlando, FL, Marietta, GA, or Kansas City will be happy to know that our business broker franchise has new Restaurant Brokers in training on their way to you.

Tony Miceli — Tony attended Discovery Day back in October. The restaurant business broker franchise is something he hopes to share with his son, continuing the trend of making the We Sell Restaurants franchise a family business. Tony will complete his training in March before he officially opens for business.

Mel Ferioli — Mel will complete her training as a Certified Restaurant Broker® in February of 2022, as well. She will be helping restaurant owners and restaurateurs in Orlando, FL by bringing the We Sell Restaurants business broker franchise to this central Florida market.

"I am so excited for this new journey in my life! We Sell Restaurants checked all my boxes in what I was looking for in something to call my own," Mel shared, "The process was thorough, and everyone has been so helpful throughout this process. I was so impressed with the support that the main office gives all of its franchisees and after everything I learned, I knew this was the place for me!"

Jeff Heidt and Kimberly Dart Heidt Jeff Heidt comes to the We Sell Restaurants business broker franchise from UPS, a career move that can be nerve-wracking for anyone.
"The decision to leave the comfort of UPS was a big decision for me," Jeff explains, "I worked in the corporate world since graduating from college, but none of my positions were fulfilling. I knew it was time to find an opportunity where I could be challenged and create a space for myself in a completely different industry. Kim felt the addition of restaurant business brokerage was a natural fit with her business and each business could compliment the other."

As dozens of influential voices have iterated in one way or another throughout history, leaving your comfort zone is where life and success can thrive. Robin and Eric Gagnon certainly know this to be true, as they originally conceived the nation's most successful restaurant brokerage firm by first leaving their cozy corporate jobs, too. Now, the We Sell Restaurants business broker franchise provides franchisees across the country the opportunity to thrive as restaurant brokers themselves.

Who can apply to this business broker franchise? The common theme among our franchisees is the desire to succeed, passion for the restaurant or hospitality industry, and a strong business sense. The bottom line: successful restaurant brokers love the restaurant industry and seek out the expert skills provided by We Sell Restaurants to assist restaurant owners and restaurateurs in buying or selling.

Our franchisees also work with our core value system closely in mind:
• We know that every day is game day, and we act accordingly
• We treat each other our clients and internal clients by the Golden Rule
• We are the brand and are passionate about sales results
• We act with integrity and only make agreements we are willing and able to keep
• We create a customer service experience worth sharing
The reality is, restaurant brokerage is booming, and We Sell Restaurants is seeking motivated candidates to help us meet the demand. If this sounds like the career move you are ready to make in 2022, we invite you to explore our website to learn more about the business broker franchise opportunity with We Sell Restaurants.