I received this photo from a client of mine recently and for this business broker specializing in restaurants, it painted an amazing picture of how we help sellers move to the next phase of their lives.
That is one of my sellers, driving his 52-foot (YES – it is that big!) boat down the waterway with his precious puppy by his side.
Here are a few observations and lessons from this experience on how to sell a restaurant and live the life you imagined.
The seller and his wife first approached We Sell Restaurants about their business several years before we ultimately closed on the location. The wife ran the business and the husband had a corporate job with a strong income and they were four to five years away from retirement.
This business broker, specializing in restaurants, evaluated the numbers and delivered the hard facts. The business was not ready to go to market. A great performance for multiple years, was followed by an incredibly weak year and then the business was recovering. What happened is lesson number one.
Lesson One – Selling to an Employee is Never as Easy as it Seems.
The books and earnings had been affected by an attempted sale to an employee. Sometimes you believe it is easy to craft a deal with an internal employee and let them take over the business and provide some form of owner financing. In their case, their hearts were in the right place but the person they trusted was the wrong fit. The transfer did not ultimately occur. The longtime employee did not do as well as an owner as he did as an employee and it affected the business earnings tremendously. That leads to lesson number two on how to sell a restaurant.
Lesson Two – If at first you don't succeed, try it again with a specialist.
My sellers are very smart and talented individuals who built a great business, but they were not savvy in the process to sell a restaurant. After all, who is good at this? A restaurant broker – defined as a business broker specializing in restaurants.
Lesson Three – Sometimes the best advice is NOT to sell a restaurant
When We Sell Restaurants reviewed the books, we recommended that they operate for a full year and NOT sell the business. That would give it time to operate cleanly under the sellers and regain the momentum lost in the attempted sale. They took this advice to heart and took over operations.
After a consecutive twelve-month period where the business tracked to its full potential, they returned and signed a listing agreement with We Sell Restaurants. At that time, there was no rush to sell the business as they had two or more years remaining before retirement – they thought.
Lesson Four – The Market Dictates Timing
After a short period of time on the market, we began attracting multiple offers. This was pre-COVID and though they had not planned to sell a restaurant and live the life they imagined so quickly, I encouraged them to accept the offer rather than waiting. In their mind, they had another two years before retirement but, we went into contract for the business and real estate.
Lesson Five – Things Happen – Like COVID19
With a closing date planned of March 2020 (YES – that March!), life changed dramatically for everyone. As a business broker specializing in restaurants, I continued to work the deal to the closing table and while it was delayed, it still happened. With the world on fire and banks increasingly looking at deals we held it together, got the new buyer her funding and closed in April of 2020.
The husband's corporate job was in an industry severely affected by the virus. He learned almost simultaneously that his two years before retirement morphed into an early retirement situation that started three months after the sale of the business. With the wife's business sold, they could move on to the life they imagined.
That takes us full circle to the 52-foot boat and my client at the wheel. I was able to sell a restaurant and help them achieve the life they imagined. I love this photo and I LOVE my job.
If you are in the market to sell a restaurant and move to your next life, give me a call.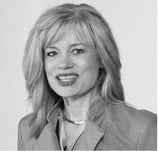 Robin Gagnon, Certified Restaurant Broker®, MBA, CBI, CFE is the co-founder of We Sell Restaurants and industry expert in restaurant sales and valuation. Named by Nation's Restaurant News as one of the "Most Influential Suppliers and Vendors" to the restaurant industry, her articles and expertise appear nationwide in QSR Magazine, Franchising World, Forbes, Yahoo Finance, and BizBuySell. She is the co-author of Appetite for Acquisition, an award-winning book on buying restaurants.
We Sell Restaurants is the nation's largest business broker franchise focused exclusively on the sale of restaurants, with twenty years of experience in helping buy, sell and lease hospitality locations. We Sell Restaurants and its franchisees have sold thousands of restaurants across the county and maintain a listing inventory exceeding $100 million online at their powerhouse restaurant for sale marketplace, including independent and restaurant franchises for sale. We Sell Restaurants is currently offering franchise opportunities in select market areas. Follow We Sell Restaurants on Facebook, LinkedIn, Twitter, and YouTube. For more information, visit www.wesellrestaurants.com