If you have ever tried to buy or sell anything on your own, you understand how stressful the process can be. If sales is not your forte, or if you have absolutely no understanding about financing, paperwork or legalities, sealing the deal is next to impossible. But help is on the way if you hire a business broker.
This is a career that requires comprehensive training, a good head for numbers and the desire to work with people. Business brokers help buy and sell private businesses. Sound like you a career for you? Here is an inside look on how to become a business broker.
A business broker needs to understand every intricate detail of buying and selling a business. They are the "middleman" connecting the two parties. Becoming a business broker means learning the ins and outs of business selling and buying.
Having a financial background is advantageous for business brokers. Many business brokers have owned a small business, which provides a greater understanding of the position their client is in. Many in this field have backgrounds in accounting, financial advising, business or real estate. It's often compared with being a real estate agent, but brokering a business sale includes many more steps. In some states, a real estate license is required along with affiliating with a real estate firm. A background in commercial real estate is helpful to handle business transactions. Other states may require licensing certificates to operate as a business broker. It's best to check with your state to find out the necessary requirements.
To become a business broker, you must be detail oriented. There are complexities to the job that require energy, focus and attention. From the start of the transaction when you meet the client, you will have to know how to list a business for sale, and determine valuation, buyer and seller representation agreements and contracts.
You must have a good personality for networking, negotiating, and working with people. Marketing skills are important for developing a plan of how the business will be sold. You must do your homework because it will be up to you to connect the right buyer with the right seller. You will also need to identify the buyer, then do a deeper dive, making sure they are financially equipped. The business broker is the negotiator, solidifying the deal.
Business brokers must learn the fine art of making connections. Not just in the sense of gaining more clients, but you must connect with the client and take time to build the relationship. You have to remember that for many buyers and sellers, this may be one of the largest financial transactions they ever encounter. Understanding their motivation and getting to know them is the key to a successful transaction. You will be privy to a great deal of personal information regarding your clients' finances. Building trust in a client relationship is crucial because confidentiality is important. Many sellers may not want a grand advertising roll-out because they don't want the sale to be public knowledge until it's final.
Why Hire a Broker
Plain and simple — the reason people hire a business broker is to alleviate the huge stress involved in buying or selling a business. Brokerage deals are a very involved process that a business owner would have to learn how to navigate. Remember, the business broker is a trained intermediary — a matchmaker. Because business brokers are dealing with sales every day, they have a large network. They know what's for sale, the legalities of a deal, and can even help buyers secure financing.
Of course, these services come at a cost.
Salary
While primarily commission-based, business brokers typically have an annual income ranging from $95,000–$200,000. As a business broker, you can expect to receive a commission between 8%–12%. This can differ depending on some variables, like if the broker is a sole proprietor or working with a firm and whether or not there are upfront fees.
Career as a Business Broker
Having experience in business, finance or real estate certainly provides you with a keen understanding of the intricacies of this career. Remember, business brokers connect business buyers with existing businesses that want to sell. A broker needs an expansive skillset to comprehend financial statements and determine potential profit by understanding cash flow options. Brokers need to know how to perform market analysis and understand appraisals. Experience and understanding are needed to properly market and advertise businesses for sale. The job includes matching buyer and seller and then mediating negotiations to get to closing. Throughout that process, there are contracts, paperwork and documentation.
To begin gaining experience and building your reputation in the business, to better serve clients, you may want to consider next-level certification through industry organizations like the International Business Brokers Association (IBBA). This is the largest non-profit organization for people and firms engaged with business brokerage. IBBA can also help get your foot in the door to begin your career as a business broker.
What Are the Opportunities?
There are many ways to begin your work as a business broker. You may want to join a firm to gain training and support, or you may want to work independently. What's crucial is getting experience. The business broker profession can be challenging, especially if you are learning the complexity of all different types of businesses. You really need to know how businesses operate. For example, maybe one day you are selling a retail store, the next day you are selling a salon/spa. Training opportunities are available, but often the best way to get your foot in the door is to become specialized.
At We Sell Restaurants, we mentor business brokers in the lucrative field of restaurant sales. We have created and developed training for brokers to obtain the credential of Certified Restaurant Broker. It's the only program like it in the country. We use a multi-platform training program and have the nation's only Certified Restaurant Broker designation.
We Sell Restaurants specializes in selling restaurants and restaurant space for lease. We are national leaders in franchise restaurants for sale that are open and operating franchise re-sales.
We are franchisors as well as a resource to the restaurant and franchise industry. Our restaurant brokers are knowledgeable, educated and professional.
Buying and selling a restaurant is a specialized transaction. We have the only Certified Restaurant Brokers in the industry. The training program is intensive, with instruction and study designed to ensure expert understanding of the restaurant and restaurant franchise industry. Our belief is being the best at something is achieved through great study and comprehension. We have resources at our fingertips, including restaurant lenders, restaurant insurers, and the hospitality resources to deliver what our clients need. Our expertise is unmatched in the brokerage industry worldwide.
Considering becoming a franchise restaurant broker is a lucrative career decision. There is a need for expert sales in this industry, as franchisors look to restaurant brokers for help with transfers and re-sales. Click here to learn more about the demand for qualified brokers who want to be a part of a proven business model.
If you would like more information about becoming a certified restaurant broker and working with a brand leader, request info to get started on this rewarding career of restaurant sales.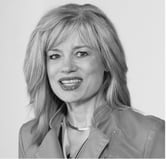 Robin Gagnon, Certified Restaurant Broker®, MBA, CBI, CFE is the co-founder of We Sell Restaurants and industry expert in restaurant sales and valuation. Named by Nation's Restaurant News as one of the "Most Influential Suppliers and Vendors" to the restaurant industry, her articles and expertise appear nationwide in QSR Magazine, Franchising World, Forbes, Yahoo Finance, and BizBuySell. She is the co-author of Appetite for Acquisition, an award-winning book on buying restaurants.