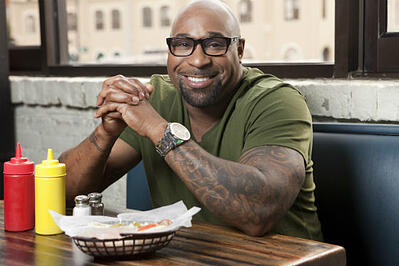 The We Sell Restaurants radio show airs every Saturday at noon (12pm) in Atlanta on AM Talk 920 and Sunday at 1pm on Biz 1190AM, (The Wall Street Journal Network), in the nation's 7th largest media market. The goal of our show is to satisfy our listener's appetite for acquisition, feed the need for restaurant reality and serve up a recipe for business success.
The Restaurant Brokers, Eric and Robin Gagnon, are joined on their weekly radio show by Gerry Garvin, most commonly known as G. Garvin, celebrity chef, author and host of the hit show on the Cooking Channel, Road Trip with G. Garvin. G. Garvin shares his tips for success with those in the business including how he is using his celebrity status to help youth. What is new this season for Road Trip with G. Garvin? What cities will he be stopping in? What does it take to make it in the restaurant business? What advice would the celebrity chef give to a young chef? Find out the answers to this and more from the Restaurant Brokers and G. Garvin.
G. Garvin talks with the restaurant brokers of We Sell Restaurants about his humble beginnings in Atlanta including his climb to stardom. Being raised by a single mother and surrounded by four sisters, the determined 13-year-old G. Garvin traded after-school football practice for a job at The Old Vinings Inn in Atlanta, soaping dishes while soaking up the inner workings of a high-end kitchen operation. Two years later, he became the youngest cook at the downtown Ritz-Carlton, where he worked after school and during the summer.
G. Garvin moved to the West Coast in 1988 to open the Ritz-Carlton's Rancho Mirage resort in Palm Springs. Soon after, at the age of 20, he moved to Europe to further his culinary training and serve as an apprentice to Jean Pierre Maharebacha. There, he gained a wide range of on-the-job experience taking kitchen positions in Hamburg and Warsaw, documenting everything he learned. After nearly two years, he returned to Atlanta to become sous chef of the award-winning Italian restaurant Veni, Vidi, Vici. However, the lure of the West Coast drew him back,
this time to Los Angeles.
During the 1990s, he served as executive chef at Morton's, where he orchestrated dinner for the 2nd Annual Vanity Fair Oscar fete, as well as a lavish banquet for the late Israeli Prime Minister Yitzhak Rabin. The opportunity to create "really good food" led him to the former Hollywood watering hole Kass Bah, where he shaped a creative menu appealing to serious gourmets and show-biz execs alike. A year later, he became executive chef at the restaurant Reign, which became an instant smash and earned Garvin his then-best reviews and highest salary.
Yearning for both business and creative success with food, he left Reign to independently cater high-profile events, including two exclusive dinners for President Clinton, a private brunch for Senator Hillary Clinton and meals for other notable clients. After two years, he teamed with a catering client to open a restaurant. In fall 2001, G. Garvin's opened to critical acclaim, and expanded two years later to more than double its size.
Plans for a series of cooking DVDs brought him to the attention of TV One in early 2004, where his sophisticated simplicity and infectious enthusiasm seemed perfect for a new network looking to bring a broad range of lifestyle programming and entertainment to the tremendously passionate food audience. It was then that the idea of Turn Up the Heat with G. Garvin came to fruition.
Restaurant Broker Eric Gagnon asked about culinary education asking if G. Garvin is self-taught. And while G. Garvin did not go to culinary school stating he was never able to go and now that he can afford it, he does not have the time. One thing he did was always made sure he worked in chef driven restaurants. He always wanted to learn something. And the restaurant had to have a "chef-driven philosophy" so that he could learn from my environment.
G. Garvin went on to state that he is a fan of education if you can afford to go but "don't let your financial status determine your dream. You can follow your dream. Find the right person and commit to your goal. It's important to share your craft with others and share the legacy of "food" so that others behind you can carry that on."
More advice from G. Garvin…is to "walk slowly, listen loudly". Work various positions and learn whatever you can from them; even if you have to do so for free. Whatever you might have to do – but what you get from that is the knowledge. As an operator now, he understands every position. He learned how to bake, make soups, pastas, etc. He learned how to do things you might have to do when people don't show up. This is not to say "he's great at every position" but he understands and has gained the knowledge and describes himself as "a food and waste master".
There is plenty of advice provided by G. Garvin. His grandmother told him to always be "honest and be himself". His mother instilled his work ethic. G. Garvin sees how each person he encounters touches his life in some way.
Now some may be asking how to get on the show Road Trip with G. Garvin? What they are looking for is people who are putting every dime they have into their business. To G. Garvin, and the show, it's about the story. Any location is possible…give them a shout.
The reality of the restaurant business is that it's about far more than simply serving up great food on a platter. Restaurant Brokers Eric and Robin Gagnon demonstrate time and again there are numerous facets to the restaurant business beyond a fabulous menu in a great locale and G. Garvin does a great job illustrating this point. To hear the skinny about this and more,
download the show on iTunes or on the wesellrestaurants website.
Remember, We Sell Restaurants is the nation's largest restaurant brokerage firm based on the number of listings, transaction count and offices. The company is franchising nationwide and has offices in Florida, Georgia, Colorado and Tennessee.
LIKE this article? Please SHARE it on Facebook, LinkedIn or Twitter and remember that We Sell Restaurants is your leading authority on buying or selling a restaurant and/or all things restaurant-related.