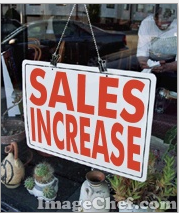 Two recent data points indicate the continued strength of the Atlanta restaurant marketplace. While the restaurant brokers receive anecdotal data from restaurant operators on a routine basis, it's always helpful to compare this information to statistical data from multiple sources. In this article, we cite the results from the quarterly surveys that provide tracking of key elements over time. The first is Net Financials which publishes a quarterly and year-end round up of Atlanta restaurant sales. The second is BizBuySell which measures restaurant (business) for sale activity on a quarterly and annual basis.
CPA Robert Wagner released his latest report from Net Financials recently. He says that "Atlanta restaurant sales volume continued to outpace national sales trends in the year and calendar quarter just ended." His 2013 quarterly tracking survey for the entire year was positive saying, "Atlanta restaurant sales increased 4.5% and 4.6% for 2013 and Q4 2013, respectively. For both the year and quarter ended December "positive sales gains were reported at more than two-thirds of the 90 Atlanta restaurants surveyed." The strength of those numbers are more dramatic when viewed against the U.S. economy for the same time period as Wagner note that Atlanta's growth occurred while, "national restaurant trends remained weak with little or no revenue growth and declining customer traffic."
Net Financials compares the Atlanta results to other national tracking trends like Black Box Intelligence, a restaurant sales and traffic-tracking company. They report Q4 revenues declined -.2% while same-store customer traffic declined -2.4%. For 2013 as a whole Black Box reported that restaurant sales declined -.1%. A separate national survey by NRN-MillerPulse reported a modest 1.1% sales increase for 2013. That's another reason the Atlanta results look so good by comparison.
It's not only restaurant sales that look good for 2013, it's also restaurant for sale data. The restaurant brokers recently shared additional national data on restaurants for sale published by Bizbuysell. Their year-end report showed that transactions of restaurants for sale also increased in 2013 with small business transactions up 49% in 2013 led by restaurant sales and retail business sales. Yearly restaurant transactions rose 78 percent in 2013 compared to 2012. In their data, 1562 restaurants sold in 2013 averaging a sales price of $128,750 versus an asking price of $149,250 or 89% of asking price.
Robert Wagner, NetFinancials president states that, "By 'Atlanta standards' the 2013 sales results are routine. For the last three years quarterly and annual Atlanta restaurant sales increases have averaged 5%. But taking local trends out of the national context is like walking through a museum blindfolded. Atlanta's restaurant sales growth is exceptional when viewed in a national context. Compare Atlanta's 4.6% Q4 sales gain to a bellwether such as McDonalds where comparable USA sales declined -1.4% in Q4 2013.

What's driving Atlanta's relatively strong results? Wagner says it's due to "robust Atlanta-area visitor traffic, local population growth and positive metro economic trends." Local economists report the metro Atlanta unemployment rate dropped from 8.7% in December 2012 to 6.8% in December 2013.
How will 2014 stack up? Restaurant Broker Eric Gagnon says, "2014 is off to a very tough start. The winter storm weather will certainly impact first quarter sales results for the nation and in particular, the south. Restaurants lost critical revenue due to multiple storms, one of which fell on the highly important Valentine week. Other parts of the nation have also been affected by weather however, so we predict Atlanta will still finish ahead of the pack for 1st quarter 2014 as this market is extremely resilient."
About the Data
The Net Financials sample is taken from 90 independently-operated, non-franchise restaurants drawn from the metro Atlanta market. Total 2013 survey sales volume was $218,941,368. The sample includes restaurants in Atlanta's fast-casual, casual and fine-dining segments open at least 24 months.
The BizBuySell.com Insight Report is published on a quarterly basis, reporting changes in closed transaction rates, valuation multiples and other economic indicators for the small business transaction market. Closed transactions are reported to BizBuySell.com on a voluntary basis by business brokers nationwide.
Robert Wagner, CPA is president of NetFinancials, Inc. which provides a full range of tax and accounting services for restaurant companies. Email: bob.wagner@netfinancials.com. www.netfinancials.com Direct: 404-874-7002