September 11, 2015 –
Restaurant brokers Eric and Robin Gagnon feature former professional athletes turned successful restaurant owners on their national restaurant radio show this week. The We Sell Restaurants radio show features former NY Giants player Carlos Emmons, George Tinsley Sr., a former standout in the American Basketball Association and first round NFL draft choice Tye Hill who along with former NY Giants player, James Butler, operate multiple Golden Corral franchises.
Professional athletes are investing in restaurant concepts and franchises at increasing rates. The restaurant brokers ask these former stars whether they were looking for their next big investment even before their career ended. After all, according to Restaurant Broker Robin Gagnon, some in the industry refer to the NFL as "Not for Long." These guests all prepared for life after the field by gravitating to the hospitality industry where certain skills like teamwork and a competitive spirit allows them to thrive.
What's the adjustment when coming in from the field and going into business? Former NFL first round draft choice Tye Hill said he and his partner, NFL standout James Butler "definitely had to go through training." In his words, "We spoke football. We didn't speak restaurants." Coming from a professional background of teamwork, the former athletes turned restaurant owners agree that they had a leg up when it comes to collaboration around shared goals. These professional players who were part of teams that made it all the way to the Super Bowl say these skills translate to the business world. In their words, "We know how to build a team. We know what a successful team looks like." George Tinsley, Sr., a standout restaurant operator with more than 70 locations began his career in the American Basketball Association and was an alternate for the U.S. Olympic team. He says that in addition to teamwork, a special skill honed by those playing in professional leagues is a "competitive spirit."
Does their success on the field translate into more customers? Carlos Emmons of Wet Willies says, "As soon as the star fades, the restaurant fades. He goes on to say, "You can't rely on the roar of the crowd." From a single unit to more than 70 locations, these stars represent the past, present and future of the industry in the hands of professional athletes who definitely have their game on. Listen to the entire show on GLN the Good Living Network next week, Monday at 2pm EST and Tuesday at 9PM EST.
This Week's Guests:
Carlos Emmons, Wet Willies Atlanta:
Carlos Emmons is a former American football linebacker in the National Football League. Emmons played college football at Arkansas State University where he was a four-year starter and received a Bachelor in Science in Business Management. Emmons was drafted in the seventh round of the 1996 NFL Draft by the Pittsburgh Steelers and played for the Steelers until 1999. In 2000, he began playing with the Philadelphia Eagles and was named team Defensive MVP in his final year. He signed as free agent by the New York Giants in March 2004 and was released by them on February 12 2007, after having career ending back surgery.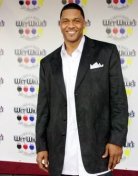 Carlos opened Wet Willie's in Atlanta, GA in March of 2010. The establishment specializes in serving the World's Greatest Daiquiris and great food with terrific service and entertainment.

George W. Tinsley, Sr, Tinsley Family Concessions, Inc.:

George Tinsley's road to success is a rags-to-riches story. His is a life story of faith, tenacity, education and a white-hot desire to succeed. George's unyielding determination and strong work ethic are the true gifts that catapulted him to a lifetime of multiple careers, professional achievements, business success and meaningful contributions to improving the lives of others.
Tinsley began as a single Kentucky Fried Chicken franchisee in Auburndale, Florida. After his first year as a KFC franchisee the restaurant developed into an outstanding success and spawned other opportunities. Tinsley developed two KFC restaurants within three years, and later assisted in developing KFC's minority franchisee program.
After six years with KFC, he opened the first African-American owned T.G.I. Fridays® in the U.S. It became the No. 1 T.G.I. Fridays® in the U.S. for nine consecutive years, and continues to be a top performer. Continuing to diversify with other branded concepts, Tinsley Family Concessions now owns and operates more than 70 franchises, with most locations in Miami and Tampa International Airports.
Tye Hil & James Butler, Golden Corral:
Together, James Butler and Tye Hill founded YBE Enterprise LLC, a food and hospitality company. The business partners own three Golden Corral restaurants. The restaurants are located in Oxford, Alabama; Milledgeville, Georgia; and Centerville, Georgia

South Carolina born
Tye Hill
is a former college and professional football cornerback who played in the NFL for five seasons. After receiving All-American honors at Clemson University, he was drafted by the St. Louis Rams in 2006. He also played professionally for the Atlanta Falcons, Tennessee Titans and Detroit Lions. He now lives in Atlanta with his family
James Butler
of Bainbridge, Georgia was a standout football player at Georgia Tech. He went on to play for the New York Giants when the team won Super Bowl XLII. He also played professionally for St. Louis Rams. He also now lives in Atlanta with his family.
About We Sell Restaurants
We Sell Restaurants is the nation's largest restaurant brokerage firm specializing in restaurants for sale, franchise restaurant re-sales and leasing of restaurant space. The We Sell Restaurants brand is known nationwide for professionalism, industry knowledge, and unmatched service. They can be found online at www.wesellrestaurants.com. The firm is franchising their brand nationwide and has offices in Florida, Georgia, Colorado, Tennessee and South Carolina.
The We Sell Restaurants radio show will be on the air on GLN the Good Living Network next week, Monday at 2pm EST and Tuesday at 9PM EST.