The 2021 BizBuySell Insight Report has been released and We Sell Restaurants leads the nation, outpacing the results for the year by more than twenty-nine percentage points. According to the report, which tracks businesses-for-sale in the U.S., sales of restaurants increased 6.5%. Meanwhile, We Sell Restaurants, the nation's largest restaurant broker, outpaced the national average with an astonishing 33% increase in closed deals. The BizBuySell Insight Report is a nationally-recognized economic indicator that tracks the health of the U.S. small business economy.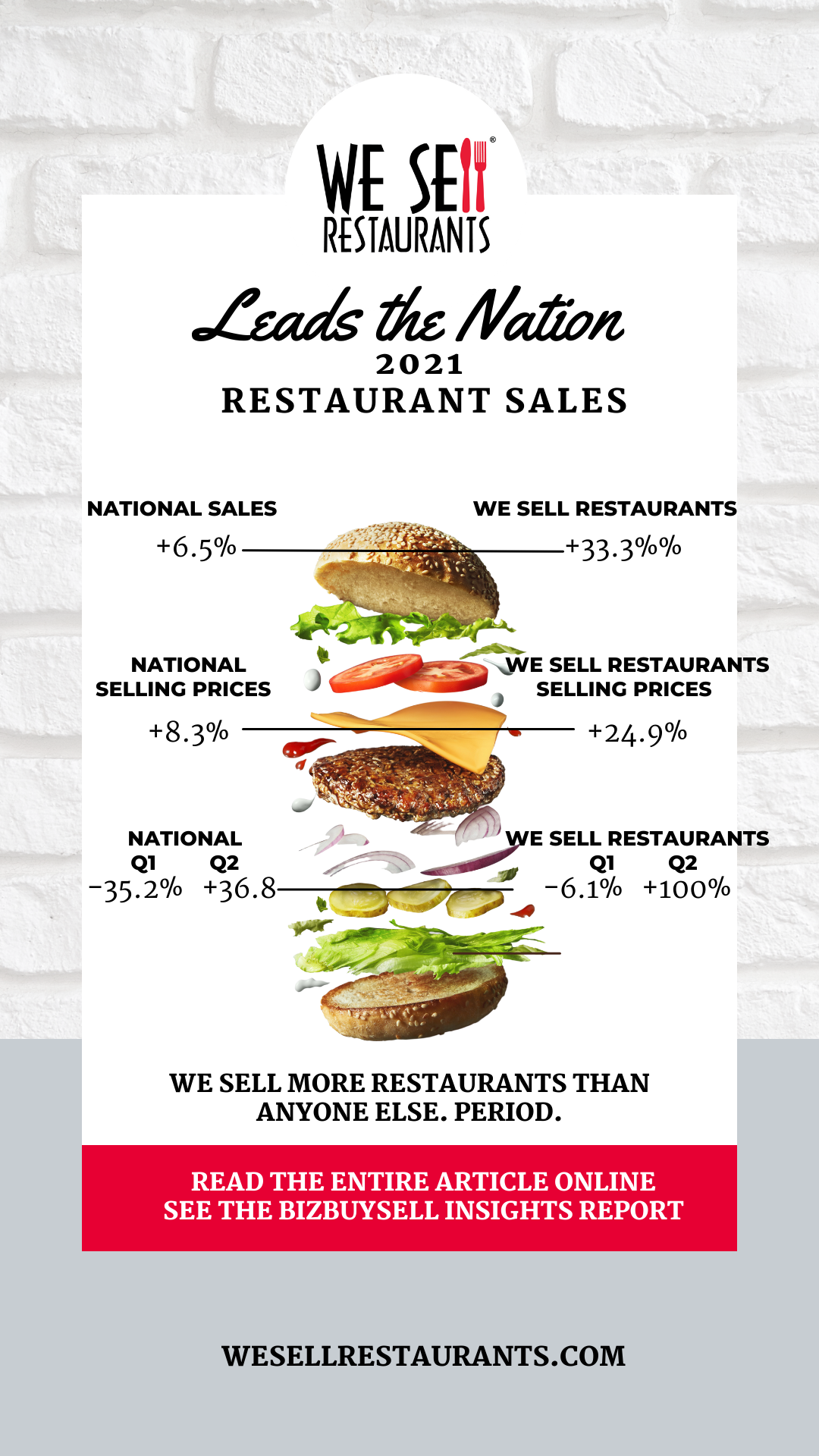 Growth in transactions is not the only good news delivered by the report. Restaurants were the second most sought after category of businesses sold last year, despite pandemic fallout, hiring challenges and supply chain disruptions. In fact, restaurant sales accounted for 26% of all transactions.
That may be why We Sell Restaurants was able to report growth in total sales volume of 66.5% last year, resulting in average selling price increases of 24.9% over 2020. That contrasts with the BizBuySell Insight report that showed nationwide, median selling price per restaurant was up 8.3%. We Sell Restaurants reported median selling price per restaurant was up 24.9%, three times the national rate of growth.
Sales by Quarter
Growth in the restaurant for sale market was off to a rough start to the year for 2021 as shown in the BizBuySell Insight Report. In Q1, national results tracked by the brand saw the market down 35.2% in restaurant units sold. We Sell Restaurants for the same period was down by only 6.1%. That is a 29.1 percentage point improvement when measured against the national marketplace. By second quarter, on a national front, deals began to accelerate with restaurant transactions up 26.8% in the U.S., while the country's largest restaurant brokerage firm, We Sell Restaurants, doubled the prior year results at plus 100%.
By Q3, the national results were still positive, with transactions 14.5% ahead of the prior year while We Sell Restaurants was 50% ahead of 2020 in units sold for the quarter. Lastly, Q4 saw the nation post 38.1% gains in transactions while We Sell Restaurants was plus 18.6%,. This included the pushing of several deals into third quarter due to the CARES Act benefit. Buyers received three months of free payments, including principal and interest, for closings occurring before September 30, the end of quarter three. The chart below shows the results on the national level versus the restaurant brokerage brand, We Sell Restaurants.
A deeper dive into the numbers show a regional trend consistent with what We Sell Restaurants reports. Buyers are choosing to invest in areas that are less locked down. The number of restaurants sold as reported by BizBuySell declined 6.6% in the Northeast and declined 1.1% in the Pacific where more onerous restrictions by local or state governments continue to hinder the comeback of the industry. The South was up 15.4% in transactions and the Mountain region was plus 24.5% for the year.
"The results by region demonstrate the continuing impact of government intervention in the industry," says Robin Gagnon, co-founder of We Sell Restaurants. "Our buyers are seeking opportunities as they relocate from the northeast to the southeast. Our Colorado franchisees have been remarkably busy as those on the west coast move from California. The relocation of Americans is a real phenomenon fueled by families with one breadwinner working remotely and opting to relocate to other parts of the country as a lifestyle choice."
Demand for existing businesses, especially restaurants, is expected to continue into 2022. An overwhelming majority of business brokers surveyed in the report expect an increase in the number of buyers and sellers hitting the business for sale market this year. Gagnon agrees saying, "We Sell Restaurants is already outpacing the record results of 2021 in the first six weeks of 2022 by significant amounts. We fully expect 2022 to beat last year's results."
Among the trends highlighted by the BizBuySell Insight report available at this link and quoted below are:
"Pent Up Supply and Baby Boomers – Business brokers attribute 45% of their sellers in 2021 to Baby Boomers who are reaching retirement age and are too tired to continue. Seventy-eight percent of brokers surveyed expect to see more of these sellers entering the market in 2022.
Operational Challenges and Burnout – Business owners surveyed describe a general sense of fatigue from the past two years. Forty-four percent say they have experienced staffing shortages, and 52% report facing supply shortages. "Pandemic fatigue" is motivating more owners to sell.
The Great Resignation and Serial Entrepreneurs – A buyer pool comprised largely of corporate refugees, retirees looking for a second career, and existing owners looking to expand, is expected to drive demand for existing businesses higher into 2022."
Trends that we see fueling continued transactions in the restaurant industry, in addition to the ones cited above by BizBuySell include:
Ready availability of lending – Banks are back in business when it comes to lending on restaurants and are, in most cases, ignoring the impact of 2020. The trend for 2021 is much more valuable in assessing where business stands today and is the primary measure for SBA lending.
Strong popularity of QSR or Quick Service Retail – QSR, flourished during the pandemic by taking advantage of scale to move quickly to takeout and delivery. These units are an easy entry point for those without experience as there is less cooking and usually no alcohol. These concepts continue to drive results.
Consolidation as a Business Strategy – Those who came through the pandemic in a strong position are flush with cash and looking for new places to invest. Restaurant deals announced on the national level are driving investors to consider adding units to their existing portfolio or diversify into food offerings.
Once again, the restaurant industry and restaurant sales are poised for success in 2022, just as We Sell Restaurants predicted in 2021. Based on our results, you can rely on our advice.
The BizBuySell Insight Report is a nationally-recognized economic indicator that tracks the health of the U.S. small business economy. Each quarter, BizBuySell analyzes sales and listing prices of small businesses across the United States based on approximately 50,000 businesses for sale and those recently sold, reporting changes in closed transaction rates, valuation multiples and other economic indicators for the small business transaction market. Closed transactions are reported to BizBuySell.com on a voluntary basis by business brokers nationwide. Each report includes real small business data on over 70 major U.S. markets and across 65 small business industries.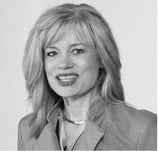 R
obin
Gagnon, Certified Restaurant Broker®, MBA, CBI, CFE
is the co-founder of We Sell Restaurants and industry expert in restaurant sales and valuation. Named by Nation's Restaurant News as one of the "Most Inf
luential Suppliers and Vendors" to the restaurant industry, her articles and expertise appear nationwide in QSR Magazine, Franchising World, Forbes, Yahoo Finance, and BizBuySell. She is the co-author of Appetite for Acquisition, an award-winning book on buying restaurants.