When you are thinking about Selling a Restaurant, you may be asking yourself, "Where do I start?" Perhaps you began your journey by consulting a trusted friend or colleague. You may have even launched a search query to Google. When you are inundated with content and sifting through advice, referrals, or your own fears, it can be helpful to hear real stories from real people to help you solidify your decision to sell. If you do decide to sell, those stories can also help you feel more confident about picking a restaurant broker who can sell your restaurant for the most money in shortest time.
A critical step we encourage our sellers to take when they are considering to sell their restaurant is to interview brokers. This restaurant broker interview is a helpful tool for anyone looking for a committed expert with a high level of knowledge and skill in selling restaurants.
For our clients, March was another period of success stories and accomplished dreams. Below are just a few of our favorite customer stories from the last month. We share them to help celebrate the restaurant brokers, buyers, and sellers who were involved in the transaction, as well as to help future restaurant owners on the fence feel more confident in their decision to sell.
#9644 - Coloradough Pizza in Parker, CO
Certified Restaurant Broker: Chris Gordon
"Love working with Chris, Not just a Broker now Family!! Chris made us feel Soooo comfortable throughout the process, He is OUR go to Man from here on OUT, Super honest, up front and humble from the beginning to End!!!" - Bruce & Laticia, buyers
"Thank you Chris for getting us through this process more efficiently than I could have imagined!!" - Sean, seller
#9040 - Moe's Southwest Grill in Mt Laurel, NJ
Certified Restaurant Broker: Steve Weinbaum
"Steve has been a consummate professional who understand all aspects of the transfer process, interacts with all parties- sellers, buyers, attorneys, franchisors, etc. to get the best possible results for completing the transaction. His experience in getting the deal complete shows in his work ethic and honesty. He has tons of great relationships and will use his resources to get the best results for anyone who engages him and his team. Looking forward to working with him again- soon! Best of luck and thank you!" - Manish, buyer
#9582 - G'Angelo's Pizza and Pasta in Marietta, GA
Certified Restaurant Broker: Jeff Heidt
"First off, I just want to thank Jeff Heidt with We Sell Restaurants. From beginning to end he never left our side. He made everything easy, and he went above and beyond to help us. If you want to sell your restaurant, sold the right way then Jeff is your man." - Joshua, seller
#9547 - Pizza Lucci in Phoenix, AZ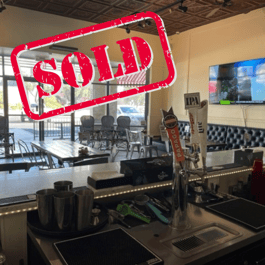 Certified Restaurant Broker: Kevin Hudson
Restaurants, on average, take at least six months to close a deal and sell. Kevin Hudson beat this industry average by a landslide, selling Pizza Lucci in less than three months!
Tools and Templates for Selling Your Restaurant
Ever wondered what your restaurant would be worth on the market? Contact a Certified Restaurant Broker Near You for a free, no obligation, restaurant evaluation. Restaurant owners nationwide trust We Sell Restaurants to help them exit their business. Take advantage of our free Tools and Templates for Selling Your Restaurant.