After an incredibly tough year, Valentine's Day 2021 is the time to visit a fabulous restaurant and show the love, to your significant other and to the restaurant community. After all, this is the place we celebrate all of life's most significant moments: engagements, wedding rehearsal dinners, retirements and so much more.
It is typically the second most popular holiday for dining out with only Mother's Day edging it out. Make plans early and join millions of Americans who are sharing the love for the Valentine's weekend. These Restaurant Brokers will certainly be finding an amazing restaurant for the evening
It's estimated by the National Retail Federation that we will spend an average of $165 on their loved ones for Valentine's Day 2021. If you plan to stay home, order in a special meal from some of the many offerings. If you're dining out, share your experience with us on Instagram or other social media channels.
For 2021, We Sell Restaurants found great deals for every part of the day and into the night. We recommend all of them. Show a little love to a community hit harder than most, the restaurant industry.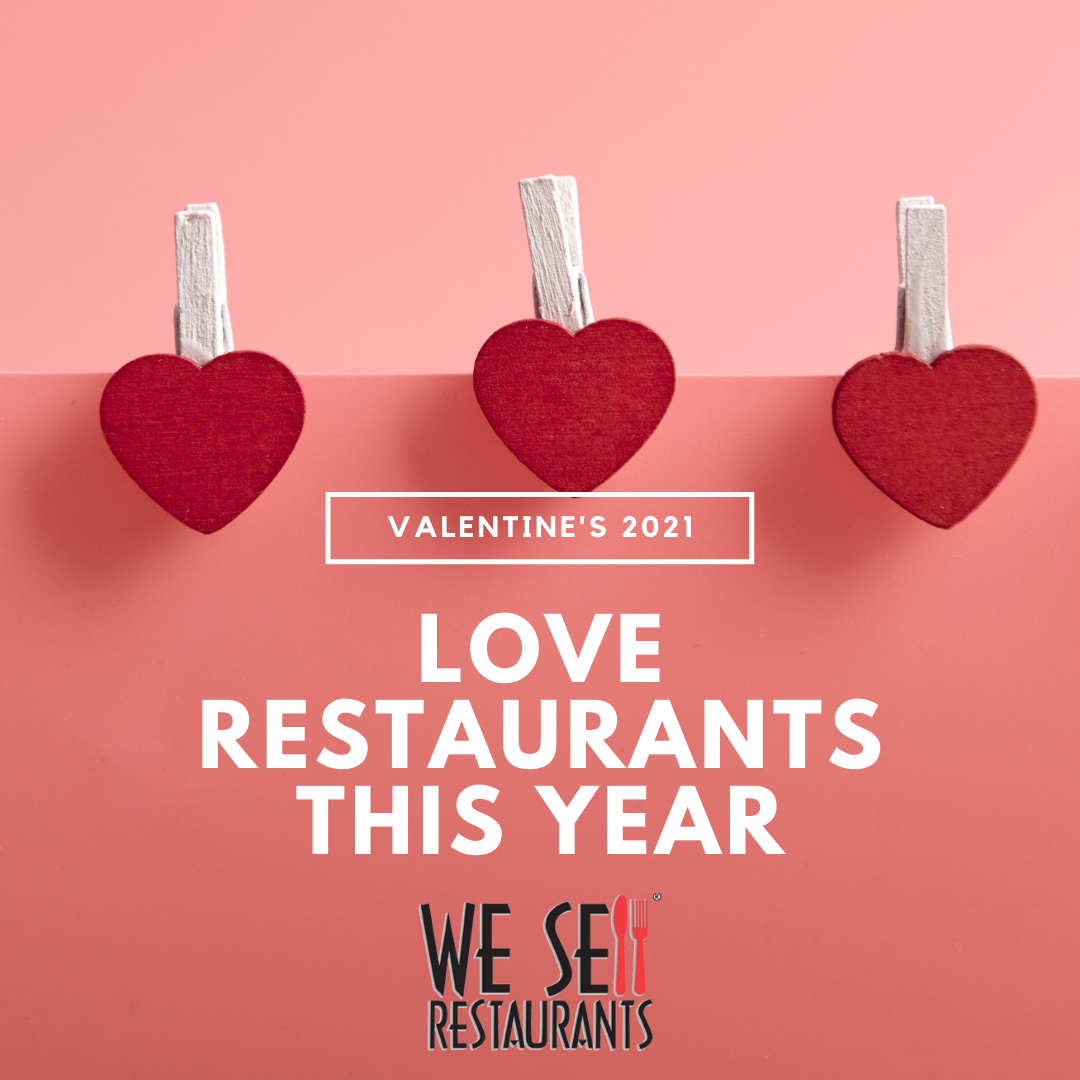 Kick off the day with a little love for the first daypart – Breakfast! Serve your sweetie breakfast in bed picked up from one of these options.
Dunkin' has a Heart-Shaped Donut, the Brownie Batter Donut, Cupid's Choice Donut and Pink Velvet Macchiato for a limited time in celebration of Valentine's.
Bojangles' has Heart-Shaped Bo-Berry Biscuits available through February 16, 2021
Hardee's has Heart Shaped Biscuits as well from the 11th to the 14th. Try their Heart Shaped Bacon Egg & Cheese Biscuit sandwich or Sausage & Egg Biscuit sandwich along with their other breakfast sandwiches dressed up for the occasion.
Krispy Kreme has their popular Valentine Heart Doughnuts in the stores February 14, 2021. There' are four varieties available; see them all at the Krispy Kreme Valentine's Page.
Waffle House is even getting into the Valentine's Day experience. They are accepting dinner reservations for their 13th annual Valentine's Dinner. See your local Waffle House with tablecloths and candlelight! Visit Waffle House Valentines Dinner for a list of participating locations and more details
Ready for seafood? Here are just a few of the options from casual to high end dining to satisfy the palette of those seeking an ocean inspired Valentine experience.
Bubba Gump Shrimp Co. is serving up an appetizer to share, two soups or salads, two entrees, and a dessert to share for $65 per couple. Details are online Bubba Gump's Valentine's Day Page.
Chart House Valentine's Dinner. Choose the Sweetheart Couple Dinner for $140 at Chart House from February 11- 15. Each guest gets a starter and an entree, then you share a dessert. Add a bottle of featured wine for $65. Full details at the Chart House Valentine's page.
Joe's Crab Shack has a four-course Valentine's dinner for two for $79.99 on February 12 – 14, 2021. The dinner includes a choice of shrimp or stuffed mushroom, salad, a Steampot for Two, and a dessert to share.
Kona Grill will celebrate Valentine's Day with special features for dine-in or takeout on February 12 – 14, 2021 including specials like Surf & Turf for $42 or Pan-Seared Salmon for $36. For takeout, choose from the same specials as for dine-in, plus get a Surf, Turf & Vine special for two for $99. Comes with two surf & turfs, red velvet butter cake and a bottle of red or white wine. The full menu is online at Kona Grill Valentine's page
Even the very budget conscious can feast on Valentine's with the Long John Silver's 2 Can Dine For $9.99 Coupon. Choose from Fish, Chicken, Grilled Shrimp, Grilled Salmon or Fried Shrimp Meals. Meals come with two sides and two Hushpuppies.
That's Amore – nothing says love like Italian. Here are some of the pasta and pizza offerings for Valentine's delight.
Buca di Beppo has a Valentine's Weekend dinner for two for $59.99. Good for dine-in or takeout on the 12th through the 14th. Enjoy Heart-Shaped Lasagna for two, Buca Small Garlic Bread, Buca Small Mixed Green or Caesar Salad, and Mini Cannoli, all for $59.99. Here's a link to make reservations.
Carrabba's Italian Grill has a dinner for two for Valentine's Day for $50 that can be enjoyed for dine-in or to-go. The meal is available from February 9 – 15, 2021. It comes with a first course to share, one second course for each diner and a third course served with a side. Choices for your main course include Lasagna, Fettucine Carrabba, Chicken Bryan, Chicken Marsala and 7 oz. Tuscan-Grilled Sirloin
Olive Garden is offering a Valentine's Dinner for 2 for $35.99 available for pickup between February 12 – 14. You'll get 2 soups or salads, breadsticks and dipping sauce, an extra-large Five Cheese Ziti al Forno or Chicken Alfredo+ to share, and a Black-Tie Mousse Cake or Tiramisu to share for dessert
Prefer your love to show with a heart shaped Pizza? There's more than one choice! Mountain Mike's Pizza is serving one at just over $20.00 for a large one-topping. Papa John's is featuring a large 1 topping Heart Pizza for just $11.99. You can add dessert for $16. Details are online. Papa Murphy's has the HeartBaker Pizza from February 7 – 14! Pizza alone or add in desert for a sweet deal.
Meat Lovers abound on Valentine's Day as well and lots of these deals are for surf and turf. Here's a sample.
Morton's Steakhouse is offering up a three-course meal with a starter, two 6 oz. Filet Mignons, two 5 oz. Lobster Tails, a Signature Side to share, and a choice of dessert. Available for pickup as well as dine in.
Ruth's Chris Steakhouse has a Surf 'n Turf Valentines menu starting at $54.95. You can get twin Cold-Water Lobster Tails with a filet or ribeye starting at $54.95 per person and it's available from the 12th to the 14th.
Del Frisco's Grille has a Filet Duo dinner for Valentine's Weekend. Another surf and turf option, this one includes Twin Stuffed Lobster Tails, Prime Dry Aged NY Strip, and Red Velvet Cheesecake. Prices vary by location. For the complete menu visit Del Frisco Grille Valentine's Dinner
STK Steakhouse will be serving up Valentine's specials from the 12th to 14th as well. Get a Surf & Turf for Lovers takeout special for two for $139 or order from the regular menu. For more details visit the STK Steakhouse Valentine's Special Page.
Dickeys BBQ Pit is featuring their two two-meat plates for $24 special for Valentine's and every day of the week. To get the deal ask your server for the 2 for $24 special or show your server this deal announcement on the Dickey's website.
The Capital Grille has a three-course Valentine's takeout dinner for two for $175. The dinner includes a Field Greens Salad with French Rolls, sides, dessert, plus either a Capital Grille Surf and Turf, 20 oz Filet Mignon or (4) Poached Lobster Tails (4).
There are so many opportunities to share the love this Valentine's Day. We hope you enjoy one of these incredible moments with someone you love.