The Restaurant Relief Act is signed into law bringing tremendous opportunity for restaurant owners to recapture lost sales in 2020. The method to apply and the means to claim the money is still a work in progress.
As of last night, the latest guidance from the Small Business Administration has changed dramatically. Prior to yesterday, the SBA was asking restaurant owners to make sure the obtained a DUNS number and then set up a grantee account at SAM.gov. These restaurant brokers provided you with that guidance.

STOP THE PRESS! That has changed. As of 5pm yesterday, there is NO NEED for a DUNS number and NO NEED for a sam.gov account and all that government red tape and bureaucracy.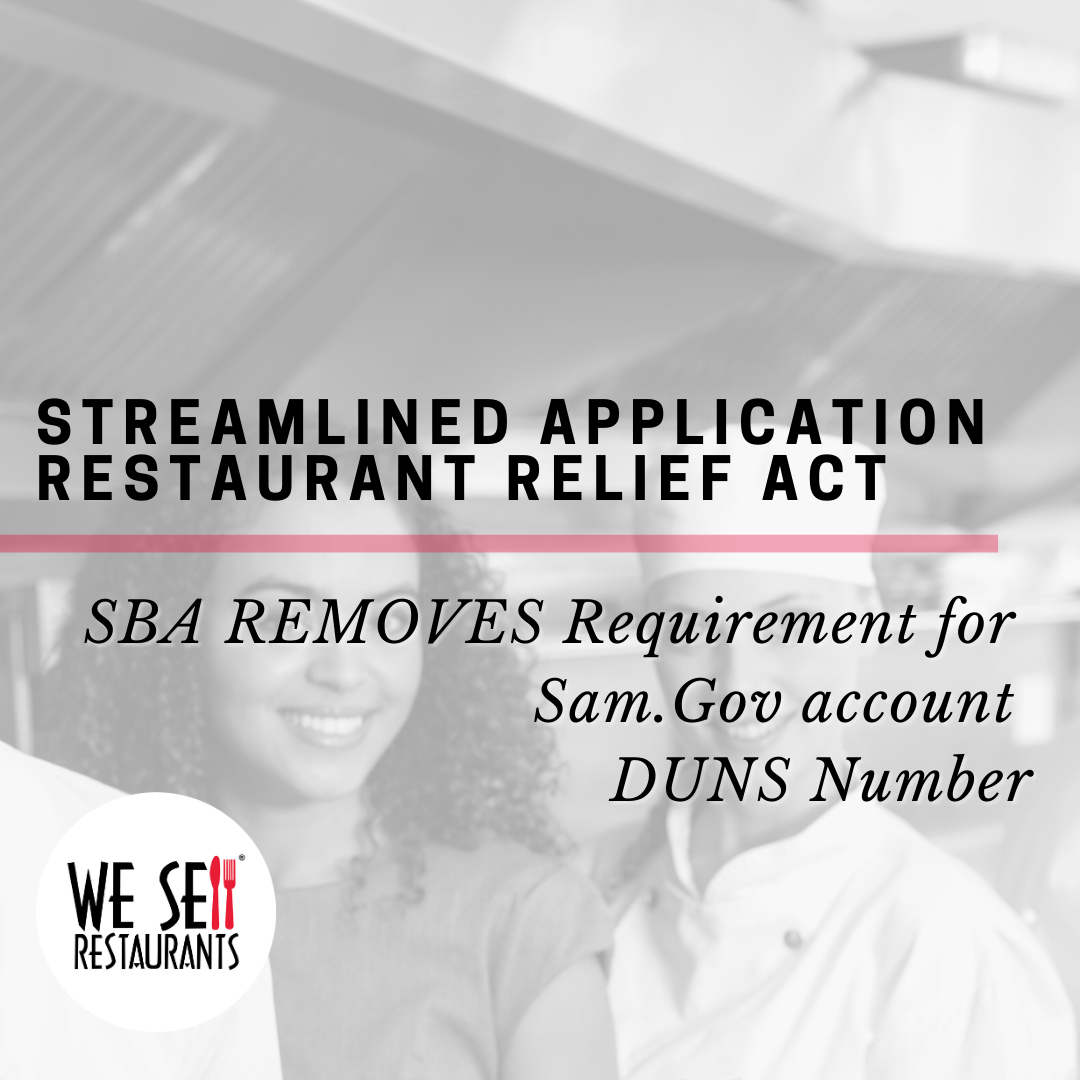 What do you do now? Here are the questions and answers from We Sell Restaurants.
How much money is available?
The bill allows for $28.6 billion in total restaurant relief. Part of this money ($5 billion) is reserved for restaurant owners that have annual sales of less than half a million dollars ($500,000). That covers a lot of small businesses in America.
When Can I apply?
We don't know. The SBA or Small Business Administration is working closely with the National Restaurant Association to make this a simple process. They are getting input from the industry. That's why the old process was scrapped so quickly and a new one is in the work.
Who get Priority under the Act?
Women-owned businesses, minority owned businesses and veteran owned businesses will be able to apply first (in the first 21 days).
How do I calculate what I qualify for?
Use this simple table.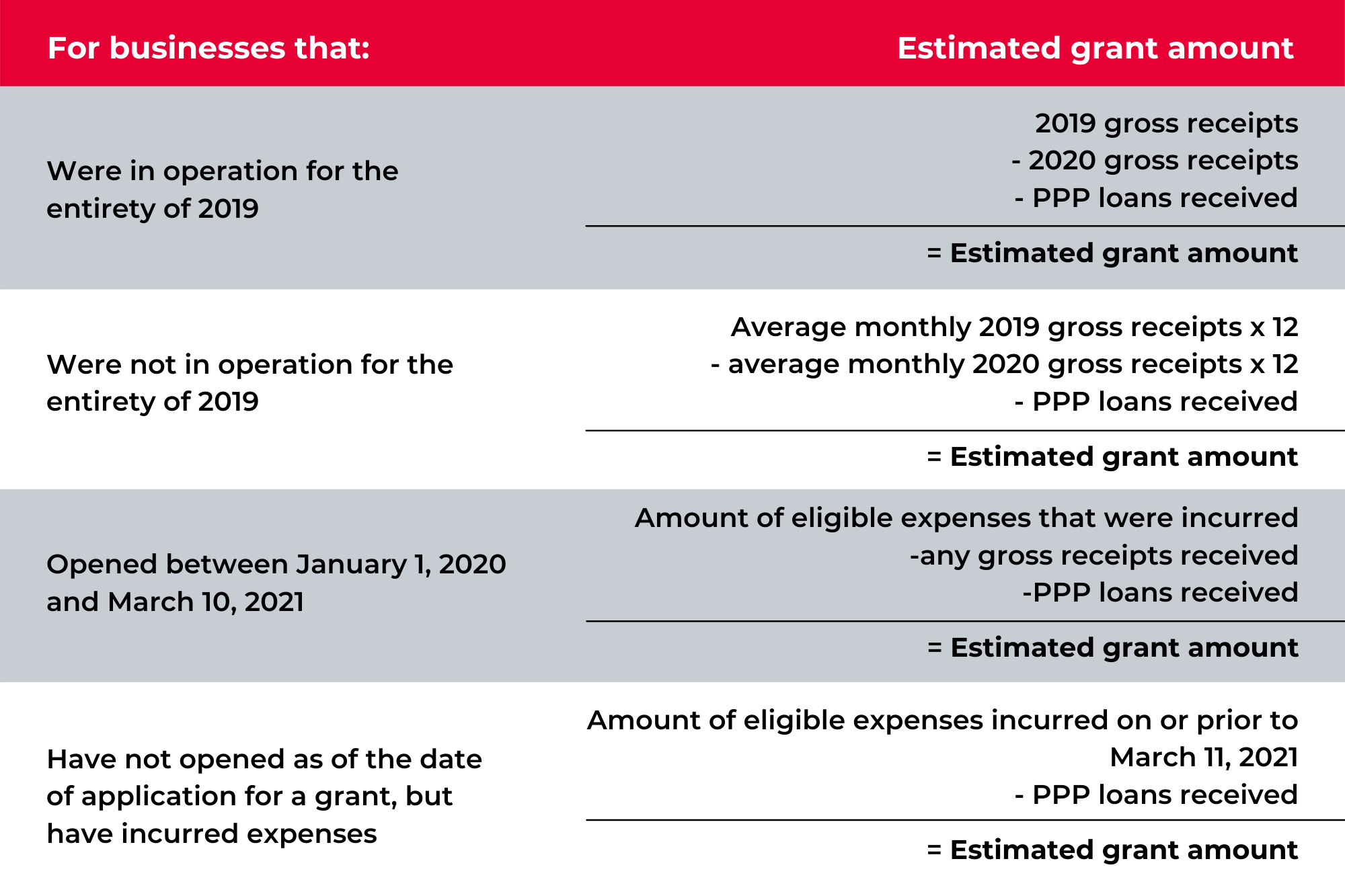 The chart shows I have to deduct PPP money. What about EIDL or Employee Retention Tax Credits. Do I have to deduct those?
No. Only PPP funds are deducted.
Who is Eligible?
Food service or drinking establishments, including restaurants, caterers, brewpubs, food stands, food trucks, taprooms, and tasting rooms, that are not part of an affiliated group with more than 20 locations.
What makes up 20 affiliated locations?
Here is an example. You own 8 Burger Kings and 15 Moe's under different LLC names. This is common ownership (or affiliated locations) represents more than 20 stores so you don't qualify.
Who is Not Eligible?
Publicly traded companies and owners with more than 20 locations.
Is this a loan?
No. This is a grant. You will have to show that it went to eligible expenses to operate but it is not a loan, it is a grant.
Do I have to pay taxes on the grant once I receive it?
No. The legislature was very specific in making sure this is designated as tax free income.
Can I sell my restaurant and still get the grant?
Yes. It would be a smart idea to list your restaurant for sale and apply for the grant now. By the time the restaurant sells (a multi-month process), there is a strong chance you will receive your grant. You will then sell for your asking price while still getting the grant money.
Is there a document with the specific language from the bill available?
Yes. The link is provided here from We Sell Restaurants.
Where can I get additional information?
Stay in close communication with your state restaurant association and the National Restaurant Association. Here are additional resources for you to rely on.
National Restaurant Association Fact Sheet
National Restaurant Association Questions and Answers
Which websites should I check for updates?

Keep checking our blog at WeSellRestaurants.com. You can also learn more by checking these two sites:
National Restaurant Association Site - RestaurantsAct.com
Independent Restaurant Association site
I'm getting calls from vendors offering to "help" me with the application process. Should I use a service?
In our opinion, you should not. This is a new program and everyone is learning on the fly. Any "vendor" jumping in to assist you will probably seek a fee of some kind. We do not want to see you give up anything you should be able to obtain for free.
We Sell Restaurants will continue to keep you updated with advice and information on this and any other resources available for restaurant owners.