August 07th, 2015 – The Restaurant Brokers, Eric and Robin Gagnon, are talking to restauranteurs who took their product out of the store and onto the grocery store shelf! They are joined on their weekly radio show by the CEO and president of Atlanta Bread Company, CEO of The Chef Shelf, and CEO and chef of Davio's Nothern Italian Steakhouse/Davio's Frozen Food.

This week Eric and Robin are talking to panelists who know all about taking a business from "Restaurant to Retail." Have you got that secret sauce everyone's raving about and you're looking to take it to supermarket shelves across the nation? Well, tune in to GLN the Good Living Network next week, Monday at 2pm EST, Tuesday at 9PM EST and Thursday at 3PM EST. These panelists have figured out how to successfully monetize their product through alternate distribution channels. They are sharing their tips for success with listeners. .

Don't miss it because these CEOs aren't holding back! They all agree that while success may not happen quickly, there is, according to at least one of these experts there is "great demand for brands to be in supermarkets." They all agree it can be harder than you think to move your restaurant offerings onto restaurant shelves since as one guest puts it, "You don't go to Costco overnight."

What are some of the challenges? Steve DiFillipo of Davio's distributes his frozen food brand in more than 3,000 outlets nationwide and says, "Don't think you'll get restaurant markups!" Other advice from this panel, "When going from restaurant to retail your brand has to be consistent with the supermarket's brand and you have to be realistic. Lastly, pick and choose your items to put forward at retail. As these experts tell us, "Don't think you can do everything on your menu."

Atlanta Bread President Jerry Couvaras has developed a 140,000 square foot bakery facility that turns out 52,000 muffins an hour on just one line. He is adamant that quality control can set you apart saying, "Quality, quality, quality (is) the point of difference" He adds that the bakery distribution side of the business is a benefit for his franchisees. It allows his total brand to benefit from a large Research and Development chef team, ultimately helping both the retail store (franchise units) as well as sales in outside retailers.

Chef Shelf owner Tanner Agar says you can and should start small saying, "It can be lucrative and a lot of fun…It's so important the product represents them."

Tune in to get more details and advice like what trust has to do with going into retail and the real key to branding a product. How long should it take to start seeing your product in stores? Who should you be selling to? Is retail right for you and your brand? Join the restaurant brokers and find out the answer to these questions and more!

This Week's Guests:

CEO and president of Atlanta Bread Company Jerry Couvaras:

Jerry is a strategist, a visionary, and a leader. His early career success in South Africa saw him thrive in investment banking, where he gained invaluable internal exposure in a wealth of industries. This afforded him limitless opportunities once here in the US. Upon making Atlanta his home some twenty years ago, he saw a sandwich chain as a smart early investment not for what it was, but for what it could be, and he soon capitalized on the company's expansion potential to set new standards in the market. Recognition for such initiatives came rapidly. In 2003, he was a finalist for Ernst & Young's Southeast Businessman of the Year. Today, Bake One and Atlanta Bread develop and supply new product innovation for

some of the largest global customers based here in the US, while exporting to fifteen countries worldwide. Jerry continues to stand as a model of success. He's been a guest speaker at recognized establishments and featured in high-profile business publications, including Donald Trump's The Way to The Top.
He graciously serves as a Trustee of Woodruff Arts Center, and sits on the Boards of Directors with The Hirsch Academy, FOCUS (Families of Children Under Stress), and Concorde Fire Soccer Club.
Chef and CEO of Davio's Northern Italian Steakhouse/Davio's Frozen Food Steve DiFillipo:
Steve is a chef, owner, restauranteur and author. His Davio's brand is in Atlanta, Boston, Philadelphia, and Foxborough, Maine. This consummate restauranteur and Culinary School graduate has also taken his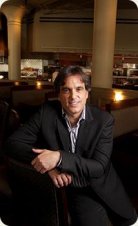 brand outside these location and into more than 3,000stores including Cosco, Big Y and BJ'S. The Davio's Frozen Food line of popular Spring Rolls-Philly Cheesesteak Buffalo Chicken, Shrimp Cojita and Chicken
Parm are in the coolers at stores in more than 40 states across the U.S.Steve is a graduate of Boston University and the Cambridge School of Culinary Arts. He is very involved in the community, serving on several non-proft boards. It all started at the age of 24, Steve purchased an established restaurant called
Davio's in Boston's Back Bay. That was his first in a succession of popular restaurants changing the concept to a Northern Italian Steakhouse.
In 2008 he was inducted into the Massachusetts Restaurant Hall of Fame and in 2014 was awarded Restauranteur of the Year. He is also the author of "It's All About the Guest: Exceeding Expectations in Business and in Life, the Davio's Way."
CEO of The Chef Shelf Tanner Agar:

Tanner Agar worked as a chef and server in fine dining in Canada, the US, and Spain. While a student at TCU he started The Chef Shelf to help chefs and restaurants package their award winning recipes and connect customers to the flavors they love through products, videos, and recipes. Tanner also hosts a 15 second cooking show on Instagram.
About We Sell Restaurants
We Sell Restaurants is the nation's largest restaurant brokerage firm specializing in restaurants wanted (restaurants for sale), leasing a restaurant and franchise restaurant resales. The We Sell Restaurants brand is known nationwide for professionalism, industry knowledge and unmatched service. They can be found online at
www.wesellrestaurants.com
. The firm is expanding nationwide and has offices in Atlanta, Colorado, Tennessee and Florida.