The National Restaurant Association published several maps today showing net losses in jobs by state based on November data. In the graphic below the green states added jobs while the yellow states lost jobs. In our opinion, this correlates with restaurant closures and is a trend that the restaurant brokers at We Sell Restaurants have been talking about for months.
Just as there are early adopters to technology, many entrepreneurs are also quick to adapt and change. That's the nature of owning your own business. We've been seeing restaurant owners from locked down states put their money and talent to work in the more "open" states for several months now. They are contacting us to sell and buy based on geography. We continue to predict that shut-down states will lose restaurants that will never be regained. On the other hand, the more open states will be adding restaurants once the country is vaccinated and the virus is a memory.
This map mirrors that phenomenon and shows those leading the way to include:
Illinois – lost 31,100 net restaurant jobs
Michigan – lost 9,900 net restaurant jobs
Minnesota – lost 9,700 net restaurant jobs
New York - lost 7,200 net restaurant jobs
Indiana - lost 6,800 net restaurant jobs
New Jersey – lost 6,800 net restaurant jobs
Massachusetts - lost 6,600 net restaurant jobs
Colorado – lost 6,400 net restaurant jobs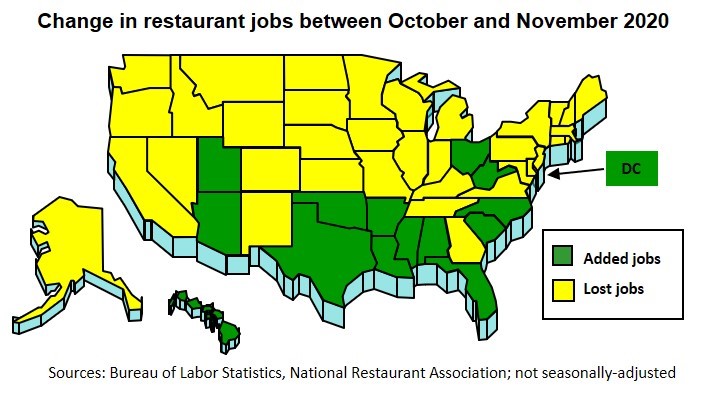 Restaurants account for more than 10% of the United States labor force overall. According to the latest data, there are currently 2.1 million jobs below the pre-coronavirus levels.
Where are the gains and losses happening? Thirty-six states overall lost restaurant jobs between October and November of 2020 while only 14 states and the District of Columbia saw gains.
The second chart compares November 2020 restaurant employment to February 2020 (pre-COVID19). The states with 20% of more losses in jobs include some of the states with either the highest virus levels and/or the largest lockdown measures including: California, Arizona, New York, New Jersey, Michigan and Illinois along with others pictured here.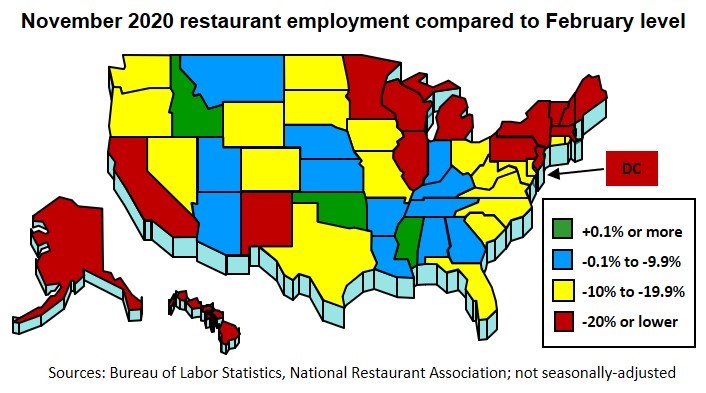 What does this mean long term for the industry? The restaurant brokers believe we will see an overall shift in market share from independent offerings to franchise stores that have better weathered this storm. We also predict that landlords are in for serious price adjustments in certain metro markets and will never see the level of rental rates in some of these locked down cities.
On the plus side, those moving out are finding opportunity. We know one chef who left a 4-star Michelin rated restaurant in New York with $80,000 a month rent to move to a southern location. He went into a small space that was less than $3000 a month. As word spread of his incredible desserts and breads, he expanded into a large kitchen space and began supplying the entire area (all other restaurants) with his pastries and baked breads.
He is now making more money than he was in New York because his overhead is so much lower, and the demand is so great. Meanwhile his quality of life is also better than before.
Entrepreneurs will reinvent themselves and recover their destiny. These restaurant brokers see the signs of resiliency and determination each day in the stories of our buyers and sellers.
The full article from the National Restaurant Association is available at this link.