Especially after the last two exhausting years, the restaurant brokers believe it is worth taking the time to count the little victories from the past year before resolving to set new goals for 2022. Where did we see growth? How did buyers and sellers behave in response to the events of 2021? Read on to see the Restaurant Brokers Count Wins in 2021.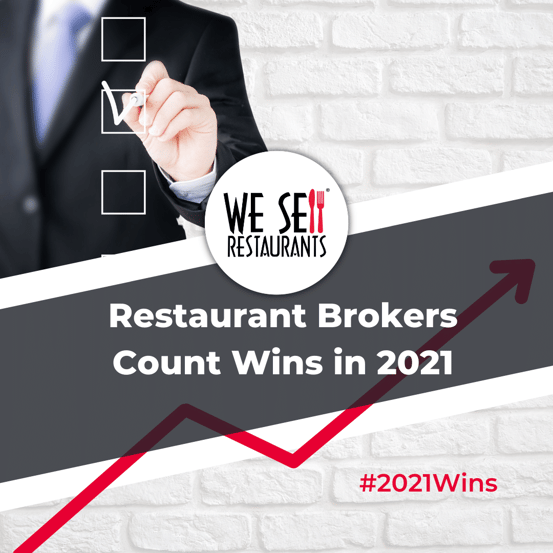 Wins (and losses) for the Restaurant Industry
It's not news that 2020 and 2021 hit the restaurant industry hard with pandemic protocols and government mandates. Nevertheless, looking for small victories is one way we can keep pushing forward after an era that demanded ceaseless resiliency.
Little Victory #1 – The Crisis Proved How Well the Franchise Restaurant Model Works. The country lost over 110,000 restaurants in 2020, according to the National Restaurant Association. The backbone of a brand provided the franchise restaurant operator resources. Additionally, it increased confidence in the investment of a franchise restaurant.
Little Victory #2 – Restaurant cash flow increased, and restaurants became the second most sought-after business acquisition. Data from the BizBuySell Insight Report revealed that restaurant cash flow was up 20% in Q2 2021, reflecting on the industry's recovering health.
Little Victory #3 – Consumers still frequent restaurants, despite increased menu prices. There is strong customer support of restaurant operations even as owners have had to raise prices.
Wins for Restaurant Owners
The restaurant brokers checked the data, and We Sell Restaurants received 59% more seller leads in 2021 than in 2020. These leads even exceeded the pre-covid 2019 data, too—21% better, to be exact. Some restaurant owners grew weary of the lingering pandemic and were eager to sell. Others saw an opportunity to move on to a new career, start a new lifestyle, or retire to enjoy salt-brimmed margaritas in Florida. Whichever the reason, when owners were ready to sell in 2021, We Sell Restaurants stepped up to that challenge and sold more restaurants than anyone else.
It was a good thing, too, that owners were ready to sell because the median sale prices of restaurants were up 9% over last year according to data reported from BizBuySell, leading to better deals for restaurant owners when they reached the closing table.
We revamped our website with an entirely new design and increased buyer engagement. In fact, we recorded a 13% increase in engagement on listings over last year. That means more buyers acknowledged confidentiality on more listings. This increased buyer activity drove deals and allowed us to sell 33% more restaurants than we sold in 2020. That's a huge win in our book—for the restaurant brokers and our eager sellers.
Wins for New Buyers
With over $170 Million in listing inventory, new buyers won in 2021 with more restaurant opportunities available to them. The We Sell Restaurants email marketing campaigns kept buyers in the know with new listings, price changes, and more.
Hundreds of new buyers took advantage of our Free Manual to Buying a Restaurant by visiting our website and downloading the guide. Our team spoke to tens of thousands of buyers inquiring about restaurants for sale to assist them in moving through the process of purchasing a restaurant.
On top of that, a new texting service launched at the end of 2021 allowing buyers to connect with us via text message. This was a win for buyers because the restaurant brokers were able to reach out according to their preferred schedules.
Wins for We Sell Restaurants
The We Sell Restaurants brand expanded to new territories nationwide, too, as we welcomed new franchisees and markets to the Specialized Business Broker Franchise for Restaurants. The newest Certified Restaurant Brokers® will start servicing their markets during the first quarter of 2022, positioning the company for another year of growth. Come February 2022, We Sell Restaurants will have doubled its number of franchisees nationwide—That's a win for restaurant owners and aspiring restauranteurs in these new markets.
At the corporate office—endearingly called the "home" office— our team was encouraged to set personal goals by creating their own vision boards. Founders Robin and Eric Gagnon made it a priority to learn more about and invest in the corporate staff as members of the brand family. That's why we're counting the We Sell Restaurants company culture as a win in 2021, too.
Counting on 2022 Growth & Success
With the first two weeks of 2022 under our belts, We Sell Restaurants is off to a strong start for the year. We are already ahead in listings sold over 2021 Year-to-Date data and are poised to surpass January transactions three-fold in 2022.
Besides setting a record-breaking year-opener for restaurants sold, We Sell Restaurants has listed over 500 restaurants for sale for buyers to browse in 2022.
While we all get antsy to live out our resolutions for the new year, let us not forget to embrace the wins, however small, that we were able to count in 2021. And let's work together towards a brighter 2022.
Read more about what 2022 could mean for the restaurant industry here.