If you looking to buy a bar and get a Florida Liquor License, there are a few steps to achieving this goal and getting yourself ready to serve those first drinks. The process has been made simple through the Florida Department of Business and Professional Regulation (DBPR), and several companies can offer further assistance at an extra fee to help you obtain the liquor license.
We Sell Restaurants has compiled the basics for those aspiring to perfect the cocktail hour and buy a bar from our inventory of locations. Read on to move forward in your quest.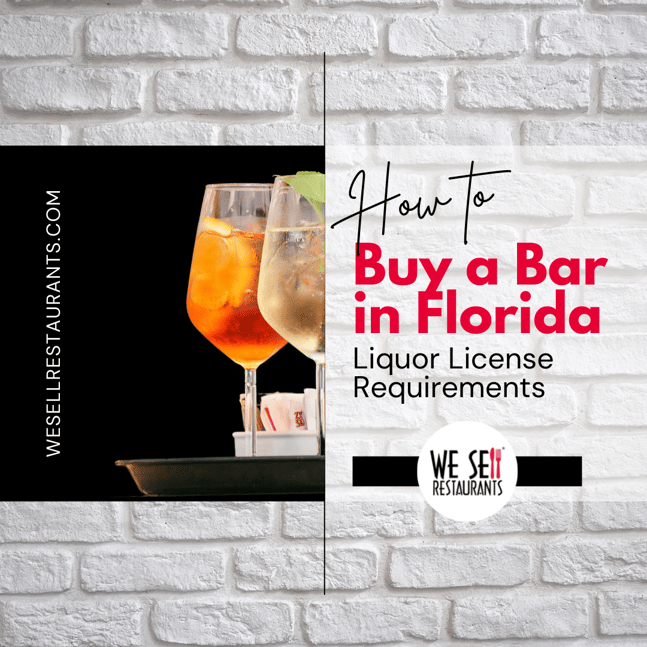 There are multiple types of licenses associated with the sale of alcohol. If you are going to Buy a Bar you must be able to differentiate among the different types. Here is an overview.
The Special Food Service Establishment Florida Liquor License
When it comes to those serving alcohol, those who buy a bar can apply for the broadest form of service if they meet certain criteria. That broad license allowing for full service of beer, wine, and mixed drinks is commonly called the 4COP SFS (Consumption on Premises, Special Food Service Establishment). This Florida Liquor License permits the business to sell beer, wine, and liquor by the drink for consumption on-premise. You need to understand the three main requirements to buy a bar that meets these requirements.
Your business must have:
At least 2,500 square feet of service area. No small locations will do.
The capacity to serve meals to 150 persons at one time
Most importantly, even though this article is about how you buy a bar and get your license, this form of regulatory compliance means that at least 51% of gross food and beverage revenues are derived from food and nonalcoholic beverages.
The license also restricts you as follows:
You may not operate as a package store
You may not sell intoxicating beverages after hours
The license is not portable. Do not buy a bar and assume the license will move to a new location.
Once you understand these requirements and comply, you can apply to the Florida DBPR Division of Alcoholic Beverages and Tobacco and get a Florida Liquor License. When you buy a bar, this type of license will transfer to a new owner. You must file a form known as an ABT 6002 and meet the same requirements for someone filing for a new license. That will require that your location meet proper zoning and that you have clearance from the department of revenue, health approval, and an affidavit from the seller (transferor) of the existing license. You must also provide fingerprints and a criminal background check will be performed.
A Certified Restaurant Broker is familiar with the transfer of this license and will assist when you buy a bar. This is simply part of the closing process, and they guide you through all the requirements.
2 COP
For those in the market to buy a bar that serves only Beer and Wine, there is the option to apply for the 2COP license. This allows you to sell beer and wine by the glass, or in sealed containers (on-premise or package sales). There is no requirement for food sales when you buy a bar that is limited to just beer and wine and the application process is like that of the 4COP SFS license.
4COP Quota License
The final type of license you may wish to acquire and potentially the most valuable when you buy a bar is the 4COP Quota license. This license is obtained through a lottery program run by the state of Florida and the price ranges based on the county. There are only a few "Quota" licenses awarded each year which drives pricing up. The value of this license Is that you do not have to serve any food. You can also move this license (transfer it) to a different physical location that does not have to meet the criteria listed above for the 4COP SFS for physical size and number of seats. These are often for sale on the open market in Florida without a physical location so you could buy a license without the investment to buy a bar simultaneously.
The Application Process
To acquire any form of license, start online at the Florida DBPR or Division of Business and Professional Regulation. You will find all the forms you need including application form 6001 for a 4COP SFS. This application must be completed and submitted online or to one of the Florida DBPR District Offices. Get ready for some paperwork when you buy a bar however since the application for a Florida Liquor License requires the following:
Fingerprints
Arrest Disposition
Moral Character
Right of Occupancy
Sketch of Premise
Zoning Approval
Health Approval
Department of Revenue (DOR) clearance
Federal Employer's Identification Number (FEIN)
Social Security Number (SSN)
Contracts or Agreements
Disclosure of Interested Parties
Adhere to General Laws for your county
The application process for a Florida Liquor License can be completed online or in-person if you want to do a startup rather than buy an existing bar. You can apply using Florida DBPR online services here. Alternatively, those who prefer to mail or hand-deliver their application to a Florida DBPR District Office have the option to apply using a printable application.
The Florida Liquor license fee for the business depends on the county it is located in. The population ultimately determines the fee with a common 4COP SFS license costing less than $2,000. The purchase of a 4COP quota license on the other hand can be as low as $165,000 for counties like Alachua but could exceed half a million for populous counties like Brevard or Pinellas though pricing is subject to change on the open market.
Overall, if you are in the market to buy a bar, be clear about the type of license it currently holds and confirm that the license will transfer in the sale. The license should be listed as part of the assets of the business on the contract that will convey in the transaction. The last thing you want to do is buy a bar and have the liquor license move with the owner to a new destination. That is possible with a 4COP quota license. That is why the complexities of these transactions are often best understood with strong representation like the services of a Certified Restaurant Broker.
Anyone looking to buy a bar in Florida and get a Liquor License can browse hundreds of listings for sale at We Sell Restaurants. Our website offers several bars for sale, which can be viewed online. For more tips to buy a bar, download one of our free manuals or follow us on social media. For more resources on applying and purchasing your Florida Liquor License, please refer to the Florida DBPR Division of Alcoholic Beverages & Tobacco.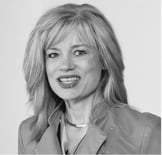 Robin Gagnon, Certified Restaurant Broker®, MBA, CBI, CFE is the co-founder of We Sell Restaurants and industry expert in restaurant sales and valuation. Named by Nation's Restaurant News as one of the "Most Influential Suppliers and Vendors" to the restaurant industry, her articles and expertise appear nationwide in QSR Magazine, Franchising World, Forbes, Yahoo Finance, and BizBuySell. She is the co-author of Appetite for Acquisition, an award-winning book on buying restaurants.