Don Mason is the multi-unit franchise partner in Hillsborough and Pinellas Counties, Florida. He built up 35 years of restaurant industry experience before becoming a restaurant broker with We Sell Restaurants in 2019.
Don Mason's experience as a restaurant broker actually begins with Firehouse Subs, where he operated as the facilitator of sales and transfers of restaurants. He facilitated franchise to franchise sales and oversaw selling a franchise to someone new in the Firehouse Subs system. While his restaurant broker experience began before We Sell Restaurants, Don ultimately found his perfect career fit in We Sell Restaurants.
"I worked with many brokers during that time, but We Sell Restaurants stood out from all others with their knowledge, professionalism, and ability to work within the cooperate system," Don says of his decision to become a Certified Restaurant Broker with We Sell Restaurants.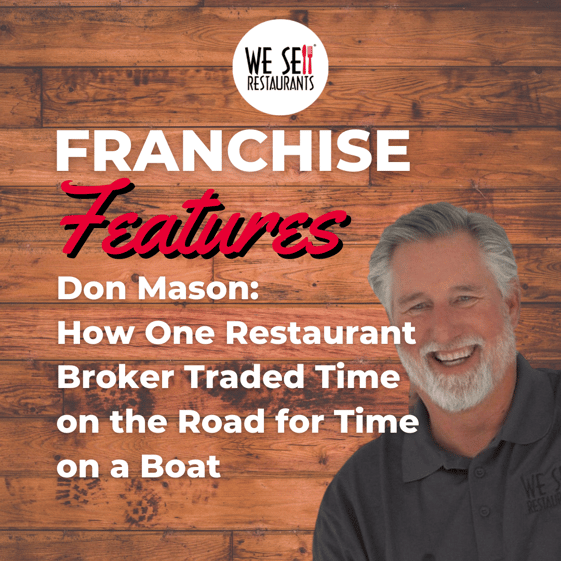 Less Time on the Road, More Time on the Ocean
Don's goal in life was to settle down in the Clearwater, Florida area. He and his family already vacationed there frequently, although they lived 5 hours north in Tallahassee. As a restaurant broker franchisee with We Sell Restaurants, Don now lives in an area he's always loved.
"Restaurants my work-life balance is so much better, I work from home, my weekends are for the most part free and I am able to spend way more time with family and friends," restaurant broker Don shares.
If he's not selling your restaurant, Don is probably spending his weekend on the beach or on a boat in the Gulf. Becoming a restaurant broker with We Sell Restaurants gave Don the opportunity to meet his end goal and reside on Florida's beautiful Gulf Coast. Now, he's able to help restaurant owners and buyers meet their goal of buying or selling a restaurant, while still enjoying time with friends and family.
In his previous roles, Don oversaw 40 franchise owners and more than 100 restaurants. Don traded the 60,000 miles of driving a year in that role for the flexible franchise model as a restaurant broker with We Sell Restaurants.
To be a Restaurant Broker in 2020
It's no great secret that restaurants were one of the hardest-hit industries in 2020 as the whole world pivoted to navigate a pandemic. For a restaurant broker, the pandemic introduced a new slew of factors to consider when buying or selling a restaurant. We Sell Restaurants walked the whole way with restaurant owners, publishing updates to relief grants, advice, and more. Nevertheless, our Certified Restaurant Brokers adapted and guided sellers through the process.
"Craziest by far is 2020, the COVID year of unknowns," says Restaurant Broker Don Mason.
Despite this, Don attributes his favorite transaction as a restaurant broker to a pizza franchise sale during 2020.
"Working with an out-of-state buyer of a pizza franchise had many ups and downs during COVID," Restaurant Broker Don shares, "Through hard work and perseverance we were able to bring it to closing…to this day we stay in contact."
We Sell Restaurants has released over 40 articles with advice, guidance, updates, and support for restaurant owners throughout 2020 and 2021 regarding the pandemic situation. A good restaurant broker knows the industry well—even when crisis calls for adaptations. We Sell Restaurants
Flexible hours and the opportunity to work-from-home are just a couple of the perks that come with what we call the Restaurant Business with Banker's Hours. Learn more about the We Sell Restaurants franchise model on our website.
Are you looking for a guide to help you navigate buying or selling a restaurant? Find a We Sell Restaurants office near you to start the process. If you are in Hillsborough or Pinellas County, Florida, be sure to give Don a call to see how he can help you reach your end goal.