Jose Andreis, Chef and Founder of World Central Kitchen said of the restaurant business, "The business of feeding people is the most amazing business in the world." That could be why so many people want to enter the restaurant business. For that dream to become a reality, however, requires commitment, capital, and credit. Overall, it requires a financial plan that considers all the costs.
The Restaurant Brokers at We Sell Restaurants have compiled some of the most common costs for those either acquiring an existing restaurant or launching a business from scratch.
➡See Also: Equipping a Restaurant for Success
Startup Costs
Location and Lease Expenses One of the first costs you'll encounter when opening a restaurant is the expense of securing a location. Whether you choose to lease or purchase, anticipate occupancy costs to be an ongoing fixed cost that can impact the financial health of the business for many years to come.
The rental rates will vary based on location and size. In some prime urban areas, rents can be $10,000 per month or more. On average, a recent survey conducted by Restaurantowner.com pegged monthly base rent from $3,000 to as much as $8,750 per month. Overall, occupancy is part of the prime costs of operating the restaurant and any operator should aim for no more than 8 – 10% of gross sales to be spent on occupancy costs including CAMS, taxes, and insurance you pay the landlord in addition to base rent.
Equipment and Furnishings Outfitting your kitchen and dining area is another significant expense. This includes purchasing kitchen equipment, tables, chairs, and decor. You'll need to decide whether to buy new or used equipment. Each option has its own set of costs and considerations.
The décor and overall feel of the restaurant can bring your restaurant to life and make it a gathering place for the community whether the style is eclectic or polished. Your equipment, on the other hand, are the workhorse of your operation and must function without fail. Both can be costly at the outset and could range from as little as $50,000 for used condition to $1.5MM for top of the line build out and design.
Licenses and Permits Operating a restaurant requires licensing and permits, especially if you serve alcohol. The costs associated with these licenses and permits, ranging from health permits, food service licenses, or alcohol permits can increase if you need someone like a permit facilitator or attorney to expedite your requests.
Operating Costs
Food and Beverage Costs Managing food and beverage costs is an ongoing challenge for restaurant owners. You'll need to budget for the initial inventory and create systems for tracking and controlling these costs. Consider strategies for sourcing ingredients cost-effectively and pricing your menu items to maintain profitability. One restaurant expert interviewed on the Restaurant Reality Radio Show shared that a restaurant owner should have at least 6 months of operating expenses in the bank before opening. The Restaurant Brokers at We Sell Restaurants believe this is the minimum you should have in place.
Labor Costs Your staff is the lifeblood of your restaurant. Labor costs can be substantial and include wages, benefits, training, and potentially overtime pay. Calculating your staffing needs and budgeting accordingly is vital to your financial planning. A healthy restaurant operates with payroll accounting for 20% to 28% of net sales.
Marketing and Promotion
Marketing Budget Marketing is crucial for attracting customers to your restaurant. While it's tempting to cut costs here, it's vital to set aside a budget for advertising and promotion. Consider both online and offline marketing channels, including social media, local advertising, and promotions to drive traffic to your business.
Contingency Fund
No matter how well you plan, unexpected expenses are a reality in the restaurant business. It's wise to establish a contingency fund to handle unforeseen emergencies, such as equipment breakdowns. Financial experts often recommend having at least 10-20% of your initial investment set aside for this purpose. And if you're about invest $350,000 into a brand-new buildout, that means you'll need an additional $35,000 to $70,000 in your rainy-day fund.
Section 5: Financial Planning and Resources
Creating a Business Plan Perhaps the most crucial step in estimating your capital needs is creating a comprehensive business plan. This document will help you project your expenses and revenue, making it easier to determine your capital requirements accurately. Try the Restaurant Brokers free Business Plan Template to help you get started.
Purchasing an Existing Restaurant
If you are adding these costs up on your business plan template and starting to think, "I'm not capitalized enough for this yet", there is a strategy to reduce initial costs. While starting a restaurant from scratch is a common approach, it's not the only path to restaurant ownership. Purchasing an existing restaurant can offer significant advantages, particularly in terms of cost savings and efficiency.
→Read also - Buying vs. Building a Restaurant
Ready-Made Infrastructure When you buy an existing restaurant, you inherit an established infrastructure. This includes kitchen equipment, dining furniture, décor, and often even a loyal customer base. The upfront costs for purchasing and installing equipment and furnishings are reduced or eliminated, saving you both time and money. It is much easier to add or replace one or two pieces of equipment in a resale situation.
Faster Time to Profitability Building a brand-new restaurant from the ground up can be a lengthy process. You need time for construction, permits, and building a customer base. Plus, the time that your restaurant is under construction is time taken away from building a customer base and generating sales. In contrast, when you buy an existing restaurant, you can start serving customers and begin generating revenue almost immediately. This can significantly shorten the time it takes to become profitable.
Proven Track Record Another benefit of purchasing an existing restaurant is that it likely has a history and reputation in the community. A successful restaurant with a good reputation can provide a steady stream of customers from day one, reducing the uncertainty associated with a new venture.
Due Diligence is Key While purchasing an existing restaurant can be advantageous, it's essential to conduct thorough due diligence. Investigate the restaurant's financial health, lease agreements, customer reviews, and any outstanding liabilities. Buying a restaurant from a trusted resource like We sell Restaurants can help put you in contact with the right people to have on your team in the buying process.
Adapting to Your Vision When you buy an existing restaurant, you'll likely need to make some changes to align it with your vision and brand. However, any cost to update décor or change the menu are much smaller than the costs to start from scratch.
Whether you bring your vision to life from scratch or purchase an existing restaurant business for sale, every restaurant owner needs a healthy amount of capital to operate the business until a profit is turned. Plan to have the following reserve capital to set yourself up for the best chance of success:
+ At least 6 months expenses
+ At least 6 months of proposed revenue
+ Rainy day fund
It is a widely accepted reality of the industry that the first 12-18 months of operations are the most difficult for the business. The better capitalized you are at the beginning of the process, the better you set you and your restaurant up for success down the road.
➡Read More About Restaurant Financing
Looking for lending resources to help to buy the restaurant of your dreams? Download our free Guide to Restaurant Financing.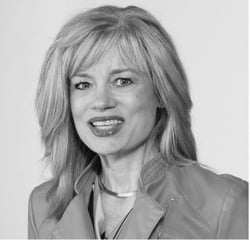 Robin Gagnon, Certified Restaurant Broker®, MBA, CBI, CFE, is the co-founder of We Sell Restaurants, a brand that has carved an unparalleled niche in the industry as the nation's leading and only business broker franchise focused on restaurants. Under Robin's leadership, We Sell Restaurants has grown to 45 states where it dominates the restaurant for sale marketplace, including franchise resales, delivering on the founder's vision to Sell More Restaurants Than Anyone Else. We Sell Restaurants was named one of the most influential suppliers and vendors in the country by Nation's Restaurant News and has earned a position on INC 5000's list of fastest growing privately held companies. Franchisees of We Sell Restaurants surveyed by Franchise Business Review placed it 25th in the nation in franchisee satisfaction.

Robin is the Chair of the Women's Franchise Committee of IFA and is a member of the IFA Board of Directors. She is also an MBA and Certified Franchise Executive (CFE) and has her CBI (Certified Business Intermediary) designation from the International Business Brokers Association. She co-authored Appetite for Acquisition, a small business book award winner in 2012 and contributes frequently to industry press appearing in Forbes, QSR, Modern Restaurant Management, Franchise Update, and others. She has appeared on The TODAY Show as a restaurant expert and Entrepreneur Magazine has named her to their list of the "Top Influential Women in Franchising."