Veteran's Day 2021 is right around the corner, and restaurants nationwide are preparing to honor and support those who have served and who continue to serve in the U.S. military. Veteran's Day is an opportunity to recognize those who committed themselves to our country for its protection and freedoms. Honoring their service with a simple "thank you", or with a meal, is just one small way we can express our appreciation this Thursday and every day.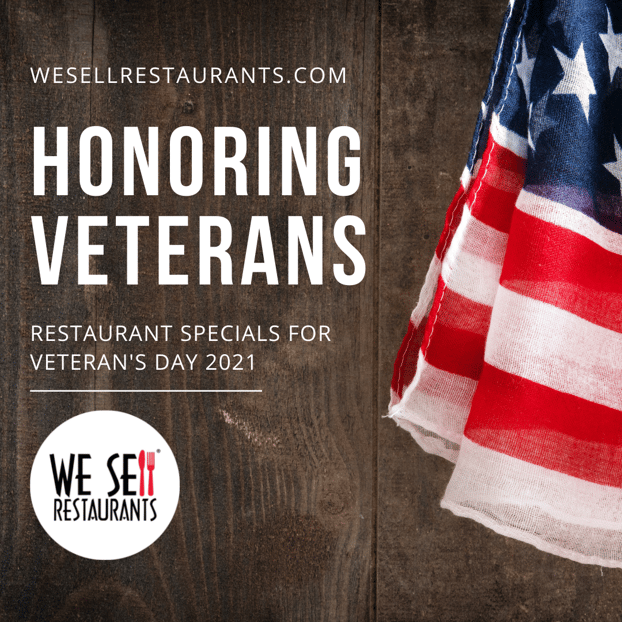 Remember to thank a veteran this week, and forward this blog along as we show appreciation for their service to our country. Most restaurants will be happy to offer a special discount or deal, but here are just a few of the confirmed restaurants nationwide offering deals for veterans:
Dunkin' Donuts. Participating stores will be gifting a free donut to those veterans and active duty service members all day long.
Smoothie King will be offering a Free 20 oz smoothie to veterans.
IHOP will be serving Free Red, White, and Blueberry pancakes to dine-in customers. This would be an opportunity for families and loved ones to share a patriotic breakfast with their veterans.
Zaxby's has announced that veterans will receive a Free Signature Sandwich meal.
Chicken Salad Chick will provide a Free Chick Special for active-duty military and veterans.
Little Caesar's will be serving veterans a Free Lunch Combo from 11 AM to 2 PM.
Dickey's BBQ Pit will be offering a Free Pulled Pork Sandwich. This deal is also great because it is valid for veterans who dine-in, order online, or choose pickup!
BJ's Restaurant and Brewhouse will be serving a Free Steak Dinner for veterans that dine in. This would be another great opportunity for families to take valuable time to dine together and honor their veterans.
Applebee's has prepared an entire menu especially for veterans that dine in on Thursday. Not only will veterans and active-duty military receive a Free meal, but Applebee's will also be gifting $5 redeemable cards for veterans to use at this next visit (within 3 weeks).
Hard Rock Cafe will be honoring veterans with a free meal of their Original Legendary Steak Burger and other items. They will receive a Free Original Legendary Steak Burger and have a 15% off military discount for additional items.
Be sure to check in with your favorite local restaurants to see if they are hosting any special deals in honor of Veteran's Day this year as well. For a full, alphabetical list of confirmed restaurants nationwide offering specials for veterans and active-duty military, click here.
We Sell Restaurants would also like to take a moment to recognize one of its own, Ron Uphouse, who served in the United States Marine Corps from 1986 through 1990. He was an active wartime veteran in the Persian Gulf War. Ron's military occupational specialty was with STA Platoon as a scout. He also served with 1st Battalion, 4th Marines and deployed with Operation Bright Star, where he operated as a Forward Observer. Thank you, Ron!
We Sell Restaurants is happy to support veterans. Just recently, co-Founders Robin and Eric Gagnon catered a Zaxby's lunch in Georgia for the Veterans Empowerment Organization as a "thank you" and to offer their support to Veterans. Eric Gagnon also serves as a board member for VetFran, a strategic initiative of the International Franchise Association and IFA Foundation to educate, encourage, and transition veterans into franchising.
For updates on more restaurants with special discounts and deals in honor of Veteran's Day, follow We Sell Restaurants on Instagram and Facebook.