Every industry changes over time. As new technology is developed or customers' habits and preferences evolve, so do business practices and strategies. The restaurant industry, severely impacted by the pandemic, has accelerated adoption of new trends and developments in recent years. This includes restaurant size.
For many operators, the total footprint of the restaurant is getting smaller, driven by reduced dining requirements, increasing pickup and delivery, and the high fixed cost of occupancy, which directly impacts earnings. For these reasons, spaces are getting smaller and both chains and independents are proudly declaring, "I've shrunk the restaurant."
Many industry experts including myself have noted a concerted effort to minimize the physical footprint. After all, a smaller size can lead to higher profits. You have less direct costs for rent and shared expenses with the landlord like common area maintenance and insurance. In addition, indirect costs are also lowered, including energy costs, cleaning expenses and more.
Customer Demand
Restaurant owners are not seeking this change just for the savings, however. Customer demand is another major reason. Many consumers adopted new dining habits during the pandemic and have never fully returned to the dine-in experience. Yelp reports that the pandemic caused a major increase in takeout and delivery: Nearly 70% of American adults are more likely to order takeout than they were pre-pandemic, and 60% of Americans order takeout or delivery at least once a week.
For a dine-in restaurant, reduced seating makes sense if fewer people are taking advantage of the dining room. Seating space and restaurant layout are crucial elements of a restaurant brand. Many have chosen to focus on the ability to serve enough customers to make a profit, while providing a comfortable dining experience and meeting health and safety regulations.
The general rule of thumb is to have 60% of the restaurant's square footage dedicated to dining space, with the remaining 40% divided among kitchen space, storage, offices and staff break areas. However, the pandemic may have changed all this. The change in customer habits toward takeout, delivery and drive-thru has led to a shift in the amount of floor space necessary for sit-down dining. Restaurants can now get away with a smaller building size overall, serving the same number of customers but focusing more on take-out, delivery and/or drive-thru orders. Whether opening a new restaurant or moving an established one to a new location, restaurant owners are finding they can reduce costs and still serve an optimal number of customers with a smaller footprint.
Occupancy Costs
During the pandemic, restaurant owners learned a harsh but valuable lesson about occupancy costs. Many landlords refused to negotiate terms of leases and demanded 100% of their rent even while tenants were restricted to 25% or less occupancy by local government mandates. That has led operators to carefully review their options and the cost per square foot of their locations. Landlords who are counting on long-term tenants locked into large spaces may see operators deciding to non-renew in favor of smaller locations, despite the costs of relocation. For operators, the focus is on identifying the ideal square footage to maximize volume and minimize costs.
Additionally, franchises are also learning how to make the most out of existing space. One such example is Focus Brands, a restaurant franchisor that owns several restaurant chains. This company uses a business model where they co-locate two complementary restaurants in the same location. In past years they primarily used this model in locations with multiple restaurants grouped close together, such as mall food courts or airports. However, they've now begun expanding their co-locating model to other locations, including ones with drive-thru service.
Technology
Changes in customer habits and cost considerations are only part of the driving force behind the consolidation of the average restaurant footprint. Technological advances are making it possible to do more with less space, including in the kitchen and the serving area. Modular kitchen appliances and fixtures are improving efficiency, making more of the space in the kitchen multipurpose. New technology like advanced ovens with shorter cooking times, commercial-grade dishwashers, digital display systems to track orders and movable shelving for better storage have widened the selection of locations that can accommodate a restaurant.
It's not just changes in kitchen tech that have helped reduce space requirements for restaurants. With the advent of online ordering, restaurants can receive orders without needing multiple registers. Ordering kiosks are also being used in more locations, especially quick-service restaurants (QSRs) and fast-food franchises, increasing ordering efficiency in person as well as remotely.
Final Thoughts
The pandemic was a trial by fire for many restaurants. The ability to innovate and execute led many in the industry to improve their business model with new and improved strategies. Identifying the ideal store size, even if this is dramatically different from the dimensions when a lease was signed, is a natural evolution of the path of improvement for restaurants.
Many have shown they can do just as much volume, and even return a greater profit, with less space. Restaurateurs who want to keep up with industry developments would be well advised to look at their own footprints, take-out traffic and space usage, then consider consolidating where they can. While major QSR chains are using these tactics to improve their business by responding to the market, these are changes made at the restaurant level, not the corporate level. This means any restaurant brand, big or small, can use them at a scale suited to their business. As long as they keep providing quality food with quality service, restaurant owners will continue to receive hungry customers, no matter the size of their dining room.
This article was originally written by Official Forbes Business Council Member Robin Gagnon and published on Forbes on December 21, 2022.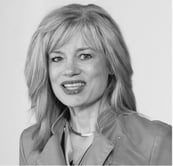 Robin Gagnon, Certified Restaurant Broker®, MBA, CBI, CFE is the co-founder of We Sell Restaurants and industry expert in restaurant sales and valuation. Named by Nation's Restaurant News as one of the "Most Influential Suppliers and Vendors" to the restaurant industry, her articles and expertise appear nationwide in QSR Magazine, Franchising World, Forbes, Yahoo Finance, and BizBuySell. She is the co-author of Appetite for Acquisition, an award-winning book on buying restaurants.