Danika and Joie are the mother-daughter duo operating Central Scoops in Bunnell, Florida. Their journey to restaurant ownership begins with a commitment to family and a love for the Warner Bros. Entertainment sitcom, Friends.
Formally known as Krieger's Ice Cream, Central Scoops is a homey ice cream store in Bunnell, Florida serving nearly 40 different flavors of Hershey's Ice Cream. The shop's name comes from the Friends coffee shop "Central Perk", and that's not where the theme stops. Elements from the sitcom line the walls and tables of the duo's ice cream store. Even their Instagram bio calls the shop "The one with the really good ice cream!" Most notably, however, customers love the Friends-themed restroom.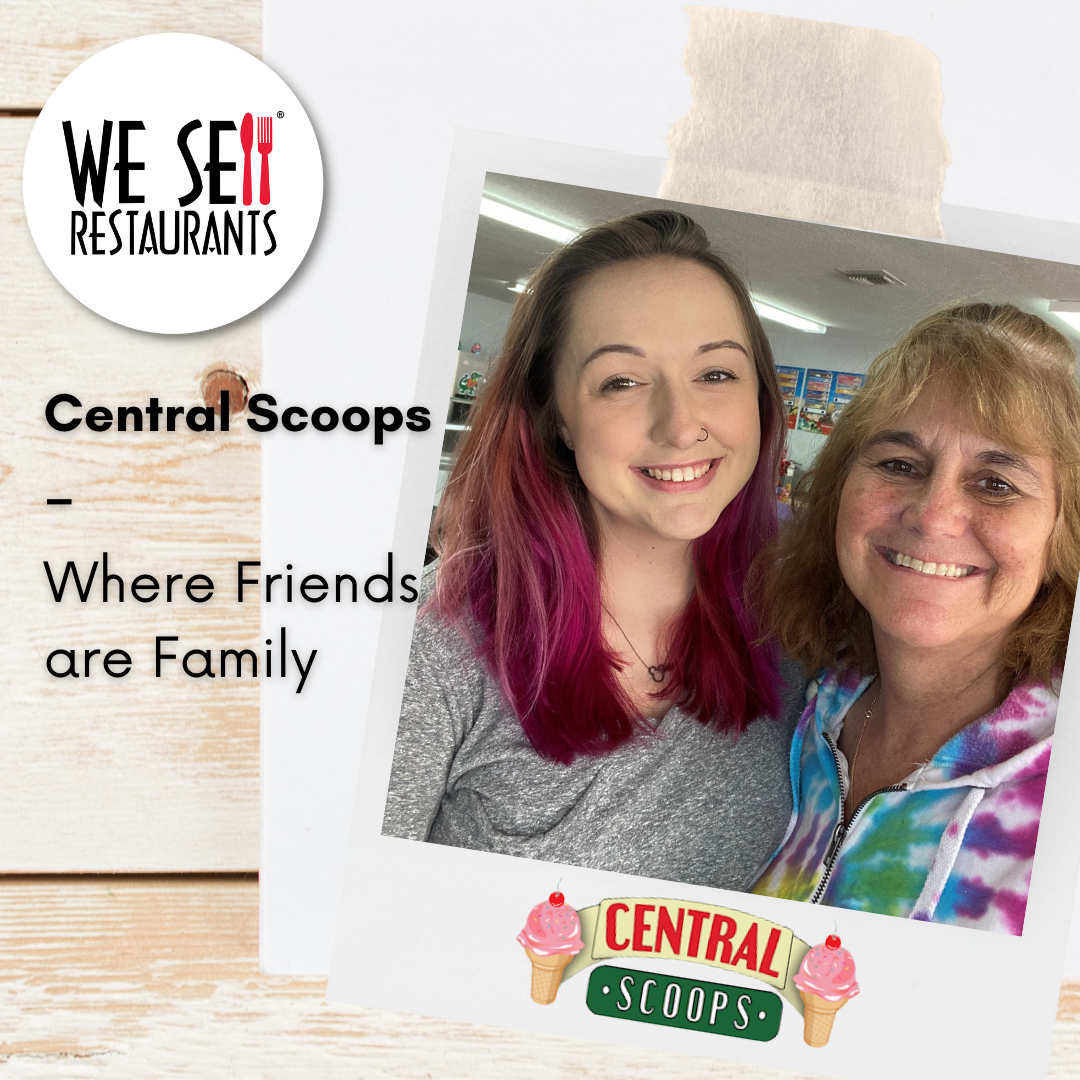 "We're so excited about the name," shares Danika, the daughter of the duo, "We always tell everyone 'go look at our bathroom!'"
After first designing a Friends-themed restroom for their shop, Danika and Joie expanded the concept throughout the store, eventually reaching the name and logo.
The original notion to work as business partners came from Danika and Joie's dream to start something together.
"Danika and I wanted to do something together," Joie shares, "she's had spinal surgery and I've had cancer, so we decided that working our whole lives and not spending time with family is something we didn't want to do."
After Joie moved to Florida to be closer to family, she and Danika started looking for a business venture they could embark on together.
Certified Restaurant Broker Brittney Gates found the perfect opportunity for the mother-daughter team in Krieger's Ice Cream.
"Things just fell into place," continues Joie, "Brittney really helped walk us through every step of the way."
Joie's background in business ownership coupled with Danika's experience in customer service allowed them to create a strong business partnership. Moreover, their relationship created a fun work dynamic at the store.
"Life is short; why not spend it with the people you love?" explains Danika.
Their commitment to family applies to their customers, as well.
"We want our guests to feel that they're part of our extended family," they say, "our motto is 'customer service first'."
Indeed, customers do feel like family, as Central Scoops already sees its healthy share of regular customers. One of those customers includes Certified Restaurant Broker Brittney Gates, who helped Joie and Danika buy the store.
"I take my family there all the time," Gates says, "they offer something some places do not—sugar-free ice cream. This is a big plus for my bother-in-law who is a diabetic."
There is even an ice cream sundae named after a regular customer. Danika and Joie call it "The Bob", inspired by Bob, who orders the same customized ice cream sundae weekly. Now, they hear other customers ask specifically for "The Bob" sundae, too.
Opening their first ice cream shop together came with its challenges as well. For starters, the soft-serve ice cream machine broke just a couple of weeks after opening. On top of that, Danika and Joie describe how slower traffic at the very beginning posed a challenge for business.
"It's been a struggle to try and gauge [traffic], especially having employees and knowing when to schedule them," explains Danika.
They opened the shop in October of 2020, so cooler weather slowed customer traffic at first. As summer picks up and more people learn about them, however, business improves.
To that point, Danika and Joie share advice for new restaurant owners, especially those buying an ice cream shop.
They encourage new buyers to "Be patient. There's a learning curve and it can be a little frustrating at first…let it happen."
Since starting their operation, Danika and Joie have introduced over 20 new flavors to the store, including several dairy-free and sugar-free options for those with dietary restrictions. They have also opened the ice cream shop up to DoorDash and GrubHub delivery. They have even been able to hire new employees to expand operations.
The official grand reopening of their shop as Central Scoops will be held on Sunday, July 4th, 2021, from 12 PM to 9 PM. The event will include snacks, drinks, raffles, games, face painting, and more to celebrate. What better way to celebrate Independence Day weekend than to enjoy ice cream at a family-owned business?
You can follow Danika, Joie, and the Central Scoops family on Facebook and Instagram at @central_scoops. Be sure to take a picture and tag @central_scoops and @wesellrestaurants on social media when you visit!
If you are someone looking to achieve your dream of owning a restaurant, too, we have over 400 listings available to browse on our website. Contact the Restaurant Brokers to learn more, or see all of our listings here.
We Sell Restaurants is the nation's largest business broker franchise focused exclusively on the sale of restaurants, with twenty years of experience in helping buy, sell and lease hospitality locations. We Sell Restaurants and its franchisees have sold thousands of restaurants across the county and maintain a listing inventory exceeding $100 million online at their powerhouse restaurant for sale marketplace, including independent and restaurant franchises for sale. We Sell Restaurants is currently offering franchise opportunities in select market areas. Follow We Sell Restaurants on Facebook, LinkedIn, Twitter, and YouTube. For more information, visit www.wesellrestaurants.com.