As with any major investment, buying a food franchise will come with its own requirements and costs. These fees and qualifications help both the inquiring franchisee and the franchisor determine if the brand is a good fit. If you are daunted by the costs and requirements associated with a food franchise purchase, employing the help of a Certified Restaurant Broker is a great idea to help keep your deal on track. Keep reading to learn more about what these steps towards buying a food franchise may look like for you on your journey to Buying a Restaurant.
How to Qualify as a Franchisee for a Food Franchise
Most franchisors will have basic requirements for their potential buyers including a minimum net worth and credit score. The franchisor will often require a background check and proof of funding for your food franchise. Typically, a credit score above 650 is what most franchisors accept. Franchise restaurant brands typically look for a minimum net worth ranging between $50 thousand and $600 thousand.
Apart from these broad financial requirements, there are some brands which require their franchisees to be in the business full time as an owner operator. This especially common among first-time food franchise buyers. Some brands prefer first time franchisees to operate their store during the initial opening of the food franchise.
Food Franchises and the Franchise Disclosure Document
When purchasing a restaurant franchise for sale, all franchises will require their potential new franchisees to hold and possess the Franchise Disclosure Document (FDD) for 14 days before accepting the signature. This important document is critical to your decision to buy a food franchise for sale as it will outline the brand, its fees, any previous litigations against it, financial performances, and more. Once the FDD is executed, the new franchisee will usually be required to attend a Discovery Day, or Day of Discovery, hosted by the franchisor. At Discovery Day you will learn more about the brand, its operations, culture, values, and more. It is also an opportunity for you to have your questions answered. This is the turning point of your journey. This is a period where both franchisor and potential franchisee make a decision to move forward or pursue a different opportunity.
After Discovery Day is completed and you have decided to move forward with the purchase, the restaurant franchise brand will host you for a training period. The training varies brand to brand, with some as short as one week and others as long as one month. In most cases, the Discovery Day and brand training must be completed before the sale of the food franchise is finalized. Be prepared to cover the expenses for travel and training during this process as the franchisor typically does not.
Food Franchise Fees
Along with the purchase price of the restaurant franchise for sale, there is a franchise transfer fee that is to be paid by the new buyer, seller, or both. This transfer fee is usually paid at the closing table, or at a pre-negotiated point during the contract. Typically ranging between $5,000 and $25,000, the transfer fee is placed by franchisor and funds the new franchisee's training period, as well as the administrative work on the franchisor's end to transfer the store. The transfer fee will most certainly be stated in the FDD that you are provided, but be sure to discuss the transfer fee up front with the selling party's broker in order to avoid any surprises.
Operational Costs in Existing Food Franchises
Other costs in addition to the purchase price while buying a food Franchise for sale would include professional expenses, inventory costs, and a lease security deposit. As with any other business purchase, you will want to do your due diligence before signing the closing papers. When buying a food franchise for sale, due diligence could include attorney and CPA expenses, consultation expenses, equipment inspection expenses, and any travel costs you may accumulate during these these meetings and professional reviews. In addition, when buying an existing food franchise for sale, you will have an inventory cost to the seller. Because you are purchasing an open business, you will want the business to be at full operation when you step in. That means you would be buying the food and non-perishable inventory needed for daily operation from the outgoing franchisee.
When purchasing an existing food franchise for sale, you will also be obtaining a new lease. Whether through assumption of the previous lease or negotiation of a new lease, be prepared to pay a secret deposit for your store. These costs often obtained while purchasing a food franchise may seem daunting, but they are in place to assure the lasting strength of the brand you're buying. The purchase of a food franchise for sale may seem like a intimidating task, but there are specialized professionals to help you and your future success.
When you are searching for the perfect restaurant franchise to purchase, you will want to start by contacting a Certified Restaurant Broker. The Certified Restaurant Broker will not only have food franchises for sale that may spark your interest; they will have assessment tools and professional guidance to empower your decision to buy a food franchise for sale. Start your journey by downloading our free guide to franchise resales (the process of buying an operating food franchise for sale).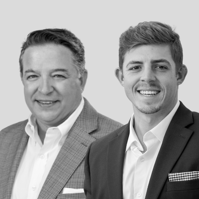 Gary and Austin Luke, Certified Restaurant Brokers are the franchise partners in Jacksonville, FL. Gary has spent 10 years working as in Industrial Engineer in manufacturing and distribution. Austin has owned and operated a landscape design and build company over the last 4 years, where he has had the privilege of designing and building over 35 custom landscapes and home vacation spots for families. Austin and Gary Luke have completed extensive training and testing to achieve the title of Certified Restaurant Broker®, two of only a handful nationwide. This specialized certification is offered only though We Sell Restaurants and has prepared them for brokering the sale of restaurants and food businesses with the nation's leading restaurant brokerage firm.