Before moving forward with a signature on that restaurant for lease read this article and avoid costly mistakes that have long term credit implications.
Strategy One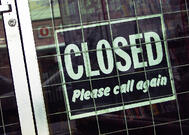 Have an exit strategy built into the restaurant lease in case everything goes wrong. No one goes into the restaurant business expecting to miss the mark but sometimes, life get in the way. Partnerships or marriages go south. People get sick. Before you know it, you're digging out that signed agreement with the landlord you didn't pay enough attention to when you were searching for a restaurant for lease and discovering you left off the "out" clause. Before signing, make sure there's a reasonable way to terminate the lease. You don't want a huge financial obligation hanging over your head for the full term of the lease.
Strategy Two
Make sure you are dealing with a landlord on a restaurant for lease that allows you to transfer the business. Don't wait until you get an offer too good to refuse and learn your landlord has no specific requirement to execute a transfer in a reasonable period of time. Your agreement on a restaurant for lease should require a specific, measurable time frame for a lease transfer and not the most common language saying "it shall not be unreasonably withheld." To protect your credit, be certain your document says up front that when the lease is assigned or transferred you have no further financial obligation under the personal guarantee. Landlords are famous for transferring the lease and keeping the original tenant on the hook as a guarantor. You don't want your credit guaranteeing the next operator's performance.
Strategy Three
Know your costs up front for any transfer on a restaurant for lease you are considering. Some landlords will allow transfers but they attach undefined costs to the process. You don't want to prepare to sell and find it's going to cost you thousands to make it happen.
Strategy Four
Negotiate whenever possible for vacancy rates and anchor abandonment. You can operate a great restaurant but if the major anchor tenant abandons the complex and you're in the midst of a ghost town, it can destroy your restaurant business and your credit. Write language into the lease stating that if the center become less than 70% occupied, your rent reduces.
Strategy Five
Carefully read and understand the administrative clauses, common area maintenance costs, tax increases and all other charges associated with any restaurant for lease. Many tenants look only at the base rent and don't cap or fight for these other charges. You can find your credit destroyed even if you make every base rent payment but miss paying special assessments or other charges that get folded in as common area maintenance charges or CAMS.
Use these five strategies to protect your credit any time you're negotiating on a restaurant for lease or use an expert restaurant broker to negotiate these terms for you.