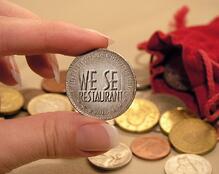 This is the final segment of our five-part series by the restaurant brokers on financing a restaurant. The final option we are exploring in this series is called Crowd Funding. It's a means of financing a restaurant with the help of your biggest fans – friends and family.
Crowd sourcing or crowd funding is the newest kid on the block when it comes to financing a restaurant purchase. It's the idea that your friends, family and customers all support your business in an online community-funding platform.
Depending on the how the middle man (the crowd funding website designs the program), friends, family, customers - anyone - can back your business in small increments (i.e. $50 or $1,000) until you get the dollars you need for your concept. You create a "campaign" with a goal of $50,000 or $25,000 or whatever you need.
The great thing about the food industry is that unlike investing in real estate (can you say BORING!?), backers get great perks and rewards for their investments. The restaurant seeking funding offers discounts, free desserts, menu items that might be named after investors, Chef's table seating or even behind-the-scenes tours. The "pay off" if whatever the restaurant owner decides and hopefully, long term, the backer gets their capital back as well.
Social media has given a lot of steam to this new concept so it feels like a brand new idea however the restaurant brokers interviewed the founder of one major site, (www.foodstart.com) last week and he reminded us the concept has been around for decades. In fact, according to him, a professional football team back in the early 1900's ran a grass roots campaign similar to today's crowd funding and fans pitched in to save the team for the city.
How do you find the crowd and fund your project. No worries, the internet solves that with a number of website.
Businesses first need to make sure they have an idea and for most, this may be an extension of their existing location – adding a food truck or second location. Once that's in place, they need to develop a "pitch." A pitch is what you say about why you need the money and how great it's going to be to invest. Then you need to pick what you're going to give in return for the money. This is where you "pick the perks" like a free dessert or call ahead seating or whatever you want to give to people backing your idea.
Lastly, you build a buzz around the idea by reaching out to your customers. This is where it's very important that you have a database of customers who also have lots of people in their social network so the idea goes viral and lots of people kick in.
The benefit to this type of funding for restaurant owners with existing concepts is that you already have a customer database to market to. If you've been in business for any period of time, your database of potential investors is eating dinner every night. The other benefits drive from the social media aspect and community engagement elements of the campaign. People like to promote and help their local businesses. This is not a concept for franchises - it's definitely all about the independent restaurant owner
Finally, you collect the money and roll with your idea.
The country made a huge step forward on the prospect of crowd funding nationwide last April when a bill was signed into law that gave the Securities and Exchange Commission the authority to draft the rules around this idea. Unfortunately (it's government – are we surprised?), they haven't acted quickly. That hasn't stopped several sites from popping up and beginning the funding process. Here are a few of the websites that the restaurant brokers are aware of that are either on the way or already funding campaigns.
Foodstart.com and Kickstarter.com examples of two websites up and running and offering programs today. If you think your restaurant idea can catch on in a crowd, check them out and let the restaurant brokers know how it turns out.
This is our last article in this series on Financing a Restaurant – What are My Options. To check our the previous installments, check the links below. Our 5-part series on financing a restaurant includes:
Crowd Funding – Financing a Restaurant With the Help of a Crowd
LIKE this article? Please SHARE it on Facebook, Linked In or Twitter.