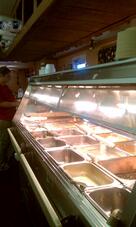 Financing a restaurant purchase may be more difficult, but it's still possible though a recent survey of BizBuySell demonstrates brokers don't all agree on this point.
Financing a restaurant purchase has improved according to our restaurant brokers but that finding is at odds with a recently released survey by BizBuySell. They surveyed the nation's business brokers and found that nearly 70% say financing a restaurant or business is still not improving for business buyers. Quoting directly from their article, the survey found that, "Of the 260 business brokers surveyed across the nation, 68.8 percent said that financing availability has not improved since 2011. That percentage is virtually unchanged from August 2011, when 67.8 percent of surveyed brokers said financing had not improved from 2010."
That's not all the survey revealed. Most of the brokers surveyed were not optimistic about the rest of 2012 as they cited 72.9 percent of brokers expect no change in funding availability through the rest of the year. Almost 1/5 (19 percent) indicated that financing availability will tighten even further.
What's a restaurant buyer to do with such grim reports? As these restaurant brokers have been sharing over the course of the year, we actually see lending improving and opportunities for financing a restaurant purchase getting better. After a nearly four year hiatus, we've financed several deals with SBA lenders so far in 2012. The key to getting lender agreement on financing a restaurant is a broker that understands how to pull all the financial material together, package the deal and put it in front of a lender who understands the industry.
In addition to SBA lenders for financing a restaurant purchase, we're also seeing alternative forms of capital extended that are filling the void created by traditional lenders. These options include:
Seller Financing:
Our restaurant brokers are seeing around a third of all deals closed with some form of owner participation in financing a restaurant. That's on par with the BizBuySell survey that found "one-third of brokers surveyed indicated that nearly all small business sales included seller financing while a further 35.5 percent of brokers indicated that most (i.e., 60 to 89 percent) of the deals they see include seller financing."
Crowd Funding
Financing a restaurant purchase using crowdfunding is an idea that's still developing. The restaurant brokers predict that within the next three years it will common to reach out using the Internet and social media to ask people in a crowd for help in financing a restaurant purchase.
Micro Loans
Micro loans are those under about $50,000, sometimes all you need for financing a restaurant purchase. We like Accion who offers business loans ranging from $500 to $50,000. They specialize in working with small business owners who cannot borrow from traditional banks due to a business type, short length of time in business or insufficient credit history.
401K Conversions
Convert your 401(k) into money for financing a restaurant purchase. A great company focused on this process is Guidant Financial (online at www.guidantfinancial.com ). They allow you to invest your existing IRA or 401(k) funds into your own business. You don't take a taxable distribution and you buy stock in your own company.
Online Lenders
www.Boefly.com is the e-harmony of lenders and borrowers. They function as matchmakers between restaurant buyers that want a loan and lenders that are looking to fund deals. Restaurant buyers go online, pay a small fee (as low as $99) and fill out a standardized application. The firm then confidentially "shops" the loan to up to 1500 lenders at the same time. That means you are not limited to local lenders and instead have availability to someone that may be 500 miles away but specializes in financing a restaurant purchase. Your information is secure and they present some compelling case studies on their deals. This site will require that you have good financials on the business you're interested in buying and is better suited for larger deals (over $100,000).
www.prosper.com does the same thing for smaller deals between consumers and borrowers. Borrowers choose a loan amount, purpose and post a loan listing. Investors review loan listings and invest in listings that meet their criteria. Once the process is complete, borrowers make fixed monthly payments and investors receive a portion of those payments directly to their Prosper account. This is for small loans up to $25,000 and they are unsecured.
From these options you can see that financing a restaurant in today's economy may be a bit more work than in the past but there are multiple ways to tap into capital for buying.
Like this article? Please SHARE on Facebook, Twitter, Linked In or others