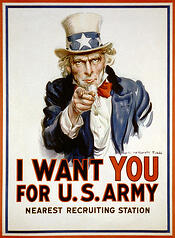 Happy Memorial Day. It's a time when we offer our sincere thanks to the service men and women that protect our freedom.
It's also a good time to look at Uncle Sam for financing your dream of owning a restaurant. Veterans, wives of fallen soldiers, and even spouses of veterans have access to at least one strong government program to aid you in buying a restaurant. The Patriot Express loan offered through the U.S. Small Business Administration is a pilot loan initiative launched last year.
The Patriot Express Loan is targeted at those who have served. However, even if you've never made it to boot camp or held a rank in the military, you may still qualify for the program to aid you in buying a restaurant for sale. That's because, outside of traditional veterans and service-disabled veterans, any Reservists or National Guard member may apply. Still not meeting the grade? If you're the current spouse of a veteran, Reservist, or National Guardsman, you also qualify. That includes the widowed spouse of a service member or veteran who died during service or of a service-connected disability.
You can definitely use the loan for buying a restaurant since the use can range from start-up costs to equipment purchases. Even business occupied real estate purchases qualify so some of our restaurants for sale with real estate definitely make the grade. The loan can cover your inventory, working capital expansion and even setting up to sell goods and services to the government.
According to their website, the SBA Express offers "streamlined and expedited loan procedures." You will receive a response to your application within 36 hours – yes that's 36 HOURS, not days. That's important because timing is everything when putting an offer together and moving to closing on buying a restaurant. In addition, the Patriot Express loan features the lowest interest rates offered by the SBA for business loans ranging from 2.25 to 4.75 over prime depending on the size of the loan and the length of the term.
Want more information? Your local SBA district office will have a listing of Patriot Express lenders in your area.
Like this article? Use the buttons above to share with your friends on Google +, Twitter, Linked In and Facebook.