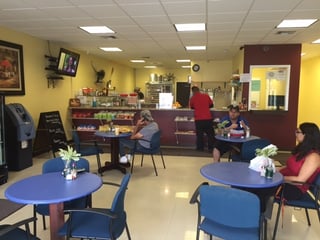 We Sell Restaurants Franchise Partner and Certified Restaurant Broker Ken Eisenband has done it again - selling Fuggins Pizza and Deli in Broward County Florida in record time.
We Sell Restaurants announces the sale of Fuggins Pizza and Deli located at 1141 W. McNab Road in Pompano Beach, Florida. The pizzeria and deli was established early in 2016 in the former Rickris Cafe Space. The buyer was attracted to the opportunity based on the location in a densely populated area. The total population in the three mile radius is 121,995 with a household income in excess of $56,000. The 1800 square foot location also had a very reasonable lease rate which appealed to the buyer, Tom Maroulis.
This listing was offered by the restaurant brokers for only 54 days before it went to the closing table. Restaurant Broker Ken Eisenband said of the transaction, "We priced this listing aggressively to move quickly and ultimate fielded multiple offers before closing in record time. For sellers, time is money and we were happy to make this transaction move so quickly."
The restaurant seller, John Alari built the cafe to serve breakfast and lunch and found great success but decided to sell the restaurant because of another business opportunity that required him to redeploy his capital. Recent reports from the Georgia Association of Business Brokers indicate it can take eight to ten months to sell a business. This location went to closing in under two months.
Eric Gagnon, President of We Sell Restaurants noted, "It is always exciting to see quick turnover on our restaurant for sale listings. We measure our success in selling restaurants and closely monitor days on market to be certain we're providing strong results for our sellers."
Ken Eisenband is the franchise partner in the Fort Lauderdale We Sell Restaurants location and has been a Licensed Broker in Florida for several years. He is a Certified Restaurant Broker as well as a Certified Negotiation Expert. As a member of the Business Brokers of Florida, Ken received the prestigious Dealmaker Award for transaction volume as the top 5 transaction agent in the state of Florida.
Ken has a background in the industry and previously worked with Ruby Tuesday as the Vice President of Operations. Ken has also owned and operated his own restaurant before becoming a franchisee of We Sell Restaurants.
We Sell Restaurants is the nation's largest restaurant brokerage firm and specialist in selling restaurants. They are franchising their brand nationwide and have offices in Colorado, Tennessee, Texas, Florida, Georgia and opening soon in North Carolina. Franchise information can be found at wsrfranchise.com and you can visit our restaurants for sale at this link.